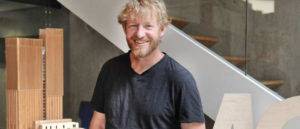 Katerra, a full-service design and construction company based in California, has purchased Vancouver-based Michael Green Architecture (MGA). The award-winning, mid-sized architecture firm specializing in tall wood buildings will remain a stand-alone entity within the larger firm but benefit from technology expertise and production capability, said CEO Michael Green.
A statement from Green continues: "MGA and Katerra both aim to provide elegant, sustainable, high-performance, affordable buildings. Katerra's goal to accomplish this on a large scale aligns with MGA's long-term ambition. MGA is determined to create a meaningful and lasting legacy for our clients, the planet, and the social well-being of the people living on it."
MGA has several large mass timber projects around the world including office buildings and multifamily residential projects in Vancouver and Victoria.
MGA has received numerous honors including three Governor General's Medals in Architecture, the highest distinction given to architectural projects in Canada.
In becoming a Katerra company, MGA's leadership and team will remain fundamentally unchanged. MGA's statement says the firm's impact will grow through an increased project scope offering clientele a broader range of cost and construction options.
Katerra is a vertically-integrated technology company optimizing all aspects of building development, design, and construction, a self-described "disruptor" in the construction industry.
"Katerra is thrilled to welcome MGA," said Michael Marks, chairman of Katerra. "Michael Green and his team have built a reputation for engaging design and leadership in the use of mass timber. This goes a long way to support our mission to utilize cutting-edge technology and systems to revolutionize the construction industry."