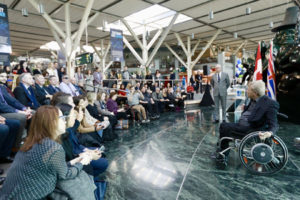 Earlier this month, the Vancouver International Airport (YVR) received the Accessibility Certified Gold rating under the Rick Hansen Foundation Accessibility Certification (RHFAC) program for improvements to its barrier-free features.
"I have watched YVR systematically make progress on accessibility over many decades. People with visible and invisible disabilities experience accessibility challenges every day and with record numbers of passengers traveling through Canada's airports, it is critical these spaces meet everyone's needs," said Rick Hansen, CEO of Rick Hansen Foundation (RHF).
RHFAC measures the level of access a facility provides beyond the building code based on the holistic user experience of people with varying disabilities affecting mobility, vision, and hearing.
In achieving this rating, YVR has improved accessibility for employees, passengers, and partners—receiving a score of 93 out of 100 points.
Accessibility features include:
universal food and service counters for people using wheeled mobility devices;
low-resistance carpeting for easier movement and greater stability;
textured terminal flooring to assist with wayfinding;
curbside ramps and assistance features;
accessible parking in all lots with accessible bus service to long-term parking;
universal seating throughout the terminal;
universally accessible washrooms;
pet relief areas for individuals travelling with assistance animals;
adaptive speakers throughout the terminal building;
clearly marked signage and wayfinding; and
customer care staff trained in accessibility.