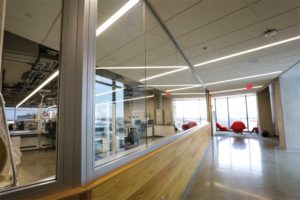 Challenge: Add visibility and daylight between building levels
When a new future emerges for an existing building, one design tactic is to use atriums or glass floor systems to increase admissible daylight and visibility. This is particularly effective in instances where perimeter glazing is limited or it is beneficial to draw daylight deep within a building's core.
A potential setback occurs in buildings where codes require a fire barrier between floors and transparency or daylight transfer is desirable. Concrete, gypsum, and masonry are effective from a fire- and life-safety standpoint. As discussed earlier, their opaque form limits views and light transfer through building levels.
Fire-rated glass floor systems are one solution that can provide the necessary fire resistance and meet design goals. They can facilitate views and increase admissible daylight while supporting structural loads and blocking flames, smoke, and heat.
Some of today's fire-rated glass floor systems achieve this level of performance by relying on a specialty load-transfer system, which separates the structural stress placed on the top sheet of glass from the fire-resistive glass below. This allows the glass floor system to support structural loads while defending against fires. There are products with the ability to support live loads up to 7.2 kN/m2 (150 psf), provide a high-level of impact safety, meet slip-resistance needs, and offer fire-resistance ratings up to two hours.
With proper planning, building teams can use these multifaceted assemblies to compartmentalize a large volume of space without restricting light transfer. One trend is to align them beneath overhead light-admitting devices, allowing light to spill down into rooms incapable of otherwise receiving sunlight from above due to code constraints. Large fire-rated glass floors can also serve as atriums or light portals for stairwells and below-ground spaces.
As with any glass floor, fire-rated glass floor systems can allow for dramatic visuals and improved continuity between building levels. This was the case when the collaborative design team of K. Norman Berry and Deborah Berke Partners sought to transform a courthouse—more than 100 years old—into a memorable historic space. To highlight the splendour of the courthouse's original domed area while promoting daylight and views, the design team aligned two fire-rated glass floor systems under the defining visual feature. The assemblies provide fire resistance, transfer daylight into the centre of the building, and allow lower-floor occupants to look all the way up to the stunning dome.
Challenge: Preserve the esthetic design intent
Whether a design team is working to preserve the historic character of an existing building or update its appearance, finding materials aligning with the desired design intent is key. Once again, this can prove challenging in areas with fire- and life-safety criteria. Fire-rated frames tend to be thicker than non-rated frames to hold the fire-rated glass and provide the necessary level of fire defense. The resulting differences in frame, profile, shape, and size can make it difficult to create and maintain a strong design intent and pattern between rated and non-rated doors, windows, and curtain walls.
Thanks to recent manufacturing developments, this dilemma is becoming a problem of the past. The transition is largely due to advances in fire-rated framing. Some fire-rated frames in the market use inherently heat-resistant carbon steel and incorporate precise European engineering. They are available in a range of narrow-mullion profiles featuring well-defined corners and crisp edges. Compared to the wraparound form of traditional hollow metal steel frames, they allow for significantly improved visual integration with non-rated assemblies. Some offerings incorporate custom cover caps and surface finishes to better match surrounding curtain wall and door applications. There are even authentic hardwood, fire-rated framing options to create and maintain the rich allure of wood.
Taking visual integration one step further, some manufacturers offer fire-rated framing systems with the appearance of structural silicone glazing, along with butt-glazed fire-rated glazing system. Sleek and monolithic, these assemblies make it possible to create a continuous glass wall esthetic in areas with stringent fire- and life-safety criteria.
With a wide range of finish and mullion options as well as a growing number of ways to retain fire-rated glazing, building teams can bridge the gap between rated and non-rated assemblies like never before.
Conclusion
For far too long, design professionals have been cornered into a particular look for the sake of fire and life safety in buildings of all types, including retrofits and renovations. Today, this is no longer necessary. With appropriate specification, design professionals can use fire-rated glazing systems to turn dark, dreary spaces into attractive, light-filled, and safe interiors.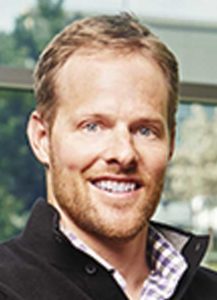 Jeff Razwick is general manager of Technical Glass Products (TGP), a supplier of fire-rated glass and framing systems and other specialty architectural glazing. He writes frequently about the design and specification of glazing for institutional and commercial buildings, and is a past chair of the Glass Association of North America's (GANA's) Fire-rated Glazing Council (FRGC). Razwick can be reached at jeffr@fireglass.com.

Control the content you see on ConstructionCanada.net!
Learn More.