by Jeff Razwick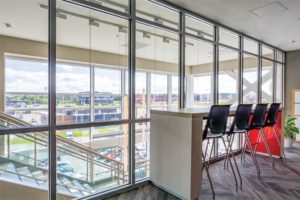 Imagine walking through a building with dark corridors, stairwells with light-restrictive concrete blocks, and doors with 64,516-mm2 (100-si) vision lites. Now imagine passing through the same facility five years later. Light pours into its hallways through expansive windows. The building's main stairwell is illuminated by a transparent curtain wall stretching three stories high. Full-lite glass doors provide clear lines of sight into and out of spaces. The benefits of the building's renovation are immediate.
Bright, open interiors providing occupants with access to daylight and views are more enjoyable and inviting to spend time in than dark, closed-off areas. More importantly, they support occupant well-being. Studies show they can improve student performance, expedite patient recovery, and enhance worker productivity (For more information, consult California Energy Commission's (CEC's) 2003 technical report, "Windows and Offices: A Study of Office Worker Performance and Indoor Performance," prepared by Heschong Mahone Group. Also read the September 2003 report, "The Benefits of Daylight Through Windows," by Peter Boyce, Claudia Hunter, and Owen Howlett). Buildings with more natural daylight can also help reduce artificial lighting loads and support green building goals. Given these benefits, it is apparent why many design professionals work to maximize light transfer and visual connectivity during retrofits and renovations.
One potential roadblock building teams face during this process is how to create light, spacious interiors in areas with fire- and life-safety requirements. Many existing structures rely on traditional fire-rated building materials such as concrete and gypsum to provide fire protection. While effective, their dense, opaque form restricts light transfer and visibility. Finding a viable alternative to open up these solid walls while maintaining code compliance is no easy task.
Stantec Architecture faced this challenge when one of their clients relocated its accounting firm headquarters. As the firm prepared to move into the new space, they found "its lease was saddled with a very dark, almost unusable area on their most important floor," said Ken Novak, NCIDQ, associate at Stantec Architecture.
The second floor, which was designated as a gathering place and the "town square" for the company, had no access to daylight. It was essentially a long, dark corridor. To allow light to fill the space and provide views to the lobby and street below, the firm desired to open up a gypsum-covered, fire-rated wall. As Novak explained, introducing daylight was "problematic due to the codes regarding separation of the lobby from the tenant space."
Many available fire-rated materials can satisfy this code requirement, but relatively few can do so without restricting daylight and visibility. The architects had all but "given up on the idea of daylight flooding the space," until they found their solution with fire-rated glazing.
The clear solution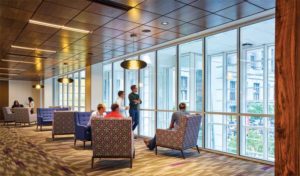 Fire-rated glass can meet the same performance criteria as its opaque fire-rated counterparts, with the added benefit of providing transparency. Some of the available products can provide a high degree of clarity, have minimal surface imperfections, carry fire ratings up to 120 minutes, and offer the highest level of impact safety (Consumer Product Safety Commission [CPSC] 16 Code of Federal Regulations [CFR] 1201, Safety Standard for Architectural Glazing Materials).
Further expanding use, if a project team needs a product providing fire resistance (meaning it must defend against flames, smoke, and heat) there are a growing number of options available. One of the most popular solutions is a transparent fire-rated glass wall panel. It can serve as a barrier to heat and pass the test standards for solid walls. In Canada, this test is Underwriters Laboratories of Canada (CAN/ULC) S101, Fire Endurance Test of Building Construction Materials. The product typically achieves its high level of performance by using intumescent interlayers that turn to foam when exposed to heat. Some products go a step beyond and use nearly colourless, wireless, low-iron float glass and clear intumescent interlayers. Such glass can provide almost the same level of visual clarity and colour as ordinary float glass, while still meeting stringent fire- and life-safety criteria.
When these fire-resistive glass solutions are combined with compatible fire-resistive frames, and installed as part of a tested and approved system, building teams can create large expanses of glass in areas that would otherwise require opaque fire-rated materials to meet code. This was the project team's approach.
To provide the desired visibility and daylight for the client, the project team replaced a 25-m (84-ft) long drywall partition with approximately 76 m2 (821 sf) of two-hour fire-resistive curtain wall frames and glass. Changing an opaque wall into a clear one resulted in a welcoming, light-filled space that is "very popular and one of the showstoppers in the building," said Novak.

Control the content you see on ConstructionCanada.net!
Learn More.