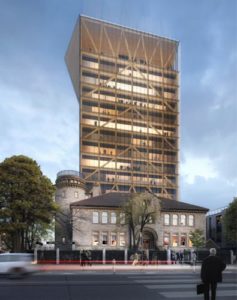 The University of Toronto (U of T) is set to build a 14-storey wood-framed tower on its downtown Toronto campus. Expected to be the tallest mass timber and concrete hybrid building in North America, it follows a growing trend toward tall wood structures.
Recognizing the benefits of building with timber, the Ontario and federal governments are providing funding for buildings employing the material. U of T's wood tower will be financed in part by those government subsidies and through university funds and philanthropy, says Gilbert Delgado, the university's chief of planning, design, and construction.
The tower will be built above the Goldring Centre for High Performance Sport and will house a number of academic units.
U of T is working on the project with Patkau Architects of Vancouver in partnership with MacLennan Jaunkalns Miller Architects (MJMA) of Toronto and Blackwell Structural Engineers—all of whom worked on the Goldring Centre, which opened in 2014.
The Goldring Centre was designed and built with the structural integrity to be the base for the tower so there will be no need to dig deeper to build the taller structure, says Ted Watson, a partner at MJMA.
The tower was originally slated to be built using steel, but after becoming aware of government incentives and of research by members of the Faculty of Forestry, the university decided to go with timber. U of T's new tower will be built with cross-laminated timber (CLT).
Many of the tower's components will be manufactured offsite so by the time the pieces get to the construction site, they can be assembled easily, quickly, and quietly, says Watson.
Apart from its technical and environmental advantages, Watson says, wood is esthetically pleasing.
"Wood has this beautiful natural texture and colouring," he says. "If you could leave it exposed, it reveals itself in terms of these really beautiful, warm interior spaces—the way it reflects light in yellow and orange tones, which most people find very warm and soothing."
Building with timber also has a wider economic benefit, says Robert Wright, dean of the Faculty of Forestry and an associate professor in the John H. Daniels Faculty of Architecture, Landscape, and Design.
"For years we have been seen as a country sending our raw materials out to everybody, and they have been sending manufactured goods back to us, so it is really important we can build up industries and manufacturing within our own country to use these materials," he says.
U of T's academic wood tower is still in the design phase of development, awaiting zoning changes to increase the height allowance for tall wood buildings. Construction could begin at the end of 2019.