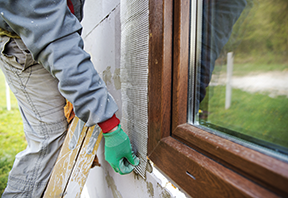 By Frank Donati
As a regulatory representative of Underwriters Laboratories of Canada (ULC), this author sees an increasing number of building designers submitting plans to approving authorities with fire-resistant-rated assemblies as being "based on Design No. XXXX" instead of using the actual listed one. However, a design submitted as being "based on" is not the design "listed" by ULC.
Seeing this qualifier should signify the design has been changed in some way from what is actually contained in the listing. In other words, these designs are therefore not what ULC has listed as a fire-resistant design. How can an approving authority know an assembly is accurately reflecting the exact design as tested and listed by ULC?
Most building, fire, and related field officials know ULC annually publishes a Fire Resistance Directory, but not all sufficiently know how it works, how to use its contents, and what it means when a design is listed. Understanding the directory and the subject of resistance ratings, categories, and assemblies is no easy task. Different categories have to be treated as such. What may be applicable to wall assemblies may not be applicable for sprayed-applied materials. Wall assemblies are treated differently from columns, beam designs, floor, and roof assemblies. This article provides a general explanation on the challenges of accepting a "based on" design versus the actual assembly as tested.
Introduction to fire resistance
The ULC fire-resistance listings contain important information to aid in selecting and applying fire-resistant assembly designs. These assemblies are designed to prevent a fire from spreading beyond its zone of origin. ULC can create fire-exposure conditions that represent either a fully developed interior or exterior building fire or a hydrocarbon pool fire. The duration of the fire exposure may last up to four hours.
Once a product is listed, it appears in the directory and can be referenced by hundreds of authorities having jurisdiction (AHJs), code officials, and architects. A "listing" by ULC is intended to provide data with respect to a product's ability—in these cases, a fire-rated assembly design—to perform its required protective function. Review of such data enables the inspection authority to "approve" a listed design for the specific purpose that is under consideration.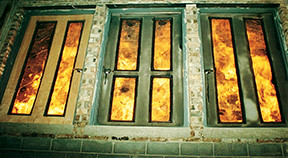 "Approved," as properly used in the fields of fire protection and accident prevention, is intended to mean "acceptable to the authority having jurisdiction." ULC exists to be of service to inspection authorities by supplying authoritative information on products or services. Its listings are intended to provide data with respect to the degree of hazard present (if any) or the ability to perform its required protective function. Review of such data enables the inspection authority to approve a listed product or service for the specific purpose under construction. This is why ULC follows a long-established policy of referring to products covered as being "listed" rather than "approved," since the two terms are not always synonymous.
How a design listing works
When a manufacturer creates a new type of steel I-beam, intumescent paint formulation, or firestop flap, or an architect devises a new way to make a one-hour rated wall that, for example, incorporates only sustainable products, these individuals can bring their design assemblies to testing facilities. There, ULC staff work with them to have their products tested to national standards, ensure conformity with the testing requirements, and provide data to support the rating. The standard used for fire-resistant ratings is CAN/ULC-S101, Fire Endurance Tests of Building Construction and Materials. This standard is critical for fire-resistance rating acceptance, as it is required by the National Building Code of Canada (NBC).
The ULC listed Design Oxxx in Figure 1 is an example of a specific assembly tested to the requirements for a fire-resistant design by ULC for conformity with NBC. When implemented in the construction exactly as it is laid out in the design's description, it will provide a one-hour fire resistance rating—the supporting data has been collected—based on the required testing standards. The design will show the individual components required to bring the assembly together. As shown in Figure 1, the generic components are those that do have a specific listed product, while components with a black dot are proprietary materials required to be ULC-listed component(s) and are critical to the assembly. Without them, the assembly is not what is listed in the directory and what the test data supports as a fire-resistant design.
Further to just testing and listing the design, ULC also ensures when a design is tested for listing in Canada, the proprietary components required are available in the country. ULC also provides market surveillance on these required components so if they change in any way from the samples tested with the design the provider will be notified so it can be retested or removed from the handbook if no longer able to be constructed.
The Design Oxxx (Figure 1) example shows the beam, sand-gravel concrete, and fluted and cellular steel floor units are all generic, so any brand can be used. However, the mastic and intumescent coating must be the listed Fire Control Product XXX by the hypothetical Controlling Fire Inc. The use of any other mastic or intumescent coating would invalidate this design as it was not the assembly tested; therefore, there was no way to know whether it was in conformance or would perform as indicated for one hour.
When a design listing no longer works
The term "based on" is being used to misrepresent fire-resistant designs by listing the design without providing for all the listed components critical to the assembly and categorically required for it to perform as indicated in the listing (i.e. one or two hour, etc.). Any changes to the design invalidates it, leaving something neither tested nor supported by any data to show it meets the fire-resistance rating requirements laid out in the building code.
Using the example in Figure 2, Design Fxxx requires either Material ABC or Material XYZ, listed steel flooring units by 123 Products Ltd., for this specific design to meet the requirements for fire resistance as indicated on the design specification sheet. It is required to have all the components—generic and listed—otherwise it is not a ULC-listed design, has not been tested to CAN/ULC-S101, and does not conform to Canadian code requirements.
In Figure 3, Design No. Wxxx shows an example of where a choice of different proprietary components independently listed can be used to provide a designer or builder with a choice of product. Design No. Wxxx has been individually tested with each of the specific gypsum wallboards listed under component #4 for the design and all have passed the required testing (CAN/ULC-S101). Any other gypsum used outside of the parameters and listing set for component #4 means one is not looking at listed Design No. Wxxx, but rather an untested and therefore non-ULC listed assembly.
Changing a component?
If one wanted to use another product as one of the required components, and it was not listed to that design, he or she would need to have this now-altered assembly tested and listed by a Standards Council of Canada (SCC)-accredited certification body to ensure conformity with Canadian code requirements.
When a specific product for a component is required, anyone can check the ULC Online Directory to verify if there is a design that uses it so as to meet their needs. When a "based on" design is accepted by an AHJ, who will certify the changed design behaves the same as the listed one?
There are conditions allowing one to change a design, but the requirements are listed under ULC/Other Recognized Documents (ORD) C263E, Criteria for Use in Extension of Data from Fire Endurance Tests. This is used when, for example, the beam design in Figure 1 (i.e. No. Oxxx) is preferred to be used as a joist.
ULC/ORD C263E uses criteria based on generally accepted principles involving the extension of test data using simple considerations and requires supporting documentation from a structural engineer when presented to AHJs for approval. It does not cover assemblies obtained by substitution of one proprietary material for another, or for materials for which no fire test data is available. The requirements for proposed alternate solutions would have to be applied to any such design changes for AHJ approval.
So, the difficult question in this situation becomes a matter of determining who holds the liability for an approval on a "based on" design that does not have any listing, certification, or supporting documentation such as approval for alternate solutions as Canada's objective-based codes require.
Since 2000, the Supreme Court of Canada decision of Ingles v. Tutkaluk is the leading authority on the duty of care owed by municipalities conducting building inspections. The court held:
municipalities owe a duty of care to all who it is reasonable to conclude might be injured by the negligent exercise of their inspection powers.
ULC can only recommend authorities direct this question (and any other of this nature) to their legal counsel or representatives.
Conclusion
Underwriters Laboratories of Canada's Online Directory is the most current listing of any design. If a design has been updated or removed, checking online provides with the most current listing. It is important to always remember construction of the fire-resistant-rated assembly must duplicate the illustrated design, and the details included in the associated test, to achieve the indicated fire resistance rating.
To assist with finding and reviewing ULC-listed designs online, there are several avenues for support of AHJs, designers, and the public. For example, all the designs are listed online in the directory, and publications can be purchased from the webstore. Further, ULC supports Canadian AHJs by providing technical support and standards interpretation. Its Regulatory Services Department staff provides installation code support to resolve enforcement issues related to installations of ULC-certified products.
Understanding cUL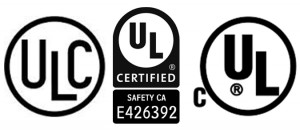 With Canada and the United States such close neighbours, there are American architects designing buildings for Canada and Canadian construction firms building south of the border. However, Canada's system of National Model Codes, which are then adopted or amended by the provinces and territories, means products or listings/certifications acceptable in the United States are often not in conformity for Canadian requirements. These differences are a major issue dealt with at Underwriters Laboratories (UL)/Underwriters Laboratories of Canada (ULC), especially when it comes to the conformity of fire resistance designs.
William H. Merrill founded UL in 1894 as an independent product safety certification organization, working on developing standards, small-scale tests, and inspection of hazards. He submitted an application to establish an affiliate of UL in Canada, with a charter granted in 1920. In 1949, Underwriters' Laboratories of Canada became a completely Canadian organization. It affiliated with UL in 1995, and then became part of UL's Global Family of Companies in 2011.
Both UL and ULC are accredited by the Standards Council of Canada (SCC) as certification bodies, and certification of fire resistance designs are within the scope of accreditation of both companies. For Canada, Certification through UL provides the 'cUL' mark, while certification through ULC offers the 'ULC' mark—both are equally accepted in Canada by all provincial and territorial jurisdictions.
Canadian model codes require fire-resistance designs meet CAN/ULC-S101. Fire Endurance Tests of Building Construction and Materials; therefore all cUL (and ULC) designs are tested to meet the requirements of this standard. CAN/ULC-S101 also requires loads be applied to test samples to be calculated using the limit states design (LSD) method specified in National Building Code of Canada (NBC). In the United States, the requirement is to meet American National Standards Institute (ANSI)/UL 263, Standard for Fire Tests of Building Construction and Materials. This is neither a National Standard of Canada nor referenced in Canadian codes—therefore, designs tested to this standard (i.e. UL designs, rather than cUL or ULC) are not acceptable in this country.
UL fire resistance designs listed for conformity with Canadian requirements, and thereby bearing the cUL mark, are identified as such in the directories in two ways. First, UL and ULC both use Category Code Numbers (CCNs) to identify product categories; each in itself provides full information for the designs for that specific conformity. For the UL Online Directory, they are BXUV–UL Designs (i.e. U.S. only) and BXUV7–UL Designs (i.e. cUL listed). For the ULC Online Directory, it is BXUVC–ULC Designs (i.e. for Canada).
Frank Donati is an Underwriters Laboratories of Canada (ULC) senior regulatory representative. His principal responsibilities include providing technical expertise in regulatory services, code compliance, and standards to assist regulatory authorities and resolve complex code and certification-related issues. Donati also represents ULC at meetings of outside organizations, and provides presentations on various code and certification-related technical topics. He is the director of the National Capital Chapter of Canadian Fire Alarm Association (CFAA). He can be reached via e-mail at frank.donati@ul.com.

Control the content you see on ConstructionCanada.net!
Learn More.