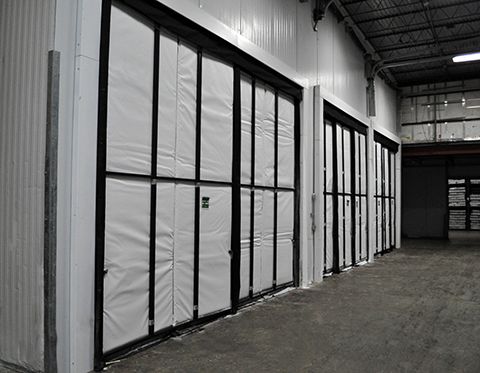 New-age, high-speed doors
Recent improvements in door technology combine fast cycling with high-efficiency insulation and sealing. These innovations contribute to low long-term energy costs, improved efficiency, and increased safety. In short, high R-value is no longer the main driver in door selection.
In fact, south of the border, the International Energy Conservation Code (IECC) is beginning to recognize the importance of high-speed doors. Its forthcoming 2015 edition is projected to include a revision to Table C402.4.3, which describes the maximum air infiltration rates for fenestration assemblies. At 1.3 cfm/sf, high-speed doors have the largest rate of infiltration in the table. As a draft copy of the table notes, however, this is because the
high speed nature of these doors provides for minimizing of 'air exchange,' a valuable and predominant characteristic of minimizing overall energy losses through a door opening.
Major advances in door design have focused on insulated upward-acting doors. New, advanced freezer doors have the ability to withstand forklift impact, which minimizes maintenance and downtime while maintaining a tight seal over the life of the door. Some impactable doors offer higher R-values, reducing the need for heated panel defrost systems. Other models even offer torque-sensing reversing capability, which eliminates safety and maintenance concerns with doors that use pneumatic or electrical reversing edges for the same purpose.
Significant improvements in the roll-up design category include reduced cycle times and the use of insulated door panels. These insulated curtain panels provide a high enough R-value to avoid needing expensive panel defrost systems.
The fastest roll-up doors can operate at 2540 mm (100 in.) per second—a rate that minimizes air infiltration and ensures optimal productivity. Newer upward-acting doors also incorporate a perimeter thermal air seal for added energy savings through a tighter seal.
In addition to their temperature separation capabilities, the most advanced high-speed doors comply with good manufacturing practices (GMPs) frequently referred to by the Food and Drug Administration (FDA) and U.S. Department of Agriculture (USDA). Canadian food and pharmaceutical companies exporting to the United States also fall under USDA and FDA jurisdiction and inspection.
Industrial 'curtain-wall' applications
Flexible fabric 'curtain walls' are becoming increasingly popular for industrial projects and plant operations because they are multi-functional. As the name implies, fabric walls are very different from traditional solid or rigid panelized assemblies because they are not considered permanent structures. As such, they can be quickly and easily installed, dismantled, and re-installed—lending itself to a high degree of flexibility and lower cost compared to traditional means.
A fabric curtain wall can be used in place of a conventional wall in almost all non-load-bearing applications. They offer flexibility in:
managing physical space;
improving productivity;
saving energy;
recapturing needed floor space; and
controlling temperature, odour, dust, and sound.
The fabrics used to form the actual walls differ in materials and properties, allowing them to be precisely matched to the application. The walls can be installed as stationary systems or sliding units and feature insulated or non-insulated varieties depending on the operating environment and a host of site-specific factors. Aside from the type of fabric walls available, there are virtually no limits to how systems can be configured.
Insulated fabric walls can maintain a temperature delta of 8, 15, and 22 C (15, 35, and 40 F), with respective R-values of 3, 6, and 10. While commonly used in cold storage facilities to divide the existing 'cold box' into temperature zones, they are routinely used to create treated air space in warehouses or manufacturing facilities to improve employee comfort or to control temperature and humidity levels to protect equipment and processes critical to production goals.

Control the content you see on ConstructionCanada.net!
Learn More.