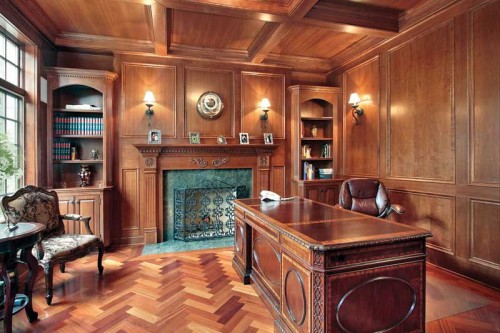 By Dwight Chapman
The Canadian and U.S. economies are inextricably linked—trade between the two countries is the equivalent of
$1.6 billion daily, while almost 300,000 people cross the border every 24 hours, according to U.S. Department of State statistics released in June 2012.
Due to the interconnected economies, legislators, regulators, and business leaders in both countries work co-operatively and closely on a range of issues of mutual concern, including matters such as environmental protection and sustainability. This is why the U.S. government's 12th Report on Carcinogens, released last June, is as relevant for Canadian-based specifiers, architects, and designers as it is for their counterparts in the United States.
The report officially designated formaldehyde as a human carcinogen after previous reports, dating back more than 30 years, listed it as "reasonably anticipated" to be a human carcinogen. Particularly concerning, according to the authors of the 2011 report, are formaldehyde emissions from wood-bonding adhesives used in manufactured wood products, such as particleboard, medium-density fibreboard (MDF), and hardwood plywood, as well as furnishings and flooring made of manufactured wood. These products are among the items of commerce that flow regularly between Canada and the United States.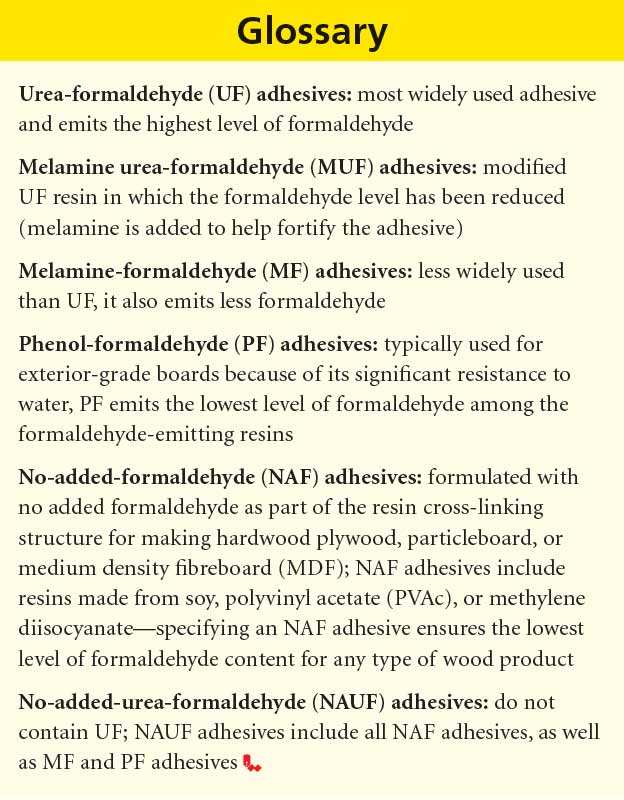 What is formaldehyde?
Formaldehyde exists at room temperature as a nearly colourless gas with a pungent odour. It is generally stable in the absence of water, but is flammable. It is usually manufactured close to the point of consumption because it is difficult to ship safely over long distances.
Formaldehyde has numerous industrial and commercial uses. Widely known as a tissue preservative for pathologists, embalmers, and high-school science classes, it is also an ingredient in certain cosmetics and is employed as an intermediate to produce other chemicals. However, the lion's share of formaldehyde is consumed as an ingredient in adhesives used in manufactured wood products for the construction industry.
Due to their superior bonding properties, formaldehyde-based adhesive systems are found in a range of construction products. Examples include:
construction-grade plywood;
oriented strandboard (OSB);
decorative plywood;
engineered wood flooring;
MDF; and
particleboard.
Formaldehyde-based adhesive systems are also widely used in manufactured woods to produce home furnishings, such as kitchen cabinets, desks, tables, and doors.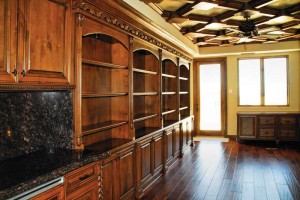 Formaldehyde linked to rare cancers
Formaldehyde is absorbed by the human body after inhalation or oral exposure. According to the report, "Individuals with higher levels of exposure to formaldehyde are at increased risk of certain
types of rare cancers." It specifically cites nasopharyngeal cancer in the upper part of the throat, sinonasal cancer, and myeloid leukemia—a cancer of the white blood cells.
While much of the report's emphasis was on workplace environments, where formaldehyde concentrations generally are reported in parts per million (ppm), its authors said the health of consumers can also be affected by formaldehyde emissions. They also pointed out occupational exposure to formaldehyde is highly variable and there are many factors—including the exposure amount/duration and an individual's susceptibility to a substance—that can affect whether someone develops cancer from a carcinogenic substance.
The Canadian perspective on formaldehyde is very much in synch with the U.S. government's stance. CAREX Canada—a multi-institution research project combining academics and government resources to generate an evidence-based carcinogen surveillance program—ranks formaldehyde as a Group A chemical, which it defines as immediate high priority for both occupational and environmental settings.
Formaldehyde has been in the cross-hairs of international regulators for decades. In the 1980s, European countries instituted voluntary standards for formaldehyde emissions from manufactured wood products. In 1994, the International Agency for Research on Cancer (IARC) went even further when it determined formaldehyde was a carcinogen. Since then, regulations in many countries around the world have generally been more restrictive than in the United States.
However, this will change in the near term. The Obama Administration has been aggressive in tightening the U.S. regulations concerning formaldehyde. In mid-2010, the president signed the Formaldehyde Standards for Composite Wood Products Act into law. It will be implemented on January 1, when Congress finalizes and approves the regulations that will be the backbone of the law.
The scrutiny, however, is not limited to government agencies. Many influencers in the private sector, including well-known companies, such as international architecture and design firm Perkins+Will, and environmental organizations, such as the International Living Building Challenge, are publishing lists of chemicals that should not be found in construction products and indoor furnishings. Formaldehyde is prominently featured on virtually all of these lists. Additionally, these influencers are increasingly stressing the need for transparency and full disclosure by manufacturers in terms of all the chemicals found in or used to manufacture their products.
Widespread media coverage
There are two primary reasons why the 12th Report on Carcinogens is relevant to Canadian construction specifiers, architects, and designers. First, the news of the U.S. government's finding that formaldehyde can cause cancer in humans received media coverage across Canada, heightening awareness of the issue among both consumers and workers. The news carried even greater weight given that sustainability in homes and offices in Canada is increasingly important to those who live and work here.
Second, producers of manufactured wood products are very pragmatic and generally view Canada and the United States as a single market for their products. As a result, manufacturers on both sides of the border employ a 'one-size-fits-all-approach,' ensuring their products meet or exceed the strictest standard in either country, rather than make different products to meet different standards.
Due to the potential impact on both clients and product manufacturers, it is important Canadian specifiers, architects, and designers understand the facts about formaldehyde-based resin systems. This enables them to arrive at informed decisions about manufactured wood products based on the resin systems used in their creation. It also ensures they can accurately answer questions from clients about the impact of formaldehyde emissions from those products on indoor air quality (IAQ).

Control the content you see on ConstructionCanada.net!
Learn More.