"Even in major healthcare facilities that rely on perfectly executed surface installation for the health and wellness of occupants, there is a lack of transparency and accountability," said Rohde.
"A sub-contractor may be called back to fix a problem or flooring failure, but the contractor never hears about it. Similarly, the specifier never hears about the specification error or installation mistake. This leads to a dangerous reality where folks are replicating material selection and installation mistakes over and over. They think the project was a success but there were lessons to be learned."
"Knowledge is power, and with the right tools and understanding, specifiers can guide this process and ensure their designs in the built environment will last for years to come," added Rohde.
The same advice works on the back end. There is no universal or standardized post-construction evaluation process.
"With LEED, Green Globes, or other green building certification systems, you are required to collect data over a twelve-month period to commission a building," said Rohde. "For flooring, finishes, and other interior components, we recommend a 12-month evaluation timeline and incorporating the report in with other measurable performance aspects. The building needs to be occupied to understand what works and what doesn't, although flooring failure may happen before the first employee, student, patient or guest enters the space, the first 12 months of occupancy will provide feedback on any issues or concerns."
 Working smarter together
As Rohde and Poniatowski both noted, specifiers need to request jobsite preparedness evaluation reports come in prior to installers arriving on the jobsite and maintain open communication with informed and experienced contractors. They always recommend for the specifier to have pre-construction meetings with all finish subcontractors prior to installation to verify conditions meet the specifications and requirements for successful solutions.
"It's important for information regarding moisture testing and mitigation to be shared and discussed long before the flooring installation is even a thought," said Poniatowksi. "Flooring contractors need to be part of the specification and planning process, and contractors should be onsite to test new slabs as soon as the concrete is poured and cured."
For this reason, Poniatowksi includes critical conversations on moisture testing and surface prep during the bidding process for new jobs.
"We always list moisture testing and mitigation in our proposal prices," he said. "Recommended floor prep is itemized, along with additional services like self-leveling products and two-part epoxy moisture mitigation systems, where necessary."
His company has also developed techniques to address power troweled concrete subfloors, including shot blasting and scarifying.
"If we see there is elevated slab moisture and the surface is power troweled, we can go in and shot blast the surface and allow the slab to breathe," said Poniatowski. "We keep the RH probes in from anywhere from a few weeks to a few months with an installation supervisor checking weekly to watch for drops in numbers. If it gets to the right percentage, we can skim coat the surface and install the product with regular adhesives."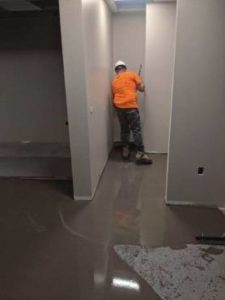 However, these solutions are not foolproof. In a world of fast-paced construction this is a time-consuming process which can put flooring installers and projects behind schedule.
"Even when you shot blast the surface, the slab still has a high level of moisture," said Poniatowski. "We end up recommending a moisture mitigation system and use a self-leveler to correct any imperfections. This puts us further behind but is necessary to ensure the integrity of the installation."
When using self-leveling products like these, installers need to also address moving joints and cracks present in the substrate to avoid the transference of cracks in the finish. Installers must evaluate and isolate the area around walls, columns, penetrations, and other building elements where movement may be anticipated.
While these installation techniques and services are handled by trained floorcovering experts, it is important for architects, designers, and other trades to be looped into the process since testing and mitigation may affect installation timelines and project completion dates. Specifiers might only be in charge of "what is required," but boots on the ground are in charge of "how to get it done."

Control the content you see on ConstructionCanada.net!
Learn More.