Barriers to proper prep and testing
Perceived costs and timeline restrictions are, unsurprisingly, major barriers to proper moisture testing and mitigation. General contractors often bid a project at one price and then negotiate lower costs with subcontractors once they secure the project. And since material science education is not a common practice in the industry, there can also be a lack of material literacy among contractors and sub-contractors. If the involved trades feel no need to prepare the floor, they will simply not pay to do it.
"Flooring contractors can feel pressured by general contractors to install a floor without proper flooring prep and moisture testing," said Steve Poniatowski, vice president of sales at ReSource New Jersey. "If they're green and not experienced enough to stand up for themselves, they will likely cave to the pressure. However, this can come back to bite them and literally put them out of business if flooring failures add up."
Another barrier is the increasing use of power troweling by concrete contractors. Power trowelers allow concrete professionals to install and finish large swaths of flooring in a short amount of time. This helps them stay on schedule and within budget in a world of ever-tightening construction deadlines. While the finished floor looks great and is moisture-free at the surface, power trowel machines create a non-porous finish which locks moisture deep within the slab. Moisture will eventually make its way to the surface, and if resilient flooring is installed on top it will fail months or years down the road. Power trowelers also create a surface that is difficult to adhere floorcovering materials to, resulting in a poor bond.
The importance of awareness, training, and consistent practices
Unfortunately, there is another root cause of flooring failure. "The lack of understanding surrounding proper flooring prep and moisture testing is often a case of not knowing what you don't know," said Jane Rohde, principal, JSR Associates, Inc., AIA, FIIDA, ASID, ACHA, CHID, LEED AP BD+C, GGA – EB, GGF. "There has been a shift in recent years, with architecture and design students missing out on material sciences courses. This directly ties into material literacy and results in an imbalance, leading to a generational gap where younger designers come out of college with a technical mastery of AutoCAD and other programs but a distinct lack of training in materials and installation processes."
While young specifiers understand product trends and the importance of sustainability, they do not understand the appropriate materials to use in different commercial settings and built environments. This barrier is not easily overcome, but exposing it provides new opportunities for learning and growth—especially among the next generation of building and construction professionals.
"Young designers and architects are not looking at ASTM and other performance standards for guidance," said Rohde. "This isn't entirely their fault—it comes with time and training—but it can lead to mistakes in the specification process."
Another challenge is a breakdown in the chain of communication—a theme echoed by professionals throughout the building and construction industry. Specification writers are often not the same individuals who actually design the space. Their prime responsibility is to develop specifications to accompany architectural drawings to help with the installation of various aspects of the project. At large firms, teams can become fragmented with multiple sets of hands designing and specifying for multiple projects.
"This lack of continuity means that things fall through the cracks," noted Rohde. "To mitigate this, architecture and design firms can rely on manufacturer technical departments for assistance and expertise to educate their team members on site prep, product installation requirements and ongoing maintenance. This should also be shared with the general contractor, client and building operations team members who are responsible for the structure."
Poniatowski echoes this sentiment. During his time at ReSource New Jersey, he has spent two decades educating his team and the greater industry on the importance of moisture mitigation and testing.
"Architects, designers and general contractors should always reach out to their trusted flooring contractors," he said. "Along with manufacturer reps, trained and certified floorcovering professionals can provide a huge amount of insight into the testing and mitigation process. While lunch-and-learns are not as common anymore, there are other opportunities that should be explored since communication is at the core here."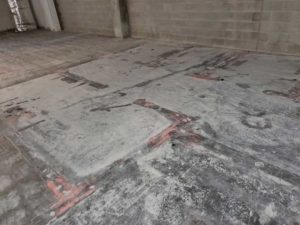 Pre- and post-construction best practices
Another issue contributing to the lack of moisture testing is a growing lack of pre-construction communication and post-occupancy evaluation. Whether you look at small shops or large global firms, architects and designers may never know what failures occur once they sign off on a project and the space is occupied.
The lack of communication between the various parties involved in the project after its completion is to blame here. That's why experts recommend specifiers prioritize pre-construction meetings with all finish subcontractors prior to installation. This helps to build relationships and allows the specifier to verify conditions meet the specifications and requirements for successful building product solutions.
General contractors should also play a part in these conversations and take responsibility for setting up regular moisture testing during the construction period. By working together, specifiers and general contractors can coordinate with all necessary trades.

Control the content you see on ConstructionCanada.net!
Learn More.