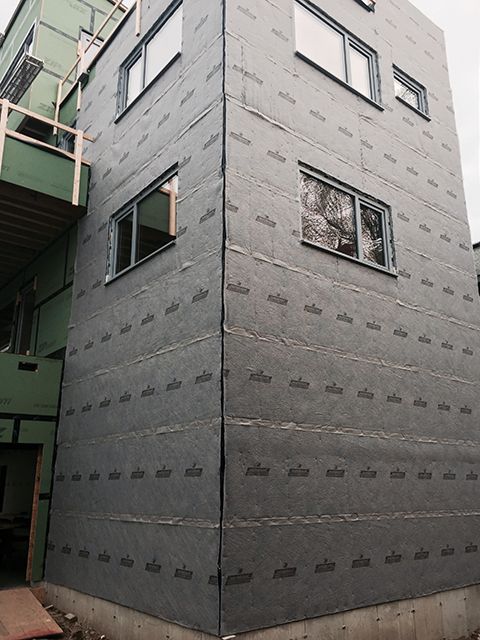 By Keith Lolley, CSI
When considering the numerous cladding materials on the market, it is important to keep in mind there are really only two types: those that absorb moisture and those that do not. Absorptive claddings include wood, fibre cement, adhered veneers, brick, and stucco; the non-absorptive category encompasses metal, glass, and vinyl. Although some claddings are non-absorptive, this does not mean water cannot enter the wall system. Expansion and contraction of the wall system over time will cause sealant and mortar joints to crack. Differential air pressure will allow moisture to be drawn into the wall system through these cracks.
Most commercial wall assemblies consist of a cavity wall design, which is designed to properly 'drain the rain' (Figure 1). These systems are typically designed with a backup wall, air space, and outer veneer. Moisture management components such as through-wall flashings (Figure 2), mortar deflections, and drainage devices at flashing locations are used to divert moisture entering the wall back to the outside.
One of the key elements to a cavity wall design is the air space between the outer veneer and inner wall system. In order for a cavity wall to function, this space needs to be free of mortar debris. A clear airspace means a clear path for drainage. Currently, a 51-mm (2-in.) cavity width is the industry standard for commercial cavity wall construction; however, with new energy codes—such as American Society of Heating, Refrigerating, and Air-conditioning Engineers (ASHRAE) 90.1, Energy Standard for Buildings Except Low-rise Residential Buildings—there is a call for increased insulation.
This increase in insulation is causing wall space concerns because it also means an expansion of air space. In turn, this means it is less likely to become clogged with debris and function incorrectly. Cavity airspaces ranging anywhere from 51 mm to more than 102 mm (4 in.) are now being seen. This increased thickness inflates the wall system's overall cost, which in turn is making the cavity wall system less competitive compared to alternative design methods in the market, such as concrete tilt-up and insulated metal panel (IMP) assemblies.
Engineering the rainscreen
Although engineered rainscreen wall systems have been around for some time, there is still confusion as to the difference between a pressure-equalized rainscreen wall and a cavity wall. To clarify the confusion, the terminology must first be slightly modified. Pressure equalization is a lofty goal that is difficult to truly achieve. In reality, the goal is to create a pressure-moderated wall system. These systems are known as ventilated façades or modified rainscreen walls.
Differential air pressures between the inner wall and outside environment will draw moisture into the wall system's inner structure (Figure 3).  A cavity wall system does little to prevent this from happening because it is a vented wall system, which means there is no convective airflow due to the lack of vents installed at the top of the wall system.
A pressure-moderated rainscreen is a ventilated wall system. It significantly cuts down on the differential air pressures drawing moisture into the building by allowing air into the wall system, neutralizing the pressure behind the cladding to that outside the wall system. As air is introduced into the cavity, it works its way up the wall and out through vents installed at the top of the wall.
The presence of the air/moisture/vapour barrier blocks air and moisture from penetrating the backer wall, allowing the introduced air to circulate in a convective fashion. This convective airflow removes excess moisture vapour while drying any residual moisture within the cavity at the same time (Figure 4).

Control the content you see on ConstructionCanada.net!
Learn More.