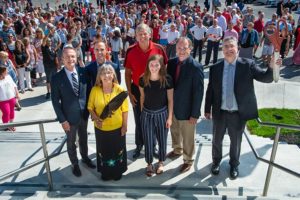 The University of New Brunswick (UNB) has opened a new kinesiology building at its Fredericton campus. This 5574-m2 (60,000-sf), $36-million building will create a research cluster focused on health, wellness, physical fitness, and health promotion.
It has a number of unique features. Trees from the project site were harvested into a seating area, teaching podium, reception desk, and locker room benches for use inside the building. Chairs from the seating area of "The Pit" in the Lady Beaverbrook Gym have been refurbished and given a place of prominence. A living wall and a vegetative roof bring life to the indoors and outdoors, and recycled rain water is used throughout the building.
A 50-year time capsule was placed in the building's cornerstone, containing dozens of items such as a handcrafted pencil from a former kinesiology dean, a Fitbit, the UCard of UNB's 2017 student union president, and a 3D printed whistle created by an engineering student.
The project received a $24.87-million investment from the federal government and the Province of New Brunswick.
Fredericton MP Matt DeCourcey, deputy premier Stephen Horsman, UNB vice-chancellor Dr. Eddy Campbell, Dr. George MacLean, vice-president academic (Fredericton), Dr. Wayne Albert, dean of kinesiology, and Imelda Perley, UNB's elder-in-residence, attended the ribbon-cutting event.
"In addition to the many initiatives and programs at UNB focused on preventative healthcare, this expansion has further positioned us to be a wellness leader in our region," said Dr. Eddy Campbell, UNB's vice-chancellor. "This renewed space has become the new home for our growing faculty of kinesiology."