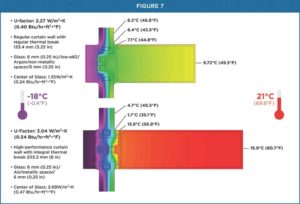 Comparing Curtain Wall
Figure 7 demonstrates two U-factor simulations. Both are in compliance with NFRC 100, and thereby in compliance with CAN/CSA-A440.2/A440.3. One shows a low-performance curtain wall specimen with aluminum framing that has a basic thermal break, but is optimized with a high-performance IGU and a shallow mullion. The other curtain wall specimen has a high-performance, thermally broken aluminum framing and a deep mullion, but it also has a low-performance IGU with air infill, a metal spacer, and no low-emissivity coating.
Analyzing the range in attainable thermal performance, the low-performing curtain wall helps validate the best achievable U-factor, and the high-performing curtain wall assists in determining the worst U-factor. The differences presented by these voluntary choices demonstrate the need to verify beyond a system manufacturer's promoted U-factor and to affirm compliance with NFRC/CSA standards.
In summary, it is a specifications professional's responsibility to look beyond conforming to a fenestration standard, to question thermal performance data being presented, and to validate the full context in which the U-factor was obtained and is required. The first step is to verify whether the required data are or should be based on project-specific requirements, or if they are or should be based on a prescribed approach. For U-factor values determined according to the standard method, the next step is for a specifier to evaluate which criteria should be considered to adequately compare the thermal performance of curtain wall and other fenestration systems.
Simply stating a U-factor without the compliance requirements is likely to cause confusion and to miss the intended performance requirements. In the aluminum framing specifications, clearly state which compliance path is expected. If following a non-prescriptive path, remember to include all items necessary to determine performance such as elevations, sizes and configurations, materials and components, local climate conditions, and IGU considerations. Co-ordinating the specifications for the glass and aluminum framing will help ensure the performance requirements are met for curtain wall or other fenestration system.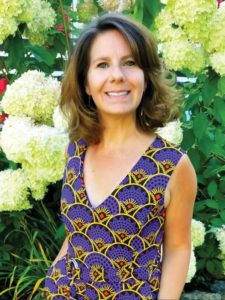 Jennie Lamoureux, FMPC, is an architectural representative at Alumicor, the board chair for Construction Specifications Canada's (CSC-DCC) Montreal chapter and an active member of the Association de vitrerie et fenestration du Québec's (AVFQ) Technical Committee – Commercial Sector. She also is a member of the Fenestration and Glazing Industry Alliance's (FGIA) Architectural Products Council's Methods of Test Committee and has earned an FGIA FenestrationMaster Professional Certification (FMPC). She works closely with Canadian architectural design professionals to evaluate, select, and specify aluminum-framed curtain wall, storefront, entrance, and window systems for commercial building envelopes. She can be reached at j.lamoureux@alumicor.com.

Control the content you see on ConstructionCanada.net!
Learn More.