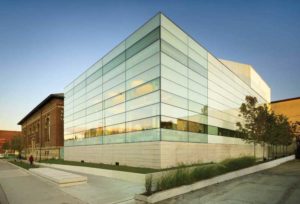 By Jennie Lamoureux, CSC, FMPC
Commercial building designs incorporate large spans of glass to create a modern appearance with transparency, daylight, and a sense of connection to the larger world. Aluminum remains the most commonly used material for framing these expansive views and vision areas, whether in a building envelopes' curtain wall, storefront, entrance, window, or other fenestration systems.
Aluminum is lightweight and easily fabricated into versatile, durable products that require little maintenance throughout their long lifespans. Curtain wall and fenestration systems' framing members can be manufactured with recycled aluminum content and recycled at the end of their use on a building. Not only do expansive, aluminum-framed fenestration systems maintain a building owners' lease rates and property values, they also support occupants' well-being and health.
As buildings are designed with larger and larger vision areas, it is essential to remain aware of curtain wall and other fenestration systems' impact on the thermal performance and overall energy efficiency of the building envelope.
Specification professionals describe design intent and performance criteria that help to achieve project requirements. When evaluating and selecting curtain wall and other fenestration products, specifiers must be alert for disparities in thermal measurements and data.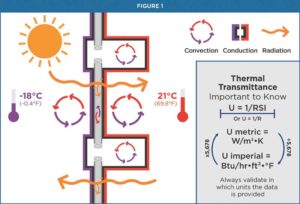 Consider the Code
When analyzing curtain wall and fenestration systems' energy performance criteria, first check on the applicable codes. The most recent, national model building and energy codes may not be the most current ones, and the authority with jurisdiction over the project may enforce modified versions.
Provinces, territories, municipalities, and some self-legislating authorities, such as First Nations, retain responsibility for how code editions and modifications are adopted and enforced, except for federal buildings, where the most recent model code is automatically applicable. The National Research Council Canada (NRC) provides a high-level list of code adoption and enforcement throughout the country. Additional verification at a municipal and project-specific level also is strongly recommended.
All known Canadian codes and provincial adaptations will refer to 'U-factor' or 'U-value'. This is the industry-accepted measurement indicating the rate of thermal energy transmission in a fenestration system.
Understanding U-factor
U-factor measurements consider the combined role of glass, opaque panels, and framing members, and take into account three different ways a curtain wall or fenestration system transfers energy: convection, conduction, and radiation.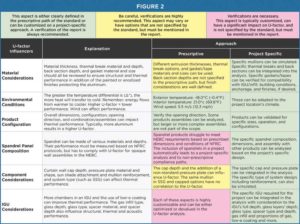 Performance Procedures
Enforced editions and revisions of the National Energy Code of Canada for Buildings (NECB) reference the American National Standards Institute and National Fenestration Rating Council's ANSI/NFRC 100 Procedure for Determining Fenestration Product U-factors and the Canadian Standards Association Group's CAN/CSA-A440.2/A440.3 Fenestration energy performance/User Guide as procedures to obtain U-factors.
In the few cases where specialized products may be outside the scope of these two standards, the NECB refers to the procedures described in the ASHRAE Handbook–Fundamentals  and ASTM C1363 Standard Test Method for Thermal Performance of Building Materials and Envelope Assemblies by Means of a Hot Box Apparatus.

Control the content you see on ConstructionCanada.net!
Learn More.