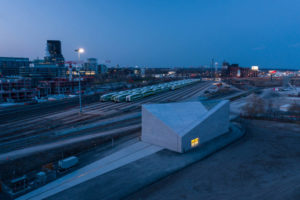 Cherry Street Stormwater Management Facility has won the inaugural design review panel award by Waterfront Toronto in the category of excellence in built work, for its remarkable sculptural design and innovative solution to stormwater management.
The criteria for the award considered a completed building, landscape, infrastructure, or neighborhood delivering well on the original design intent. To qualify, projects must have completed the design review process or completed construction between 2019-2021.
The 279-m2 (3000-sf) facility located at the northeast corner of Lake Shore Boulevard and Cherry Street has become a landmark structure in the West Don Lands. The prime consultant, R.V. Anderson Associates Limited and their architecture subconsultant, gh3, had to address the challenges of the site while meeting Waterfront Toronto's requirements for design excellence and the project's modest budget.
Their approach was to design a simple and elegant building interpreting the ancient story of water in a novel way. The design of the facility enclosure comes from the idea of a stone well, tuned around to be shown as a sculptural form on the ground. The building is decorated by etchings on its surface acting as a system of rain channels running from roof to wall, to ground plane and shaft—overall representing the larger system of urban waterworks the structure is rooted in.
Planned in line with Waterfront Toronto's Resilience and Innovation Framework for Sustainability, the Cherry Street stormwater management system addresses both day-to-day stormwater management, as well as extreme weather events, to ensure it will provide a solution in tough situations by relieving burden from Toronto's existing systems.
While many stormwater treatment systems combine sewer systems with stormwater overflows, this system is purpose-built to treat stormwater using a combination of several adapted technologies as well as the main shaft as part of the treatment process. The main shaft is 25 m (82 ft) deep and can store approximately 3,000 m3 (106,000 cf) of water. The concrete-lined tunnel is 3 m (10 ft) in diameter, 350 m (1150 ft) long, and 25 m (82 ft) deep. The tunnel was constructed deep in bedrock using a tunnel boring machine.
The Waterfront Design Review Panel (WDRP) is composed of cross-disciplinary experts who review waterfront project proposals and offer advice about design excellence, environmental performance, and delivering a cohesive approach to waterfront revitalization. The panel's feedback has been vital in delivering numerous iconic projects along Toronto's waterfront, including those receiving this year's awards.