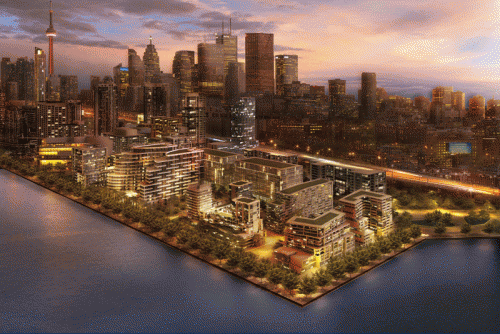 By Jennifer Wilson
Toronto's Lake Ontario coastline is one of the city's most striking features, but over the years, parts have become derelict and run-down. In November 1999, the Waterfront Renewal Project was launched, with the Government of Canada, Province of Ontario, and City of Toronto each dedicating $500 million to renew the area over 30 years. The project area, extending from Coxwell to Dowling Avenues, is divided into three precincts—West Don Lands, East Bayfront, and the Port Lands. The area covers 800 hectares (2000 acres), making it the largest urban redevelopment project currently underway in North America.
Since 2004 alone, Waterfront Toronto, the public advocate and steward of waterfront revitalization, has opened 17 new or improved parks and public spaces, and 2876 m (9435 ft) of bike lanes. Four major projects are currently under construction, seven are planned, and countless more are under development. By its completion, the waterfront project's costs will total an estimated $34 billion in public and private funds.
Most of the land under development is owned by one of the governing bodies, and was given to Waterfront Toronto to develop. The remaining land was purchased by public or private partners who work in conjunction with Waterfront Toronto to develop the sites. The funding model leverages the public capital by working with private development partners who buy the land for development, and the money earned is used to further fund public infrastructure.
Masterplan
The funding for a project of this size is understandably complex, as is the entire endeavour's planning. The masterplan for the waterfront is a large undertaking as it includes many components such as:
improving transit;
creating parks and public spaces;
constructing storm and flood protection;
developing affordable housing;
creating business and retail spaces; and
building cultural institutions.
These developments rely on community, public, and private sector input to maintain an open and transparent dialogue with the members of the city. By the end of the revitalization, 40,000 rental units, 1 million m2 (10.7 million sf) of employment space, and 300 ha (741 acres) of parks and public space is expected to be built. Of the housing created, 25 per cent will be affordable housing and 20 per cent will be dedicated to affordable renting.
It was also important the buildings be sustainable and able to be repurposed. For instance, a multi-family building could one day be converted into a different type of multi-use facility.
These projects have attracted the best designers and landscapers from around the country to work on the individual projects that create Toronto's waterfront. So far, the projects under the waterfront masterplan have garnered more than 60 design awards.
Completed projects
One of the more recently completed projects by the Waterfront Toronto initiative is the building of George Brown College's Centre for Health Sciences on Dockside Drive in East Bayfront. The building is just west of the Sherbourne Common park, overlooks Lake Ontario, and brings four previously separate schools—nursing, dental health, health and wellness, and health services management—into one space. Its eight storeys accommodate 3500 full-time students and 450 continuous learning students.
The Centre for Health Sciences is on track for Leadership in Energy and Environmental Design (LEED) Gold certification and was built to the sustainability best practices outlined in Waterfront Toronto's mandatory green building requirements. The design itself includes a three-storey glass podium and student space, a rooftop terrace, flexible student spaces, labs, classrooms, and offices. The building opened to students and faculty in September 2012.

Control the content you see on ConstructionCanada.net!
Learn More.