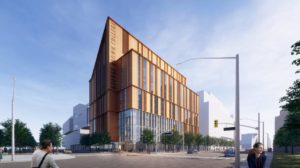 George Brown College will transform Toronto's skyline with the construction of "The Arbour," one of the first mass-timber and low-carbon institutional buildings in Ontario.
Construction on the 10-storey project began in the fall of 2021 at the corner of Queens Quay East and Lower Sherbourne Street.
The Arbour was designed by the team of Moriyama and Teshima Architects and Acton Ostry Architects. The Arbour's mass timber components are sourced naturally, the building shape and form are designed to maximize access for fresh air and natural lighting, students will learn from the facility that is equipped with smart building technologies, and it will house the Tall Wood Research Hub. The building will also house a childcare centre serving the neighbourhood.
The building will house the School of Architectural Studies and the School of Computer Technology. Students at George Brown College will learn from the facility, as it is designed to adjust to changing academic uses and a changing climate.
It will serve an important research centre focused on mass-timber construction. The Mass Timber Research Hub will support the development of ideas and practices in sustainable building.