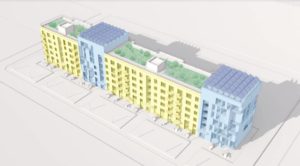 Toronto-based WZMH Architects has collaborated with industry partners to devise a solution based on prefabricated modular precast units to replace damaged sections of existing mid- to high-rise residential buildings in war-impacted Ukraine.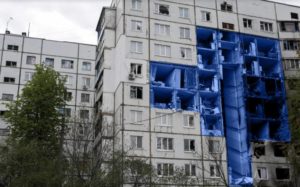 According to Statista, as of Aug. 8, the damage to housing from the Russian invasion of Ukraine, based on publicly available evidence, reached an estimate of $47.8 billion USD. Data from the Embassy of Ukraine in Canada suggests the war has either partially or fully destroyed around 61,000,000 m2 (656,600,000 sf) of residential space and over 121,000 buildings. This has left millions affected by the loss of housing and in need of a solution.
Canadian firms Spring Valley Corp, Stephenson Engineering Ltd., Quasar Consulting Group and Argentum are other partners on this project led by WZMH Architects' research and development lab, sparkbird,
The main features of the prefabricated units are outlined below:
Made of "boxes" stacked together, side by side, on top of each other, these prefabricated modular units slide into the existing building and replace damaged sections with new residential units.
The concrete modules will significantly reduce applied finishes (e.g. gypsum board, carpet, tiles, etc.) and include a special "sandwich" layer, which eliminates the need for bulkheads.
The solution resolves common acoustical and fire separation issues with high-strength concrete on all four sides of a unit, while addressing durability and lifecycle. It also features a unique component, a "special connector," which facilitates the process of stacking buildings together, speeds up the construction times and makes the solution cost-effective.
The concept has gained approval from the Embassy of Ukraine in Canada. WZMH, alongside a group of Ukrainian architects presently in Canada, will collaborate with the government authorities in Ukraine and Canada to bring the idea to reality.