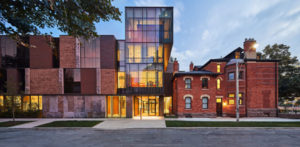 Designed by Hariri Pontarini Architects, the Casey House in Toronto is the recipient of the American Institute of Architects (AIA) 2019 Institute Honor Awards for Architecture.
The award celebrates the best in contemporary architecture and highlights the many ways buildings and spaces can improve lives. AIA's nine-member jury selects submissions demonstrating design achievement, including a sense of place and purpose, ecology, environmental sustainability, and history.
Adding 5481 m2 (59,000 sf) of space to an existing heritage-designated Victorian mansion, Casey House serves as a specialized healthcare facility for those living with HIV/AIDS. The new structure embraces the 1875 mansion, nicknamed 'the Grey Lady,' and organizes the user experience around a landscaped courtyard, visible from every corridor and room. Over 10 years in the making, it meets the needs of its patients and their providers in a setting designed to evoke the comforts of home.