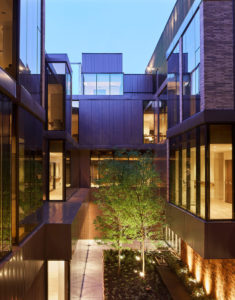 The Casey House, a health care facility in Toronto, is one of the recipients of the 2019 Healthcare Design Awards by the American Institute of Architects (AIA) Academy of Architecture for Health (AAH).
The awards celebrate cutting-edge designs that help solve esthetic, civic, urban, and social problems while also being functional and sustainable. Recipients can include healthcare building design, planning, and research. This year's projects were awarded by a seven-member jury in multiple categories.
Adding 5481 m2 (59,000 sf) of space to an existing heritage-designated Victorian mansion, Casey House, designed by Hariri Pontarini Architects, serves as a specialized healthcare facility for those living with HIV/AIDS.
"A great project the goes beyond the stigma of AIDS. It is thoughtful, empathetic and dignified," a jury member said.
The new structure embraces the 1875 mansion, nicknamed 'the Grey Lady,' and organizes the user experience around a landscaped courtyard, visible from every corridor and room. Over 10 years in the making, it strives to meet the needs of patients and healthcare providers in a setting designed to evoke the comforts of home.