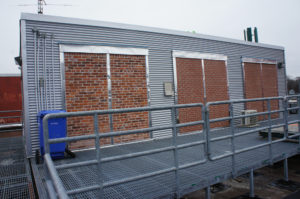 The Centre for Construction and Engineering Technologies at George Brown College, Toronto, in co-operation with a manufacturer is studying the performance of continuous air barrier, vapour retarder, and fibreglass insulation products.
The research study is using the College's rooftop test hut, also known as a natural exposure test facility, at their Casa Loma Campus. Six test wall systems have been built and are being monitored for moisture performance, durability, and drainage concerns as well as for wall performance relating to solar gain and wind exposure.
The research data is being collected over a one-year period to understand the seasonal variances of the Canadian climate with regard to moisture control. The project is being led by Christopher Timusk, PhD, professor and researcher of building science at George Brown College.
Timusk says, "Two of the assemblies are retrofits like the more traditional double wythe masonry walls of homes such as in the Annex neighbourhood in Toronto as well as the older parts of cities across Canada. When these homes were originally built, they had little or no insulation in them. They are beautiful old buildings, and people want to make them more comfortable and energy efficient but, at same time, they do not want to sacrifice durability."
Airtightness without proper moisture management can eliminate moisture's escape path, trapping it within a home's walls. The hidden consequences of this moisture buildup could include loss of thermal efficiency and potentially lead to mould and rot issues.