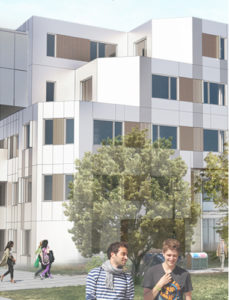 The Building NX retrofit at Humber College, Toronto, has been awarded the Zero Carbon Building—Design certification by the Canada Green Building Council (CaGBC). It is the first retrofit in the country to achieve this certification.
The original building envelope, built in 1989, consisted of aluminum curtain walls and spandrel panels, as well as a glass vestibule. The retrofits required a new envelope to achieve the thermal energy performance requirements of CaGBC. The college was able to achieve a design that will see Building NX use 70 per cent less energy than before, making it the college's most energy-efficient building.
Work on the 4484-m2 (48,269-sf) five-storey building includes the installation of new triple-pane windows. Energy-efficient upgrades to the lighting, heating and cooling systems, and a new 25kW solar photovoltaic (PV) system were also completed.
"One of the biggest challenges to reducing greenhouse gas (GHG) emissions in Canada is finding ways to heat buildings at a reasonable cost without burning fossil fuels," said Spencer Wood, Humber College's director of facilities management. "Humber wanted to be an example to the Canadian design and construction industries on how a deep energy retrofit can contribute positively to our country's climate."
Renovations to the building, which were designed by B+H Architects and Morrison Hershfield and constructed by Bird Construction, began in May 2018 and are scheduled for completion this summer.