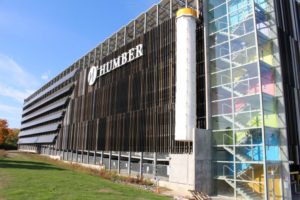 The Humber College parking structure in Toronto has won the 'Most Distinguished' award from the American Galvanizers Association (AGA), the highest honour from the organization.
The seven-story structure provides 28,000 m2 (301,389 sf) of parking area with 1000 car spaces and 700 m2 (7535 sf) of bike storage, retail, office, and ancillary space.
The garage was built to replace and improve the surface lot that was lost with the building of the new Centre for Technology and Innovation. All steel components of the main and secondary structure as well as miscellaneous metals were hot-dip galvanized to secure the long-term durability of the building and low-maintenance requirement.
More than 115 projects were submitted, representing a variety of applications of hot-dip galvanizing. All of the projects were judged online by a panel of architects and engineers.
A Tale of Two Bridges in Montreal, Qué., won an award in the 'Bridge & Highway' category. The MacKimmie Tower in Calgary, Alta., won in the 'Building & Architecture' category. An 'Electrical, Utility, & Communication' award was given to the 735-kV Chamouchouane- Bout-de-l'lle Transmission Line in Saguenay-Lac-St-Jean, Qué. The Calgary MAX Transit Shelters, in Calgary, Alta., won an award in the 'Transportation' category.