Toronto architects named as industry's 'Emerging Voices'
by nithya_caleb | February 15, 2019 4:33 pm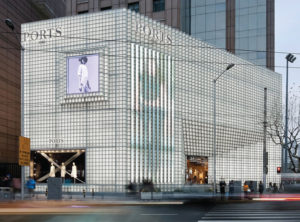 Irene Gardpoit and Eiri Ota of UUfie[2], Toronto, are the recipients of the 2019  Emerging Voices[3] awards. They were honoured by the Architectural League of New York[4] along with seven other architectural practices from across North America.
Irene Gardpoit and Eiri Ota founded UUfie in Tokyo, Japan in 2009. They relocated to Toronto in 2013. The firm's output includes architecture, industrial design, art, and landscape design.
"Our work aims to make architecture a sensory and visceral experience, an interactive process that engages people in fluid interplays and unique juxtapositions of architecture and landscape," said a statement by the partners.
Recent projects include a sculptural façade fabricated from glass bricks for fashion retailer Ports 1961's flagship store in Shanghai, a vertical circulation space or verticalité in Paris department store Printemps Haussmann, and Lake Cottage, a treehouse-inspired home in Kawartha Lakes, Ont.
The annual awards program spotlights individuals and firms with distinct design voices and the potential to influence the disciplines of architecture, landscape design, and urbanism.
The jury that included past award-winners reviewed work from approximately 45 firms. It considered accomplishments within the design and academic communities as well as the public realm.
"This year's Emerging Voices explore different modes of architectural inquiry—social, environmental, formal, computational, and material—to create ambitious design solutions across a broad scale, from installations and public space to housing and cultural institutions," said the league's program director Anne Rieselbach.
For more than 35 years, the program has identified over 250 practices that have gone on to develop influential careers. The league believes the work of each award-winner represents the best of its kind, and addresses larger issues within architecture, landscape, and the built environment.
The 2019 Emerging Voices award-winners will present lectures in March at the Scholastic Auditorium in New York City, New York. All lectures begin at 7:00 p.m.
Endnotes:
[Image]: https://www.constructioncanada.net/wp-content/uploads/2019/02/Award.jpg
UUfie: http://www.uufie.com/
Emerging Voices: https://archleague.org/emerging-voices/
Architectural League of New York: http://archleague.org
Source URL: https://www.constructioncanada.net/toronto-architects-named-as-industrys-emerging-voices/
---