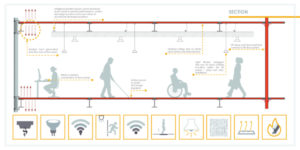 Toronto-based WZMH Architects has been accepted into Microsoft's global Internet of Things (IoT) Insider Labs, a program designed to assist businesses in transforming the way people, devices, and data interact. The architecture firm developed a smart building technology designed to be integrated directly into the fabric of a structure—instead of applying it as an afterthought—with the goal of leveraging the connectivity of technology to help make buildings more energy efficient, user friendly, barrier free, accessible, and safe.
Acting as project lead, WZMH Architects is collaborating with Quasar Consulting Group, Stephenson Engineering, and C3PoE at Microsoft's IoT labs to further develop its smart building solution. The group is engaging in a number of technical workshops at the Microsoft IoT lab headquarters.
The smart building solution provides plug and play infrastructure to allow a wide variety of devices to be connected and wirelessly controlled from any location. By collecting real-time data from localized surroundings, it enables a range of devices—from lighting, HVAC, elevators, motorized shades, smoke alarms, and security systems—to react and respond to an environment according to changes in movement, touch, sound, sunlight, room temperature, or even personnel flow. The technology is intended to be a prefabricated and modular solution that is cost effective, and reduces construction schedule and long-term operating costs. It will also allow the implementation of artificial intelligence (AI) and the integration of all IoT connected devices.
The technology can be applied to numerous building types across a number of different sectors, including office, retail, residential, institutional, mission critical, hospitality, healthcare, industrial and transportation.