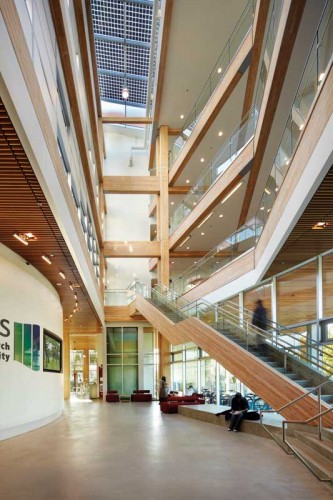 By Blair T. McCarry, P.Eng., PE, ASHRAE Fellow, LEED AP
The phrase "think globally, act locally" is a good way to describe how sustainable design projects are conceptualized. From the building to the community scale, the goal is to minimize the initial and ongoing effects of development by striving for net-zero impact and focusing on ecological restoration. (Net-zero refers to a balance of resource use and restoration on an annual basis—producing as much energy through renewable sources as consumed, sequestering equal or greater amounts of carbon as emitted, or diverting all waste from landfills or other harmful means of disposal).
Some important global environmental considerations the construction industry faces include:
energy use and the challenge of related carbon emissions;
need for clean water;
waste disposal and treatment; and
maintaining biodiversity and protecting natural areas, along with avoiding overharvesting of food resources on land and
in water.
This article describes how these environmental challenges were addressed through two building projects: the Centre for Interactive Research on Sustainability (CIRS) at the University of British Columbia (UBC), and Edmonton's City Centre Redevelopment (CCR)—a community development planning project.
Centre for Interactive Research on Sustainability
In 2004, the CIRS team set aggressive environmental performance goals that reached well beyond Canadian Green Building Council's (CaGBC's) Leadership in Energy and Environmental Design (LEED) Platinum certification requirements. In 2006, the Living Building Challenge (LBC) emerged and was determined to be well-aligned with the CIRS vision. As such, the project proceeded, pursing certification under both the LEED and LBC rating systems.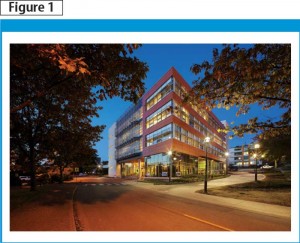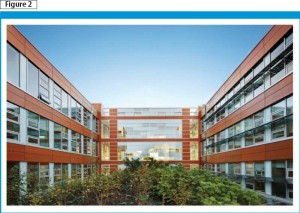 CIRS is a 5675-m2 (61,085-sf) building consisting of office, meeting, and dry-lab spaces in addition to a 500-seat auditorium (Figures 1 and 2). The facility was designed to display its sustainable systems and to be 'net-positive' in seven different ways:
net-positive energy;
carbon-neutral;
operational carbon (i.e. the wood structure sequesters more carbon emissions than the building produces through operation on an annual basis);
net-zero water;
turning passive occupants into active inhabitants;
promoting health and productivity; and
promoting happiness.
A high-performance building envelope, passive design strategies, provisions for inhabitant control of personal space, and energy-efficient equipment were used to minimize the building energy loads and use. A heat recovery system captures laboratory exhaust waste heat from the adjacent Earth and Ocean Sciences (EOS) building and transfers it to the heat pumps in CIRS. These provide heating and cooling for CIRS through the radiant slabs and a displacement ventilation system. The heat pump system returns excess heat from CIRS heat pumps to the EOS building to heat laboratory ventilation air, reducing its heat load and the demand on the campus steam system.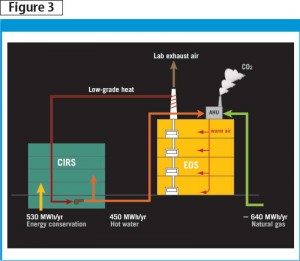 While CIRS uses 530 MWh of energy annually, 640 MWh of heating energy is reduced at EOS for a net annual campus energy use reduction (Figure 3). A ground-source geo-exchange field supplements the waste heat recovery and provides heating and cooling to the heat pumps. An evacuated tube array on the roof captures solar energy to pre-heat the domestic hot water and an internal heat recovery system captures waste heat from the building systems. Photovoltaic (PV) cells on the atrium roof and window sunshades convert solar energy into electricity. Ongoing monitoring and research will study the energy consumption and effectiveness of the building systems in relation to inhabitants' behaviour and help optimize the facility's operation.
All wastewater is treated onsite and reused for toilet-flushing and irrigation. Stormwater is collected on the roof, stored in cisterns, and treated for use as building potable water.
The materials employed in constructing CIRS were selected considering two criteria in addition to traditional issues: greenhouse gas (GHG) emissions embodied in the materials, and health impacts to occupants related to off-gassing. Local mountain pine beetle (MPB)-affected wood was used, sequestering 600 tonnes of carbon dioxide (CO2). The embodied emissions of the other building materials such as concrete, steel, aluminum, and glass totalled only 525 tonnes of CO2, for a net reduction of 75 tonnes (Figure 4).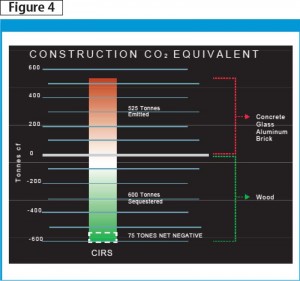 Comparing the building performance to the global environmental goals previously outlined, one can conclude the following:
more energy is reduced in the EOS building operations than CIRS uses—this means a net reduction in total campus energy use;
relatively clean electrical grid power (~25 kg CO2/MWh) is employed, but more energy in MWh is saved from the heating of EOS at a higher emission rate (~290 kg CO2/MWh), resulting in significant GHG emission reductions for the campus (construction materials also result in a net reduction of 75 tonnes of CO2);
CIRS 'lives' off the rainwater it receives, treating it to potable water standards—all wastewater is treated to very high, reclaimed water reuse standards and reused onsite, and any excess water is discharged onsite to a low-level aquifer, avoiding erosion of the nearby cliffs on campus;
liquid waste is treated in the same manner—organic waste is composted on campus and appropriate materials are recycled, a small amount of solid waste does go to the municipal waste system for landfill; and
the previous condition of the CIRS site included a warehouse with no landscape support for flora and fauna—CIRS includes a vegetated roof over the auditorium with a diverse range of planting to support the local fauna, and site landscaping includes exterior vines on the west glazed façade to provide shade in the summer and allow penetration of winter solar heat after the seasonal leaves fall.

Control the content you see on ConstructionCanada.net!
Learn More.