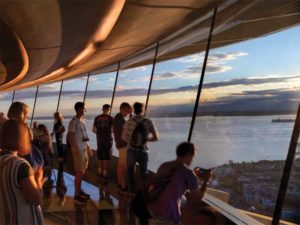 Specifications should include a requirement for fabricators to follow AAMA QAG-2-12, Voluntary Quality Assurance Processing Guide for Polyamide Thermal Barriers, and the quality tests referenced in AAMA TIR A8-16, Structural Performance of Composite Thermal Barrier Framing Systems, which details a range of flexural, shear, and tension tests that ensure the required structural performance is achieved. These routine structural tests are important to control the risk of lower quality material substitutions (e.g. using polyamide with lower glass fibre content, or with uni-directional fibres rather than high-quality 3D fibres, or with impurities or voids) or poor process control, which can cause degradation to structural performance.
Third-party support
Curtain wall systems are complex. The considerations for delivering thermal performance have been discussed here, but there are many other considerations to be balanced. Finding a trusted partner is highly recommended to support the development of robust specifications that are consistent across the curtain wall and glazing sections and do not let important items fall through the cracks. It is often useful to ask a third-party to provide a specification review to help catch potential issues before they negatively impact the performance of the as-built structure.
Conclusion
To create a robust specification for a high-performance curtain wall, it is important to focus on several areas. First, improve the thermal performance of the frame and EOG, and then specify COG. Specifying an assembly U-factor performance in the curtain wall section is a must, as is a separate specification for CR, since the two are not correlated.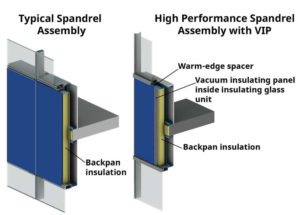 These assembly-level specifications also should be augmented with a minimum thermal break dimension and an EOG performance, which is consistent with achieving that assembly performance. For EOG, provide details of the edge spacer material and type rather than using the generic "warm-edge" term to achieve the thermal performance and durability desired. The "warm-edge" spacer performance definition is too broad to be effective in specifying high-performance fenestration systems and will often deliver a stainless-steel spacer, which does not match the performance required.
High-performance warm-edge spacers, such as PHSS spacers, can deliver a five to 15 per cent U-factor improvement in the assembly U-factor depending on the curtain wall system. They have the highest impact with structurally glazed systems. EOG, COG, and frame performance specifications should be consistent with achieving the overall assembly U-factor requirement.
Next, focus on the spandrel areas. Recognize and adjust for the performance degraders and the lack of accuracy in regular 2D thermal simulation. If possible, find ways to line up the insulation with the insulating glass and thermal barriers. Implement strategies to minimize the thermal bridging from transparent to spandrel areas through vertical mullions.
Actively manage thermal bridging at the interfaces through the specification execution sections. Avoid accepting "by others" by specifying which party is responsible for the interface connections and require a roadmap for sequencing and interface management.
Finally, remember to specify submittal requirements ensuring the contractor's proposed curtain wall assemblies meet the design requirements. Do not rely solely on mockups and commissioning tests. By then, it is too late to discover the system itself does not perform as required. Mockups and site testing can only manage installation quality, they cannot address design gaps. Trusted partners are invaluable in supporting the development of high-quality specifications that deliver high-performance curtain walls.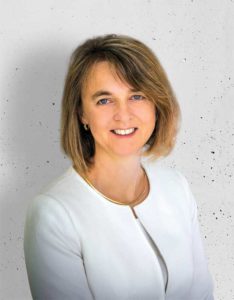 Helen Sanders, PhD, manages strategic business development at Technoform. She has 25 years of experience in glass technology and manufacturing, with expertise in functional coatings, insulating glass, and thermal zone technologies for fenestration. She is the president of the Façade Tectonics Institute and a Fenestration and Glazing Industry Alliance (FGIA) board member. She has a master's degree in natural sciences and a doctorate in surface science from the University of Cambridge, England. She can be reached at helen.sanders@technoform.com.

Control the content you see on ConstructionCanada.net!
Learn More.