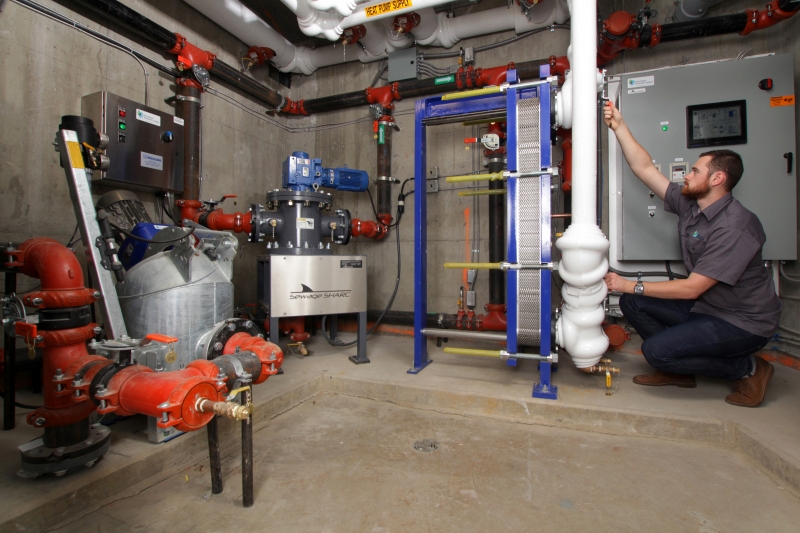 When it comes to green building, two particular questions are always at the forefront of any financial decision: Is there an additional cost? What is the expected return on investment (ROI)? With respect to energy efficiency, the single most cost-effective and profitable thing to do is recycle energy already being wasted.
Domestic water heating costs make up a significant portion of household energy costs. Ironically, however, the average North American household flushes one full tank of hot water down the drain everyday. In a city of one million homes, that is equivalent to approximately $500,000 in energy from natural gas flowing into our city sewers daily. The simple fact is recovering the heat energy going down the drain is relatively easy and efficient.
Water enters buildings at 7 to 9 C (44.6 to 48.2 F) and leaves at 20 to 25 C (68 to 77 F). If captured, this wasted heat could be used to fulfil 40 to 50 per cent of a building's energy requirements. The buildings most suited to the installation of a sewage heat recovery system are large users of hot water such as hospitals, hotels, prisons, condos, multi-family structures, and large industrial facilities.
New emerging systems can filter raw sewage and intercept suspended solids. These assemblies allow filtered sewage water to enter a heat exchanger where heat is either rejected or extracted. It employs geothermal heat pumps and chillers to extract heat in a simple, hassle-free way.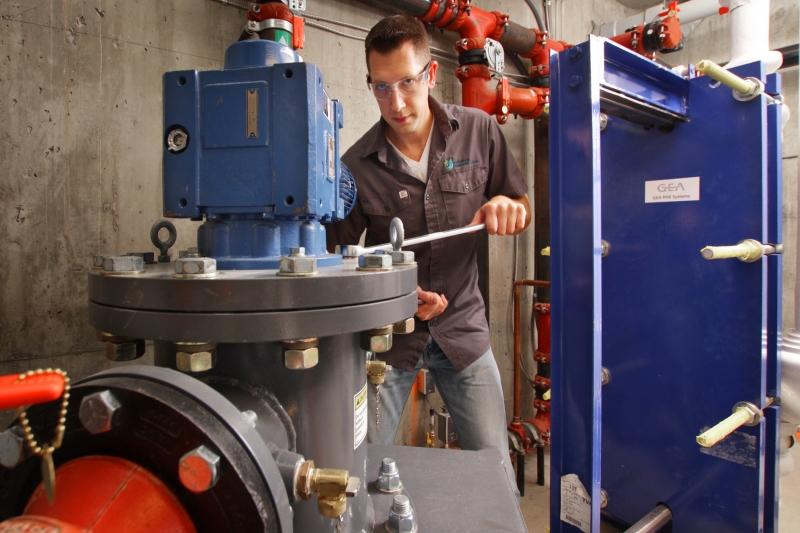 One such system was installed at the Seven35 Condominium complex in Vancouver. Currently operating at more than 500 per cent efficiency, it converts every dollar spent on recovering heat out of the sewer into over $5 of heat received by the building.
The first time this technology has been used in a North American residential building, it has contributed to earning the condominium the first dual 'green' certification in Canada—Platinum under Leadership in Energy and Environmental Design (LEED) and Gold under the Built Green Canada program.
Fully automated with a direct digital control (DDC), it has a wireless or Ethernet connection for data retrieval and instantaneous calculation of co-efficient of performance (COP) and greenhouse gas (GHG) savings. By using these systems, 30 to 50 per cent of a building's annual GHG emissions can be reduced and 80 per cent of the buildings wasted energy can be recovered. With a three- to five-year payback period, these systems are among the most cost-effective renewable energy assemblies available.
Designed to be clog-proof with an optional automatic back-flush, it is most importantly hands-free. It has full backup capacity with zero down time and is available in heat exchange or heat pump applications. The systems are easily interfaced with new and existing building space conditioning equipment.
While sustainable building practices are rapidly advancing, it is unclear whether the scope, speed, and scale can continue to ramp up sufficiently to address key energy and environmental challenges unless we can truly think outside of the box about where the most potential lies in saving energy.
Moreover, the "Green Building Market and Impact Report 2011" by GreenBiz states:
given that the LEED new construction standards is nearing the 25 per cent market penetration threshold, most of these additional savings need to come from the existing building market. However, the penetration into this market is not adequate to generate enough savings to result in a net decrease in energy consumption, let alone the 80 per cent reduction needed by 2050 to combat unmanageable climate change.
As we look for ways to advance green building practices and mitigate climate change, perhaps next time we'll think twice about throwing money and energy down the drain.
Rowan Oloman is a freelance writer living in Vancouver. She has written for various green technology-related communications over the past four years, has an MBA in sustainable energy, and a master's degree in natural resource management. Oloman is currently working for Radiant Carbon, a carbon offset provider. She can be contacted by e-mail at rowan.oloman@gmail.com.

Control the content you see on ConstructionCanada.net!
Learn More.