When should the window replacement be completed?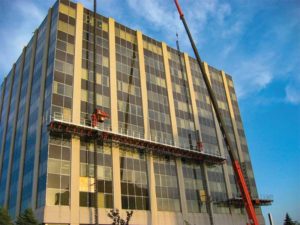 Like all exterior rehabilitation work, window replacement in warmer weather is more likely to achieve a durable installation as worker comfort improves and adhesives and sealants are installed within their ideal temperature ranges. Installation during the warmer months also removes potential for membranes being installed on cold or frosty surfaces and reduces the possibility for temperature-related complaints from occupants during the replacement. Finally, any quality assurance (QA) testing, such as ASTM E1105, Standard Test Method for Field Determination of Water Penetration of Installed Exterior Windows, Skylights, Doors and Curtain Walls by Uniform Cyclic Static Air Pressure Difference, is only feasible if the exterior temperature is above 6 C (43 F).
In order to undertake a window replacement project, it must first be designed and tendered with the contract awarded before materials are ordered. It is also recommended to complete a site mockup for performance testing and esthetics. The ideal installation time is between late spring and early fall. It is recommended to award the contract in November-December of the year prior to the planned time for window replacement as it would typically take eight to 12 weeks to assemble IGUs and the frames and an additional four to eight weeks would be required to install, review, and test a mockup. Allowing a three-week tender period and a similar lead time for design would mean the project design should commence in September of the year prior to window replacement. It could be 26 weeks or more between the time the contract for design services is issued and the actual replacement begins. This is an important practical consideration for owners regarding the timing of the window replacement process.
Conclusion
Windows are a very necessary component to the building enclosure and require careful review of types, orientations, and detailing for long-term performance. Equal consideration should be given to the window replacement process. Setting realistic expectations, keeping the stakeholders informed, selecting a means of execution specific to the building, and starting the process within realistic timeframes will increase the potential for success. These can be incorporated into the project documents by specifiers and requested by the owner. With due consideration, window replacements can be executed with minimal impact to building occupants and on time and budget, thereby benefitting all stakeholders.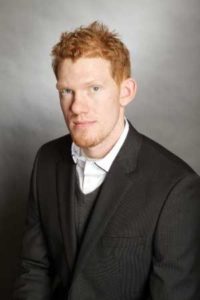 Jonathan Dickson, M.Eng., P.Eng., BSS, LEED GA, is senior project manager at Pretium Engineering. He has been actively involved in the industry since 2010 with extensive experience in restoration of existing buildings. His experience ranges from localized leak assessments to multimillion dollar rehabilitation projects. Dickson can be reached at jon.dickson@pretiumeng.com.

Control the content you see on ConstructionCanada.net!
Learn More.