Advent of continuous insulation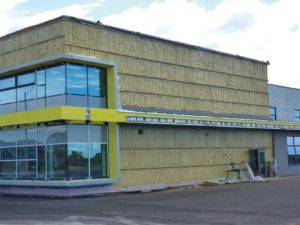 The changes and advancements in energy codes, specifically the 2009 International Energy Conservation Code (IECC), started to require exterior continuous insulation (ci) in most of the eight climate zones.
Knowing vapour permeable air barrier membranes were the newest and fanciest product, and the exterior wall still needed ci, it was not uncommon to find both installed on the exterior side of the wall. If the ci was rigid foam plastic insulation and installed after the air barrier membrane, as it typically is, the vapour permeable properties of the membrane are rendered useless. A wall is only as breathable as its least breathable component and in this case, it is the vapour retarding rigid foam plastic insulation.
This multilayered approach did not allow for vapour permeance to the exterior because the insulation was preventing it from exiting. While this is not necessarily a poor design, it just means the owner paid a premium for an individual air barrier product that is not being used to its full potential. It also means if the mechanical engineer was counting on a permeable exterior wall, some of the HVAC calculations may be off.
Continuous insulation as an air and vapour barrier means the old practice of using interior vapour retarders is no longer necessary in cold climates, and this material can be removed from the assembly. Those vapour retarders were meant to keep warm, humid air from getting into the stud cavity and touching a cold surface. Continuous insulation reduces the chances of having a surface below dewpoint temperature inside the stud cavity and, along with the wall no longer being leaky, the humid air in the cavity will normalize with the interior and be part of the HVAC system's conditioned air. If any moisture was to leak in the wall cavity, it would now dry to the interior.
As architects and designers were learning the building science of why and how to use ci properly, they were also looking at the increasing cost and number of materials employed in the exterior wall. The need for one multipurpose product on the exterior wall created an opportunity for rigid foam plastic manufacturers.
Extruded polystyrene and polyisocyanurate
Extruded polystyrene (XPS) and polyisocyanurate (ISO) insulation manufacturers began to successfully test their products to show they could act as the air and water barrier, vapour retarder, and the ci of the building. One product performing all these controls allows the removal of one or more materials from the assembly, such as the individual air barrier, saving installation time and money.
To accomplish this level of performance, rigid boards need to be mechanically fastened to the walls to resist negative wind pressure. They must also seal every board joint and fastener and through-wall penetrations. Typically, tape is employed to seal the board joints and fasteners, while flashing is used for through-wall penetrating objects. If installed correctly, tape can be effective, but the thousands of foam board joints and tens of thousands of foam board fasteners create potential direct paths for leakage. If the rigid foam board is used as the air and water barrier, it is imperative every joint and fastener treatment be installed correctly.
Closed-cell polyurethane spray foam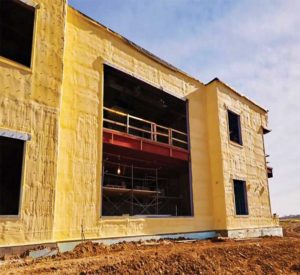 Closed-cell polyurethane spray foam has recently been approved as an exterior air, water, and vapour barrier. Additionally, spray foam does not have any joints or fasteners to seal. Rigid ISO foam plastic insulation and closed-cell polyurethane spray foam have similar performance characteristics. They each have a closed-cell structure that can utilize a blowing agent to achieve some of the highest R-values per inch on the market. Spray foam tops the insulation R-value charts at around R-7.1 per inch. They both perform as an air, water, and vapour barrier. However, spray foam is installed very differently. It is sprayed onto the exterior sheathing (or masonry back up wall), adhering to the surface, and expanding outward to create the desired thickness. Spray foam will self-support and adhere to common construction materials, including itself. This ability allows spray foam to be installed much more quickly than rigid foam board and it does not have any joints to treat. Spray foam can also allow for eye-catching architectural curves in walls to be insulated and sealed easily whereas rigid foam board would require thin vertical strips to make it around the radius.
Spray foam insulation helps expand the horizon of design opportunities for commercial architects beyond what was feasible with fibrous or rigid board insulation options. Architects can allow their creativity to show with the confidence spray foam will help meet the energy efficiency, overall performance, and functional needs of a building. Closed-cell spray foam insulation tackles design challenges and problem areas that are difficult or nearly impossible with other types of insulation, including arches, curves, cathedral ceilings, and transitions from the exterior wall to fluted roof deck overhangs.
Air barriers have evolved from encompassing several different materials with labour-intensive processes to single, multipurpose products making construction faster and more cost efficient when combined with the right design and building science.

Control the content you see on ConstructionCanada.net!
Learn More.