The modern masonry approach to sustainability
September 13, 2016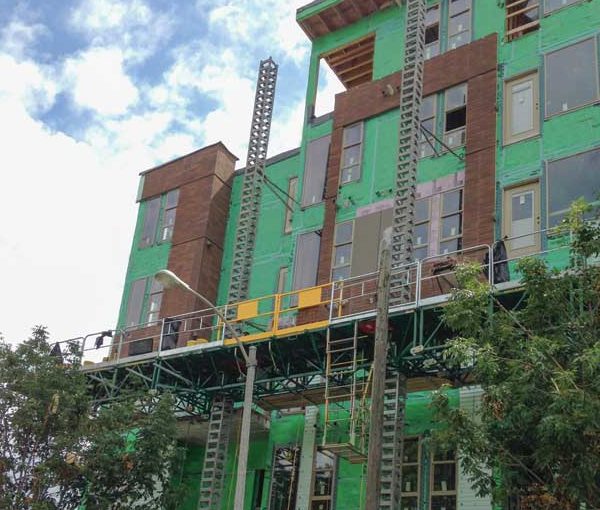 By Nader Assad
The approach to masonry is more scientific and refined than ever before. Stricter building codes and fewer traditional masons have combined with tighter energy efficiency regulations and green aspirations to constantly challenge builders and architects alike. In recent years, manufacturers have addressed these issues through the design of products blending masonry with structural framing, and the pairing of structural and esthetic masonry into complete systems. As a result, the complete systems approach to wall materials has not only grown in popularity, but has also improved the cost-effectiveness, structural integrity, energy efficiency, and building strength—while maintaining the look desired.
With today's design, it is not uncommon to see stone or brick, metal, and wood coming together in a single building exterior. For these reasons, manufacturers are continually developing new products that merge the characteristics of masonry with engineered performance. Regardless of the size of the firm or project, architects and specifiers value building materials backed by a broad product line that help deliver projects on spec and on budget. When millions of dollars in construction costs are at stake, it is important to demonstrate performance, which simplifies the specification and design process and helps achieve sustainability goals.
For instance, the Leadership in Energy and Environmental Design (LEED) Canada for New Construction 2009 rating system allows designers to pick and choose the various credits they want to pursue. It concerns new commercial construction and everything from schools and data centres to commercial interiors, homes, building operations, and also neighbourhood development.
While the specifics of each rating system will vary, they all share an organization that considers the building site, location and transportation, water efficiency, energy and atmosphere, materials and resources, and indoor environmental quality.
Contractors and masons tend to be most concerned with the products that accomplish green objectives, while saving time and eliminating callbacks. Building owners and developers also are increasingly striving for the coveted LEED designations, while desiring to reduce lifestyle costs, increase property revenues, and decrease expenses through the use of user-friendly materials of lasting quality.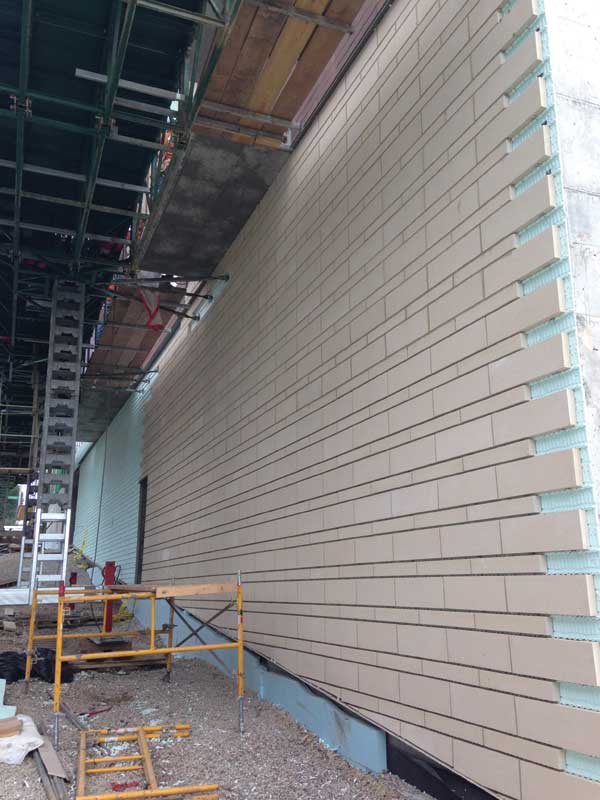 Remember, however, that green building is not necessarily the same as sustainable design, which refers to the design and construction of buildings that meet today's needs without compromising the needs of the future. With green building, the focus is often limited to environmental impact. True sustainable design considers the economic and social aspects of the design in addition to the environmental impacts. It involves a holistic look at the entire building process, while seeking to balance this 'triple bottom line.'
Sustainability with newer masonry products
When it comes to masonry, the applicability to sustainable building practices depends both on its use and manufacturing characteristics. An energy-efficient building envelope is key. It considers both the insulating value of materials and their thermal mass. Thermal mass, as found in masonry products, absorbs energy slowly and stores it for longer periods, which reduces indoor temperature swings and often leads to a reduction in the size of mechanical heating and cooling systems. The benefits of thermal mass are most accurately reflected when utilizing energy analysis programs that analyze the building type, location, and temperature variations over a 24-hour period, 365 days a year.
Thermal mass is directly proportional to the weight and density of the material, and is most effective when used on the interior side of the insulation in the building envelope. This includes using load-bearing concrete masonry units (CMUs) as part of a cavity wall system as well as interior concrete masonry walls and stone applications.
Environmentally responsive site planning is another prime ingredient in achieving sustainability. Permeable pavement systems and grid pavers are often used on sustainable building designs to reduce the heat island effect and reduce stormwater runoff. It refers to the excess heat retained by dark-coloured surfaces, which in turn creates a microclimate of sorts. This is why nighttime temperatures in the countryside are often much cooler than in the city. The heat island effect can be reduced by the shading of horizontal surfaces, introducing vegetation, or specifying light-coloured or reflective materials for hardscape projects. Commercial pavers are now available in several hues meeting solar reflectance criteria and can be used in applications ranging from parking lots to plazas. Permeable pavers also offer an important method for managing stormwater and meeting heat island mitigation requirements.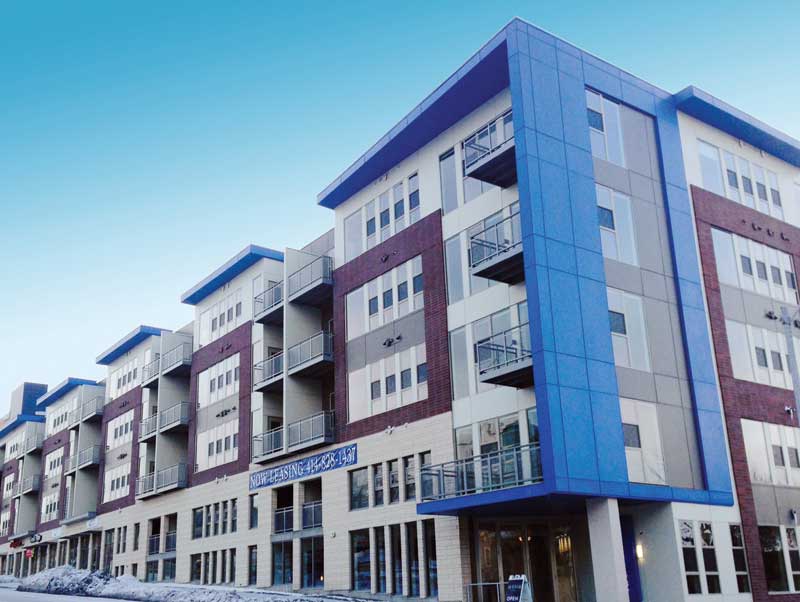 Dry-cast manufacturing benefits
There are many manufacturing methods to transform concrete. The dry-cast production method uses a mould technology that can offer long lifespans, and results in a dimensionally stable product. A low-moisture mixture of fine aggregates, cement, admixture, and integrated colourant are densely compacted into the moulds, stripped from them, and cured in a high-humidity environment.
Thin or full veneers manufactured through dry-casting offer a strength superior to traditional thin veneers and have colour integrated throughout the body of the unit, eliminating the need for special corner pieces and reduces waste caused by chipping. Additionally, dry-cast stones resist freezing/thawing, moisture, and fading.
Concrete is a very versatile material that can be transformed to achieve a wide variety of esthetic looks. There are many textures and finishes that can be achieved, with the dry-cast production process allowing visual replication of anything from mechanical finishes to the natural beauty of stone.
'Cradle to grave' product assessments
When evaluating the environmental aspects of building materials, users should start the process with a life cycle assessment (LCA). This includes a 'cradle-to-grave' evaluation highlighting practices ranging from manufacturing to building maintenance and end-of-building-life projections and recommendations.
At a minimum, an LCA should ascertain steps ranging from the environmental impact of the raw material acquisition process (cradle) to the manufacture of finished product (gate). The results of a LCA can be reported by a manufacturer or can be used to develop an environmental product declaration (EPD), which is essentially a formal reporting of the life cycle impacts of products according to specific rules. Other considerations should include:
cost of building materials over the entire lifespan of a building;
fire-resistant construction and resistance to impacts and wind-borne debris;
superior sound absorption at all frequencies; and
designs that do not produce volatile organic compounds (VOCs) or the release of other hazardous chemicals.
Hybrid wall system benefits
These details are important for nearly all masonry installations including their integration into hybrid wall systems. Frequently used in multi-family residential, shopping centre, and low-rise construction, brick veneer and wood or steel studs are paired to create façades that look like solid masonry and provide long-lasting brick exteriors.
A recent example of this successful integration can be found in Milwaukee, Wisconsin—a city with a climate similar to parts of southern Canada. To beautify and make use of an off-ramp dead-end in the city's downtown Park East corridor, officials approved construction of the Avenir mixed-use development, a project designed to esthetically blend in with the surrounding neighbourhood.
Spanish for 'come together,' Avenir offered local citizens and businesses access to 650 m2 (7000 sf) of retail space, more than 100 apartment units, and garage parking.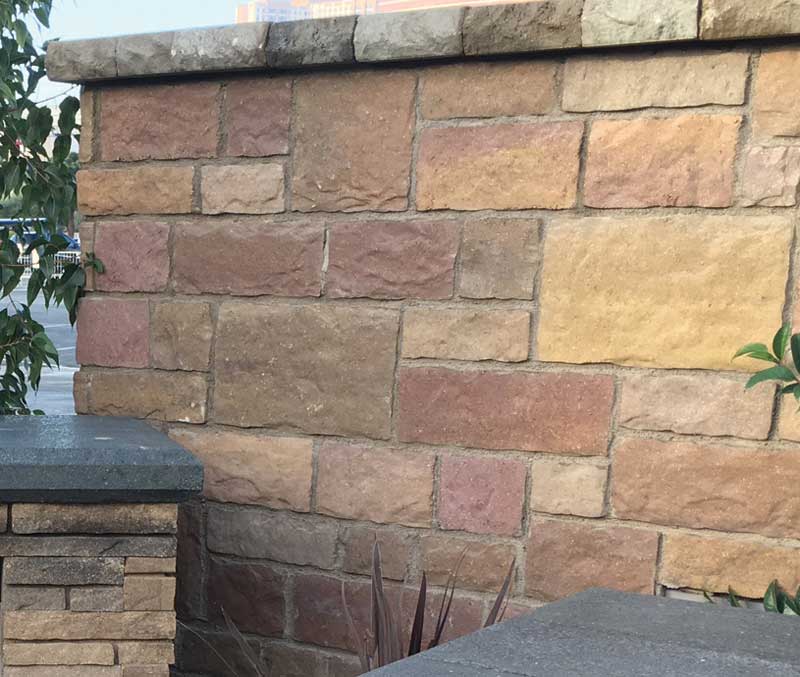 "We wanted the structure to complement the classic architecture of the neighbourhood," said Scott Drees, director of construction for Wangard Partners. "There's a lot of brick and a lot of stone masonry, but natural stone was cost-prohibitive. There was also a significant concern with the energy issues of using a monolithic layer of veneer."
"We were looking for a thinner product to help cost efficiency, and these masonry products gave us the esthetics we were looking for without requiring the structural steel of traditional masonry systems," he continued.
This was achieved through the construction of a wall system comprising three components using a special anchor design, and including pocketed and profile-moulded expanded polystyrene (EPS) insulation panels that attach directly to the structure, masonry stone or brick, and a proprietary, high-performance mortar. The proprietary system offered:
a 9.2 steady-state RSI value;
continuous insulation thermal barrier with extra layer of thermal protection;
improved water management; and
acoustical comfort.
This helped building owners meet and exceed demanding energy codes, while creating the beautiful look of brick or stone masonry veneer.
Another consideration for mixed use structures is sound transmission for interior walls— also known as the sound transmission class (STC) for new construction. The chosen wall system has an STC of 61 dB when installed over steel stud framing. Additionally, the performance improves if installed over structural concrete masonry blocks, depending on size, configuration, and adjacent room occupancy.
Environmentally preferable materials and products
The careful specification of building materials and products is extremely important in achieving sustainable design strategies. Materials should be evaluated over their entire life cycle, from raw material extraction to end of useful life. In this context, environmentally preferred masonry products should incorporate:
abundant and efficient use of raw materials, bio-based, recycled materials, or rapidly renewable materials;
sustainable acquisition/manufacture measures;
regionally available materials;
regional manufacture or fabrication;
recyclable, salvageable, durable, and non-toxic materials; and
construction waste avoidance.
These building products have evolved tremendously in recent years to meet the performance and esthetic needs of modern construction. In terms of overall lifecycle costs, masonry veneers provide added thermal protection, moisture management, and mould resistance to a building, and have long-term low-maintenance. All this enhanced performance and installation efficiency comes without losing the unique character and visual appeal of
traditional masonry.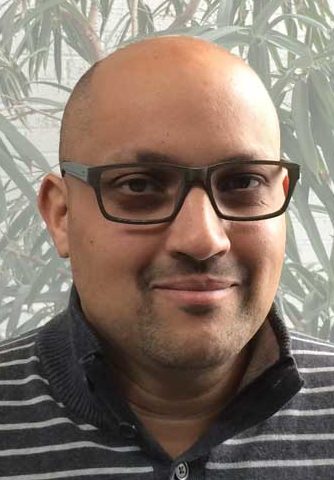 Nader Assad has been the masonry group manager for Oldcastle Architectural's Echelon Masonry since January 2014. Prior to this, he was the engineering manager for Besser Company, a supplier of machinery equipment for the concrete product industry. Assad began his career as a mould designer and has nearly 20 years of experience in the concrete industry, including engineering and new product development/deployment. He can be reached at nader.assad@oldcastle.com[1].
Endnotes:
nader.assad@oldcastle.com: mailto:nader.assad@oldcastle.com
Source URL: https://www.constructioncanada.net/the-modern-masonry-approach-to-sustainability/
---