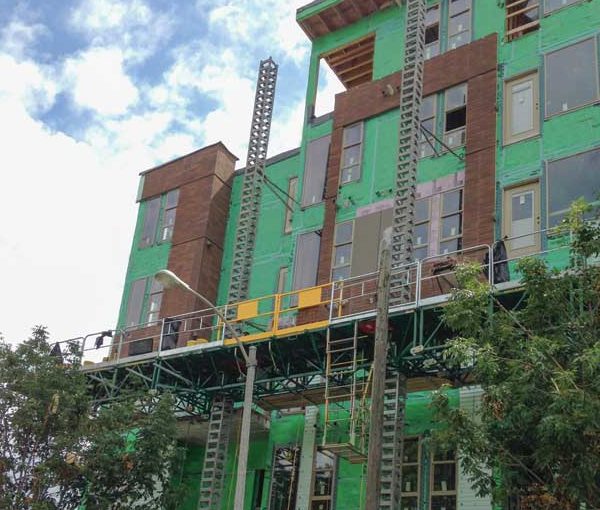 By Nader Assad
The approach to masonry is more scientific and refined than ever before. Stricter building codes and fewer traditional masons have combined with tighter energy efficiency regulations and green aspirations to constantly challenge builders and architects alike. In recent years, manufacturers have addressed these issues through the design of products blending masonry with structural framing, and the pairing of structural and esthetic masonry into complete systems. As a result, the complete systems approach to wall materials has not only grown in popularity, but has also improved the cost-effectiveness, structural integrity, energy efficiency, and building strength—while maintaining the look desired.
With today's design, it is not uncommon to see stone or brick, metal, and wood coming together in a single building exterior. For these reasons, manufacturers are continually developing new products that merge the characteristics of masonry with engineered performance. Regardless of the size of the firm or project, architects and specifiers value building materials backed by a broad product line that help deliver projects on spec and on budget. When millions of dollars in construction costs are at stake, it is important to demonstrate performance, which simplifies the specification and design process and helps achieve sustainability goals.
For instance, the Leadership in Energy and Environmental Design (LEED) Canada for New Construction 2009 rating system allows designers to pick and choose the various credits they want to pursue. It concerns new commercial construction and everything from schools and data centres to commercial interiors, homes, building operations, and also neighbourhood development.
While the specifics of each rating system will vary, they all share an organization that considers the building site, location and transportation, water efficiency, energy and atmosphere, materials and resources, and indoor environmental quality.
Contractors and masons tend to be most concerned with the products that accomplish green objectives, while saving time and eliminating callbacks. Building owners and developers also are increasingly striving for the coveted LEED designations, while desiring to reduce lifestyle costs, increase property revenues, and decrease expenses through the use of user-friendly materials of lasting quality.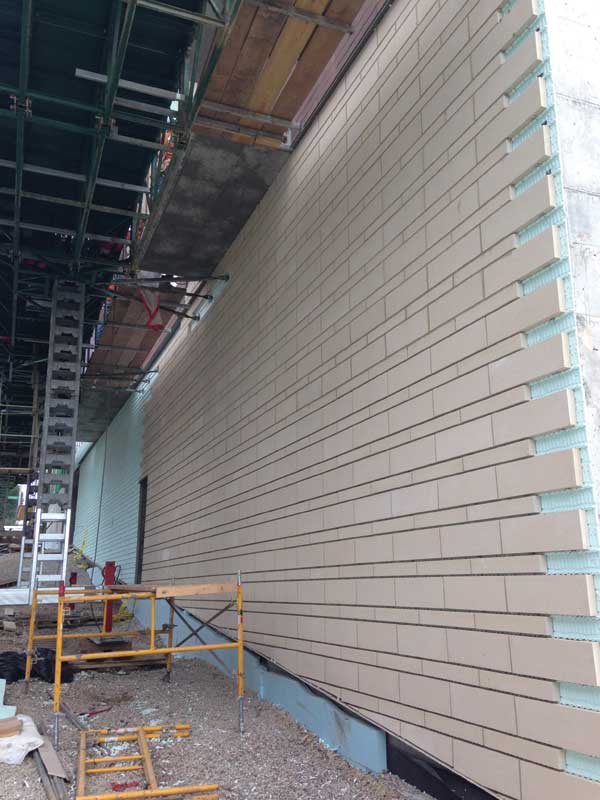 Remember, however, that green building is not necessarily the same as sustainable design, which refers to the design and construction of buildings that meet today's needs without compromising the needs of the future. With green building, the focus is often limited to environmental impact. True sustainable design considers the economic and social aspects of the design in addition to the environmental impacts. It involves a holistic look at the entire building process, while seeking to balance this 'triple bottom line.'
Sustainability with newer masonry products
When it comes to masonry, the applicability to sustainable building practices depends both on its use and manufacturing characteristics. An energy-efficient building envelope is key. It considers both the insulating value of materials and their thermal mass. Thermal mass, as found in masonry products, absorbs energy slowly and stores it for longer periods, which reduces indoor temperature swings and often leads to a reduction in the size of mechanical heating and cooling systems. The benefits of thermal mass are most accurately reflected when utilizing energy analysis programs that analyze the building type, location, and temperature variations over a 24-hour period, 365 days a year.
Thermal mass is directly proportional to the weight and density of the material, and is most effective when used on the interior side of the insulation in the building envelope. This includes using load-bearing concrete masonry units (CMUs) as part of a cavity wall system as well as interior concrete masonry walls and stone applications.
Environmentally responsive site planning is another prime ingredient in achieving sustainability. Permeable pavement systems and grid pavers are often used on sustainable building designs to reduce the heat island effect and reduce stormwater runoff. It refers to the excess heat retained by dark-coloured surfaces, which in turn creates a microclimate of sorts. This is why nighttime temperatures in the countryside are often much cooler than in the city. The heat island effect can be reduced by the shading of horizontal surfaces, introducing vegetation, or specifying light-coloured or reflective materials for hardscape projects. Commercial pavers are now available in several hues meeting solar reflectance criteria and can be used in applications ranging from parking lots to plazas. Permeable pavers also offer an important method for managing stormwater and meeting heat island mitigation requirements.

Control the content you see on ConstructionCanada.net!
Learn More.