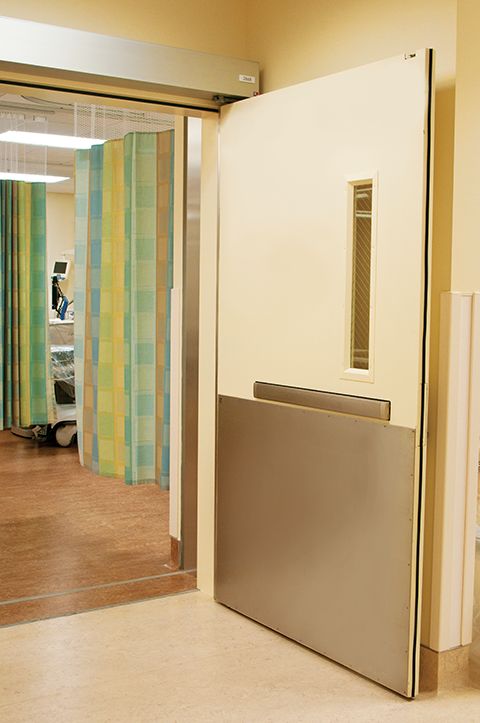 By Jennifer Manning
Specifying and installing doors and hardware has become an increasingly complex process. To address some of the associated challenges, some project teams are turning to integrated doors, which have emerged as a popular choice for simplifying the purchasing and installation of many types of openings.
Considering all the proven advantages of integrated door systems suitable for environments ranging from commercial to healthcare to education, why would these assemblies not be specified? In a word, cost. While it is true the sticker price for a door without integrated components is less than an integrated door, this is where the 'savings' both begin and end.
On the other hand, there are numerous ways integrated doors provide greater value at a lower cost over the long run. For starters, all the parts and pieces arrive at once. Since they are fully assembled, they are easier—and more affordable—to install. Integrated doors are also designed to provide a higher level of safety for occupants during fires and other disasters. Finally, they are assembled with an eye toward compliance, which spares users from having to confirm each piece of hardware meets various codes and other regulations. This is particularly important when project specifying for government or healthcare facilities, which must adhere to strict regulations on everything from the width of an opening to the installed hardware's size.
This article offers a closer look at how integrated door solutions can be a suitable way for designers and specifiers to provide clients more quality and long-term value.
Initial cost
In a strictly apples-to-oranges comparison, integrated doors have a higher price tag than openings specified with the door and accompanying hardware purchased separately. These calculations, however, fail to consider installation costs. The more pieces that need to be installed, the more time—and labour wages—it takes to complete the job. Even more time is required when code-compliance issues arise or products are improperly installed.
Simply put, when a traditional door is ordered, the accompanying hardware is not provided, shipped, or installed free of charge. Those costs add up, not to mention the hassles of keeping it all organized and on track.
Quicker installation
Integrated doors can make the installation process easier, by not only reducing additional costs, but also alleviating frustration for the project team.
Integrated doors eliminate the need to place separate orders for the hardware required to make the door fully functional. This obviously reduces delays, but it also saves the installers the inconvenience of arriving at the jobsite and discovering the wrong parts were ordered. Integrated doors also can avoid any frustration that comes with pieces of an opening's hardware arriving at different times and, as a result, are misplaced at various points throughout the construction site.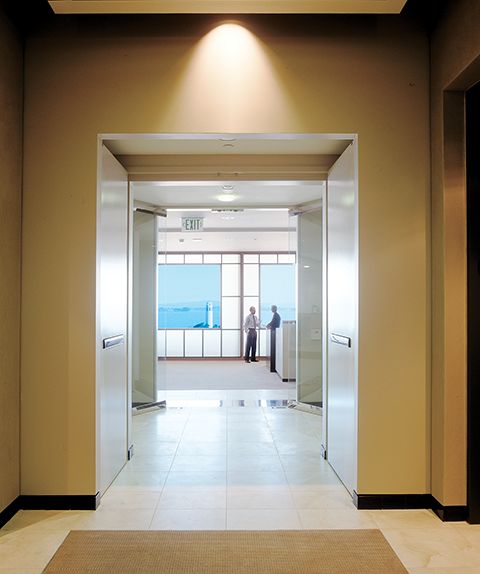 Frames play a major role in the way integrated doors can be installed more easily and quickly. This is because the frames can be included in the order, which saves the time and hassle of specifying a frame for each door. Of course, it also eliminates the possible delays of receiving doors incorrectly sized for their frame.
While the savings of time, frustration, and ultimately, money are clear benefits of an integrated door, there are other advantages that are not always so apparent. Doors without properly selected and installed hardware not only add costs and delays to a project, but they can also put the building occupants at considerable risk in emergency situations such as storms and fires.
Benefits of fire safety
The most important thing about products designed to preserve property and provide occupant safety during a fire is they help save lives. Additionally, having a building with doors meeting or exceeding the highest standards when it comes to fire safety also carries a monetary benefit. First, it makes the space worth more. Secondly, higher safety can result in lower insurance premiums.
When specifying fire doors, the first step is to consider the appropriate fire rating for an opening. These ratings typically range from 45 minutes to three hours, depending on the door's material structure, such as metal or wood.
An integrated door meets National Fire Protection Association (NFPA) 252, Standard Methods of Fire Tests of Door Assemblies, which is a greater standard than NFPA 80, Standard for Fire Doors and Other Opening Protectives. The integrated door assembly is not only tested on specifics of the door component, but as a total unit. This provides a more dependable, accurately fire-tested assembly. Integrated door solutions designed for fire safety include seals applied around the door's edges to keep smoke out. Another benefit of selecting a door including a seal kit is the fact that the occupants will not have to pay for and install a metal edge guard in order to contain a fire in a positive pressure environment.

Control the content you see on ConstructionCanada.net!
Learn More.