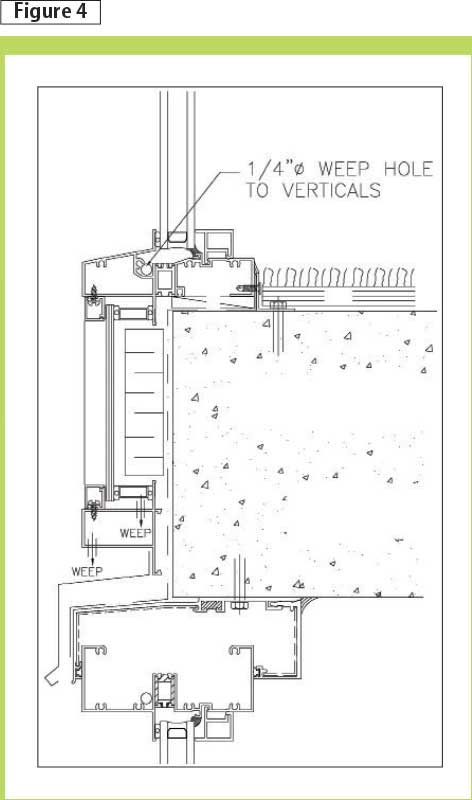 The technique of flashing at each floor slab was developed in the Vancouver area and became the norm across the country. The benefit of this practice, aside from moisture management, was each floor could be sealed off from the elements as the frames are erected (Figure 4). This technique was a significant advantage to the contractor as the installation of interior finishes could start sooner in the construction process.
Architecturally, the window wall gave high-rises the all-glass look of a curtain wall at a more competitive cost. The depth of the frames could be increased from 100 to 150 mm (4 to 6 in.) to achieve longer spans. Different planes of the glazing within the frame were another architectural option.
Curtain wall systems
Stick-built curtain wall systems had been around for a while within the Vancouver area and were mainly used at podium entrances and inset into rough openings in low-rise buildings. Unitized curtain wall systems are a more recent addition to the West Coast. Aside from its more conventional use on commercial towers, the unitized curtain wall is also becoming common in residential towers because of the growing complexity of the local architecture. Curtain wall design needed to accommodate condominium features like balconies, roof decks, and sliding glass doors. (One recent example of curtain wall used in a residential tower is illustrated in the article's first photo, the Jameson House, designed by Norman Foster and Walter Francl Architects. The curtain wall system was designed by a local firm and manufactured by an offshore firm).
There are numerous B.C. firms that have developed fairly sophisticated unitized systems over the past years, but with so many other companies globally, the competition is fierce. A few local firms have become more renowned because of their ability to customize their systems––both two-sided and four-sided structural silicone glazing, depending on the project at hand.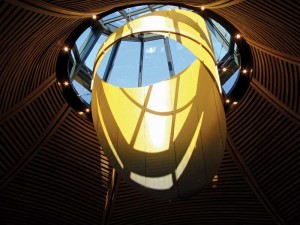 With recent shifts in the global economy, new offshore curtain wall suppliers are competing for Vancouver area business––from South Korea and China, for example. While the main attraction is the lower cost of offshore systems while usually maintaining high-quality standards, their use in Canada comes with some considerations. For example, frames are built according to drawings rather than site measurements, such that they sometimes need to be modified onsite to suit construction tolerances. Shipping schedules can also have an impact on the project. Replacement of certain components over the system's service life could be difficult and costly if local resources cannot provide exact matches in glass shape or coatings.
Performance testing
The evolution of the various glazing systems would not be the same without the emphasis on performance testing. As a direct result of the leaky condo crisis, the 1998 Homeowner Protection Act requires a third-party warranty for all new home construction and building envelope rehabilitation projects, with some exceptions. Third-party warranty providers in British Columbia have in turn required windows meet the minimum level of water penetration resistance when tested to a differential pressure of 300 Pa (0.04 psi)––formerly a B3 rating according to CSA A440-00.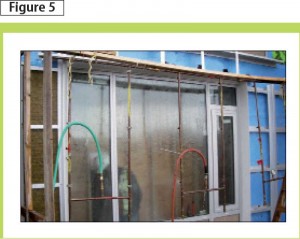 Site testing to ASTM E 1105, Standard Test Method for Field Determination of Water Penetration of Installed Exterior Windows, Skylights, Doors, and Curtain Walls, by Uniform or Cyclic Static Air Pressure Difference, is now accepted practice in Vancouver, unlike the rest of Canada (Figure 5). (Field-testing has been mandated by the third-party warranty providers on multi-unit residential buildings in the Lower Mainland, and has since been adopted by the commercial and institutional projects as well, making it more common than in the rest of Canada). As a result, window manufacturing needed to be better and more consistent, and contractors had to adjust their installation methods as they learned from failed tests. Glazing systems have been refined to a point where the performance level is generally higher in the Vancouver area than many other areas. Additionally, the requirement for laboratory mockup testing has increased, especially with customized systems.
Achieving energy efficiency
The various components within the glazing systems have also evolved. In aluminum frames, the polyurethane pour and debridge thermal breaks have been more or less replaced by polyamide strip thermal breaks. Originally considered 'high-end,' the strips are now ubiquitous.
Significant advances have also been made in insulated glass units. Stainless steel and aluminum spacers now incorporate polyurethane thermal barriers. Some spacers eliminated the metal component and consist solely of foam. Triple-glazed IG units are also an option being incorporated into glazing systems. Another important element is the glass coating. Low-emissivity (low-e) glass coatings have been in existence since the 1980s, but were often value-engineered out because of questionable energy modelling practices occurring specifically in British Columbia. With more stringent building code requirements, standards, and green rating programs, the quality of the IG units has improved.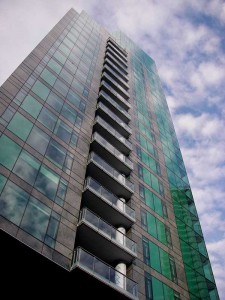 Striving to meet new energy requirements has opened up the market to exploring entirely different materials. As of 2011, under B.C.'s Energy Efficiency Act, aluminum windows needed to achieve a maximum U-value of 2.0 W/(m²K) in low-rise buildings; for high-rises, the maximum U-value is 2.57 W/(m²K). This target has been difficult to meet for many manufacturers. With aluminum windows not meeting energy requirements, and vinyl windows having limited structural capacities, fibreglass windows have become a new alternative. They are more similar in appearance to typical aluminum profiles, yet much stronger than vinyl. Their thermal resistance also competes with that of vinyl.
Fibreglass frames are a fairly recent addition to the readily available glazing systems in Canada. Their thermal properties make them desirable, but they still have hurdles to overcome––the biggest being combustibility. In the 2006 BCBC, Sections 3.1.5.4.5. (b) and (c), "Combustible Glazing" and "Skylights," respectively, combustible windows can be installed in noncombustible buildings provided:
windows in exterior walls in contiguous storeys are separated by not less than 1 m of noncombustible construction [and] the aggregate area of openings in an exterior wall face of a fire compartment is not more than 40 per cent of the area of the wall face.
This may not seem like a challenge for most of Canada, but the clause is at odds with West Coast architecture.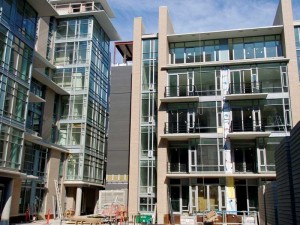 Conclusion
Glazing systems have changed significantly on the West Coast over the past 20 years, by borrowing from other practices across the country and the world, and by developing details and techniques specifically in the Vancouver area. Lessons learned from failures made vast improvements and have propelled the industry to where it is today.
The focus to construct better buildings from an energy efficiency standpoint directly affects the development of glazing components and entire systems. Time will tell if modern systems, like fibreglass, fulfil their promise. Ultimately, glazing is a dominant feature of building architecture, and the evolution of one cannot be without the other. Perhaps the City of Glass will need a new moniker in another 20 years.
Catherine Lemieux, P.Eng., LEED AP, is a building science consultant at Morrison Hershfield's Vancouver office. She has been with the company for six years. Lemieux has participated in projects ranging from the diagnosis of building envelope failures and the rehabilitation work on existing buildings, to design and field review for new construction projects spanning the residential, commercial, and institutional sectors. She is a member of the Association of Professional Engineers and Geoscientists of British Columbia (APEGBC) and the British Columbia Building Envelope Council (BCBEC). Lemieux can be contacted via e-mail at clemieux@morrisonhershfield.com.

Control the content you see on ConstructionCanada.net!
Learn More.