by Peter Barrett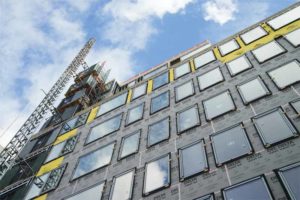 In any construction project, it takes a combination of the right products and skills to achieve a high-performing building system. In the case of the building envelope, water-resistive barriers (WRBs) play a vital role in the performance of the wall system. Unfortunately, many building professionals may not realize the effectiveness of the barriers can be undermined even before they clad the exterior walls.
The concern is ultraviolet (UV) exposure. Experiential and anecdotal evidence of spun-bond polymeric (polypropylene) WRB membranes deteriorating in the sun after being left exposed for extended time periods prompted an investigation into the effects of UV effects the membrane.
Independent, accredited research commissioned by the author's company, a manufacturer of air and moisture barriers, has shown when polypropylene WRB membranes are left exposed for as long as it is considered allowable (typically 180 days), it can lose as much as 90 per cent of its original water-penetration resistance. This loss not only has an impact on the effectiveness of the WRB, but also on the performance of the entire wall system because without effective protection, integral structural components are exposed to excessive moisture. This exposure causes all layers of the wall system to degrade, thereby leading to costly repairs.
Understanding and minimizing the impact of UV on WRB is critical to ensure the integrity of the wall system and building performance for many years.
The impact of a failing WRB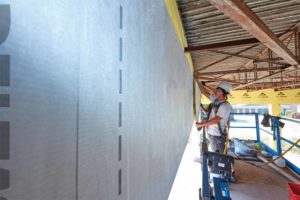 As a key component of the perfect wall, part of a WRB's role is to protect sheathing from liquid water while allowing moisture to escape from inside wall cavities, and, when installed as part of an air barrier system, the WRB will also resist air movement both out of and into the building. Whether designing the wall or building or paying for it, professionals expect it to be fully functional for the lifetime of the building, maybe 50 years or more. This means each component of the wall, especially the WRB, needs to work and deliver on these expectations.
When any part of a wall system is compromised, it can have adverse effects on the performance of a building. Damaged or under-performing WRBs can cause costly failures and long-term inefficiencies, including:
damage to insulation, wood, and other structural components due to moisture infiltration;
mould and air quality concerns from wet wall systems;
increased energy costs and discomfort for building occupants; and
potential damage to relationships, reputation, and bottom line brought on by expensive repairs or warranty issues.
To put it into perspective, if the aging process of any WRB is accelerated due to excessive UV exposure, the product may only perform as expected for a few years.

Control the content you see on ConstructionCanada.net!
Learn More.