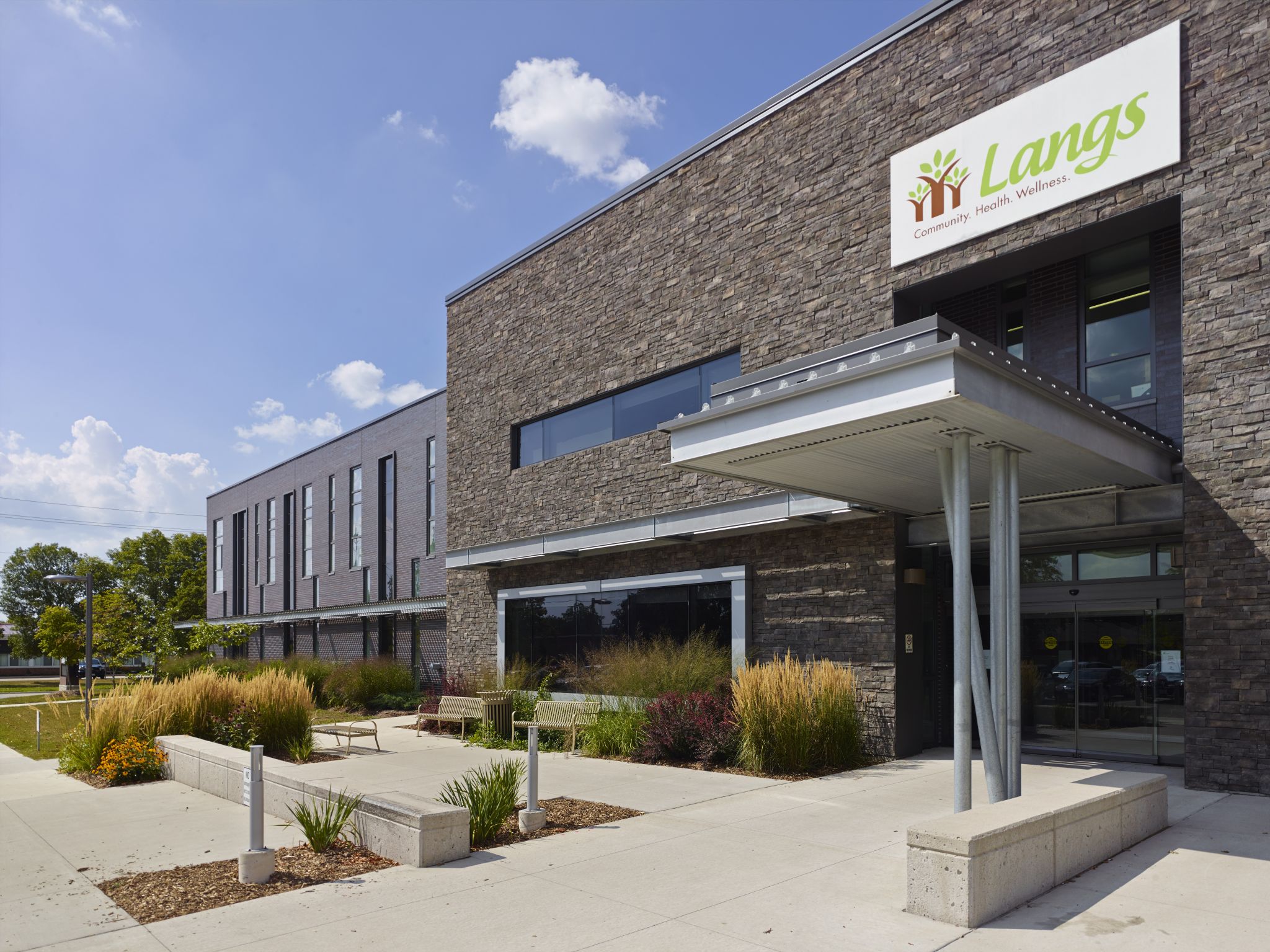 By Laird A. Robertson, B.Arch
With an aging population and an unmanageable burden on most hospitals, the community health centre is an increasingly in-demand neighbourhood resource. Stretched regional and non-profit finances mean these new facilities are often asked to do double (or triple) duty, accommodating many needs and user groups. The challenge then falls to design teams to successfully integrate disparate building requirements—often under a tight move-in deadline determined by grant and funding deadlines.
Such was the case when a local social services organization in Cambridge, Ont., needed a new facility to house its expanding portfolio of programs, ranging from a health clinic to public fitness facilities to children's and seniors services. Led by Robertson Simmons architects inc. (RSai), the design team's goal was to not only integrate several types of user, but also provide symbiotic benefits from the shared space. However, there was one more challenge—from funding approval through construction completion, the process could only take 11 months.
Many voices, one building
The traditional model of the community health centre was a sterile, cold environment with a dull, sunless waiting room. Preventative or complementary efforts were conducted at another facility. Further, functionality and wayfinding for patients was hardly considered, and no value was placed on design esthetics.
Today, the role of salutogenic design is better understood. This philosophy puts the user experience at the forefront. Daylight, views to greenspace, intuitive navigation, and a pleasant environment are proven to contribute to healing. Onsite counselling, fitness facilities, and support services can encourage their use and increase their effectiveness.
Langs Community Village Association—a non-profit, neighbourhood-based organization in Waterloo Region—needed a new facility to accommodate their roster of more than 20 programs and services. The facility would house various partner agencies offering clinical, diabetes, and counselling services as well as early childhood and youth programs (including daycare). The William E. Pautler Centre for active seniors (operated by the City of Cambridge) and an independent pharmacy also co-locate there.
In bringing together a wide variety of organizations and services, users would have access to support and proactive health-supporting activities they would not have otherwise. Also, the combination of programs for seniors and children was seen as a benefit due to complementary needs and evidence inter-generational interaction is beneficial. RSai was brought in to conduct a feasibility study for the new construction project.
A challenge in a multi-use, multi-owner space is addressing competing needs and a wide range of stakeholders. The key to forming a consensus and unified design vision was having a strong leader representing Langs (i.e. executive director Bill Davidson) and a design team with experience on multi-use facilities and projects, such as schools, which involve a large group at the design table. The participatory approach between the design team and the user groups meant there were no surprises or last-minute changes.
Now complete and fully occupied, the new building is a bright, welcoming, health hub. Positioned at opposite ends of the building with separate entrances, the Seniors Centre and Community Health Centre spaces are joined through a central atrium with a beautiful, interior living green wall perpendicular to a two-storey wall of glazing. These windows offer a peaceful view of a landscaped exterior courtyard. The courtyard provides a safe, enclosed space for both children and seniors using the facility. The courtyard also infuses natural light into the pedestrian corridor, adjacent shared gymnasium, and upper level fitness track—a nice-to-have client request for the design that turned out to be one of the most used and popular elements of the facility.
On the second floor, administrative and counselling service offices overlook a 560-m2 (6000-sf) vegetated roof that provides a pleasant natural view for offices. In-floor heating is provided in the senior and children's areas for comfort.
As a health centre, Langs provides the best-in-class infection control for the clinic spaces. A separate entrance and mechanical system was constructed for this portion of the facility to allow for total wing lockdown for contagious disease situations. The dentist office is supplied with the distinctive needs of this use, such as certain water fixtures. While each section of the building has a distinctive façade design to showcase the separation of uses, the overall design is cohesive and modern.
In addition to the use of neutral, warm colours and materials, the building was designed for ease of navigation by users. For example, hallways and rooms have a site line to the outdoors to allow for intuitive orientation and signage helps with wayfinding.

Control the content you see on ConstructionCanada.net!
Learn More.