Flat roofs
Thermal efficiency
Most existing buildings that are ready for a roof retrofit have insulation levels below current energy standards. Although increasing the thermal performance to current standards may not be necessary when conducting roof renovations, it can be critical for energy savings. Depending on the retrofit strategy, this may be achieved by adding a few additional inches of insulation over the existing roof, or it may require a full re-roof (tear-off). From a thermal efficiency standpoint, different roofing systems will encounter other thermal effects depending on the application, type of insulation, temperature exposures, number of fasteners, and material properties. Insulation boards used in roofing applications may be fastened into place using screws with varying densities and lengths, or adhered. Roof systems are subject to higher and larger temperature fluctuations, meaning their membranes and insulation materials are subject to expansion. For example, foam plastics are at more significant risk to thermal deficiencies caused by gaps and holes caused by thermal expansion and contraction, along with their in-situ climate-dependent thermal performance.
Durability
In some cases, insulations like polyisocyanurate will be susceptible to lower thermal performance at cold temperatures, affecting overall performance, especially in cold climates. To reduce the effects of expansion and contraction, double layers with offset seams are necessary. A design solution to limit the impact of climate-dependent thermal performance and thermal expansion and contraction includes using a dimensionally stable insulation board (such as stone wool) as the second insulation layer or as the system coverboard.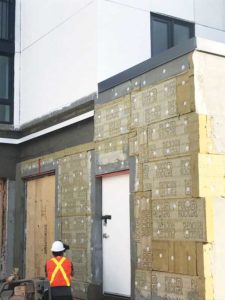 Constructability
In the case of recovery or full re-roof, consider the existing roof's parapet heights to ensure there is enough space to add the desired thickness of insulation. Installing crickets to modify drainage is a simple solution, mainly when the parapets' roof edge is low and does not allow for increased depths. Most importantly, the roof's structural capacity requires engineering evaluation to ensure it can handle the weight of the new or added layers and confirm the existing deck is compliant with structural requirements, determined by a pull-through test.
For roof remediation systems incorporating additional insulation, choices will vary depending on the new membrane type. Adding stone wool insulation in a recovery system helps improve the roof's overall durability and thermal efficiency if the existing insulation is in poor condition and gaps are evident. Placing a 52 mm (2 in.) layer of rigid stone wool insulation with a total added RSI value of RSI 1.34 (R-7.6) is a cost-effective measure to improve thermal performance, fire safety, and sound attenuation.
In a full re-roof application, the new insulation system can be either full-depth stone wool or a hybrid roof design, incorporating a layer of stone wool insulation over a base layer of polyisocyanurate insulation. This solution can also comply with updated wind load and fire testing requirements. Full re-roofing is optimal for buildings with a high roof-to-wall ratio where most of the heat loss occurs through the top, and there is a favourable cost-benefit.
Project spotlight: The Ken Soble Tower in Hamilton, Ontario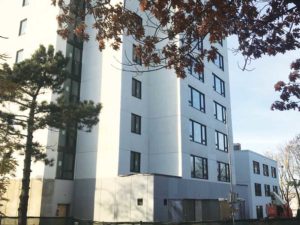 The Ken Soble Tower project sought to rehabilitate a postwar apartment building in Hamilton, Ontario. The building was completely upgraded, inside and out, to achieve Passive House standard. The building overhaul would include nearly every facet of the tower, from the building envelope, mechanical systems, electrical, plumbing, and safety systems to interior upgrades to its 146 units, to support aging in place, accessibility, comfort, and overall improvement of the occupant experience. The cladding design includes a 152-mm (6-in.) thick stone wool exterior insulation and finish system (EIFS). Architects chose this system for the project due to the non-combustibility (important given the vulnerability of the senior-aged occupants), the excellent moisture control offered by both the stone wool and the unique, built-in drainage layer cut into the back side of the insulation, as well as the liquid-applied water-resistive barrier used in the EIFS composition.
In all, 4645 m2 (50,000 sf) of stone wool insulation was incorporated into the new façade, helping to realize the RSI-6.69 (R-38) effective RSI value required to achieve EnerPHIT Passive house certification, while reducing greenhouse gas emissions by an impressive 94 per cent.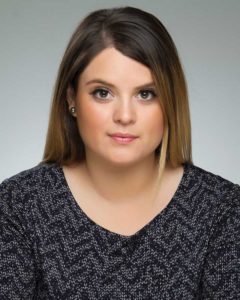 Alejandra Nieto is a sustainability manager for ROCKWOOL. She is a graduate from the master of building science program at Ryerson University; with a background in construction science and management, and architectural technology from George Brown College. She has experience in design and research of the methods and materials involved in sustainable and energy efficient buildings and systems, and is an active member in multiple ASHRAE technical committees.

Control the content you see on ConstructionCanada.net!
Learn More.