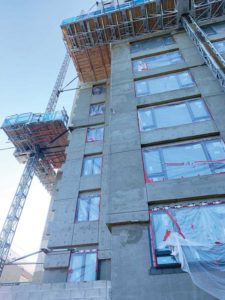 Office buildings
Evidence shows an office building's indoor environmental quality (just like office ergonomics) will impact the long-term health and performance of employees; controlling noise with a proper acoustical insulation plan will protect their health and improve productivity.
Schools
Student performance is also closely linked to the building's indoor environment; receiving natural light during the day will help students sleep better at night, and while colder environments tend to improve concentration, once it exceeds a comfortable level, it will create a negative effect on student performance.
Hotels
A positive guest experience can rely as much on physical comfort and noise control—both in guest rooms as well as common areas—as it does on the building's esthetics; if design is an important criterion in a hotel's retrofit, it need not be sacrificed for the sake of thermal or sound performance by the building envelope; new solutions in stone wool insulation products can satisfy both requirements.
In addition to thermal efficiency and occupant comfort, planning for energy retrofits should also factor in the building's needs for durability and constructability. One of the critical benefits of retrofitting buildings is these projects can increase their lifespan. The added longevity and durability of an enclosure and the energy savings they create are a way to justify the upfront costs. Assessing the primary water, air, and thermal control layers is part of the considerations for a durable enclosure. It is critical to ensure appropriate drainage and drying measures, and vapour diffusion control considerations are in place, as poorly designed retrofits may lead to unintended moisture damage.
The constructability of a retrofit relates to the ease with which the retrofit strategy is installed and executed. Likewise, it also encompasses the total cost of implementation and the amount of occupant disturbance. Therefore, upgrading the building enclosure can bring different constructability challenges, depending on the building site and existing condition. The strategies applied will vary and cannot necessarily be applied on all projects in the same manner.
A building envelope's thermal efficiency is only as good as the sum of its parts
The various applications within the building envelope each have unique requirements that support the building's goals for thermal efficiency, durability, and constructability.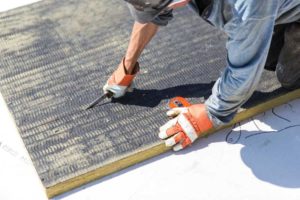 Exterior wall insulation
Thermal efficiency
Increasingly, architects, specifiers, and builders recognize the superior thermal performance of continuous insulation (ci) on a building's exterior; it is important to consider the selections for cladding and attachments as they will impact the performance of the ci system. There are numerous generic and proprietary cladding support systems designed for use with exterior insulation, and while each system is different, they generally feature continuous framing, intermittent clip and rail, direct fastening with screws, or other engineered systems. Take for example using 102 mm (4 in.) of exterior stone wool with a nominal RSI value of RSI 3.03 (R-17.2). If installed between continuous galvanized steel vertical Z-girts, a highly thermal conductive material creating a continuous thermal bridge, the thermal efficiency of the insulation will be around 20 to 40 per cent. In comparison, if installed between intermittent stainless steel clips, the thermal efficiency of the insulation increases to 65 to 85 per cent.
Durability
Upgrades to the exterior side of the enclosure allow for new water control strategies to be applied. The addition of exterior insulation can improve the thermal gradient of a wall assembly by pushing the dew point towards the exterior side of the assembly. However, the ratio of exterior insulation (dependent on climate) and the type of insulation will play a role in the overall performance of this system. A vapour impermeable insulation may reduce the drying potential of the wall assembly, causing moisture-related concerns. In these cases, take extreme caution to add enough exterior insulation to avoid these problems. When using vapour permeable exterior insulation such as stone wool, increased drying potential and outward drying is possible, as the insulation will not trap moisture within the assembly.

Control the content you see on ConstructionCanada.net!
Learn More.