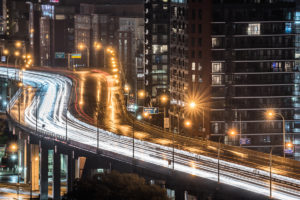 The Bentway Conservancy released a shortlist of teams for its Waterfront Reconnect design competition.
The goal of the competition is to develop creative interventions that result in a more welcoming and accessible experience of the York and Simcoe under-Gardiner intersections for pedestrians and cyclists.
After a successful open call for expressions of interest, six shortlisted teams made the cut:
York Street Intersection
Sans Façon + Zeidler (Calgary/Toronto)
Sans Façon is an art practice based in Calgary and Zeidler Architecture is based in Toronto with offices in Toronto, Calgary, Vancouver, and Victoria.
This team sees a unique opportunity to instigate new relationships with these complex places, to reconsider cities, their multiple layers of histories, who they are for, how residents enjoy them, and their equity of use.
LeuWebb Projects + DIALOG + Mulvey & Banani Lighting (Toronto)
LeuWebb Projects and DIALOG with Mulvey Banani Lighting propose a collaborative, exploration that pairs experimentation with technical expertise, public realm experience, and design innovation to provide the grounds for unprecedented outcomes.
5468796 Architecture Inc. (Winnipeg)
Winnipeg-based 5468796 Architecture joins forces with collaborator Brandon Bergem of Office In Search Of. 5468796 is committed to creating socially, culturally and environmentally relevant and responsible architecture.
Simcoe Street Intersection
O2 Planning & Design Inc. + Mulvey & Banani Lighting + ENTUITIVE (Calgary/Toronto)
O2 Planning & Design (O2) is a collaborative studio that integrates landscape architecture, ecology, urban design, and planning in a holistic practice to create highly valued places. O2 has teamed up with Entuitive for engineering and Mulvey & Banani for lighting expertise. Their team (based in Calgary and Toronto) brings enthusiasm and expertise in graphic art, wayfinding, landscape architecture, urban design, lighting design, and structural engineering.
Daily Tous Les Jours + SvN Architects + Planners + Latéral (Montreal/Toronto)
Daily Tous Les Jours, in collaboration with SvN Architects + Planners, and Latérale Conseil, will be closely considering both the needs and possibilities that the Simcoe St. site presents. They will examine life under the Gardiner, and how reimagining such spaces can lead to new relationships with our urban infrastructure, strengthening connections between people, nature and communities.
 SOCA + Tiffany Shaw-Collinge + SHEEEP (Toronto/Edmonton)
The purposeful gathering of SOCA (Toronto), Tiffany Shaw-Collinge (Edmonton) and SHEEEP (Toronto) will strengthen and build upon the intangible heritage (stories and meaning) surrounding the waterfront reconnect design competition.