Five TD Centre towers achieve WELL Gold status
by arslan_ahmed | September 21, 2022 9:16 am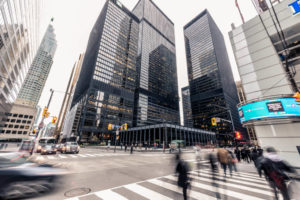 Five Toronto-Dominion (TD) Centre towers have achieved WELL Core Certification at Gold level with the sixth tower, currently under revitalization receiving WELL Precertification status, deeming TD Centre one of the largest real estate complexes in Canada to achieve the designation.
Over the past seven years, TD Centre has committed to occupant well-being and is the first office building in North America to achieve WELL v1 Core & Shell Certification at Gold level for its 222 Bay Street location. TD Centre remains focused on leading sustainability efforts including smart site planning, wellness education and engagement, green cleaning, art restoration, thermal comfort and lighting improvements, and frequent air and water quality testing, all contributing to the WELL certification.
"For over 50 years, TD Centre has been an influential gathering place for some of the world's leading corporations and thousands of their employees," said Landry Biles, general manager, Toronto-Dominion Centre. "The WELL Core Gold accomplishment is an important reflection of our ongoing efforts to create a vibrant, welcoming, safe and healthy environment across our entire portfolio, and as the largest office complex to achieve this status, we're proud to champion the importance of health and wellness."
Delivered by International WELL Building Institute (IWBI), WELL is an evidence-based roadmap to support human health and well-being in buildings, organizations, and communities. Through application of the WELL Standard, organizations can pursue WELL Certification by demonstrating achievement across all ten areas in WELL or to pursue WELL ratings, which comprise designated sets of features from the WELL Standard, to drive improvement in human health, impacting company culture and resilience.
TD Centre is a group of buildings in downtown Toronto, Ontario, Canada, owned by Cadillac Fairview. It is composed of six towers and a pavilion covered in bronze-tinted glass and black painted steel. It serves as the global HQ of the Toronto-Dominion Bank and provides office and retail space to many other businesses.
Designed by Ludwig Mies van der Rohe TD Centre displays the architect's signature style of dark-hued, rigidly ordered, steel and glass façade set in an open plaza, located amidst dense and busy urban elements, as seen in his Seagram Building in New York.
Endnotes:
[Image]: https://www.constructioncanada.net/wp-content/uploads/2022/09/The_buzz_of_the_6ix_Unsplash.jpg
Source URL: https://www.constructioncanada.net/td-centre-towers-achieve-well-status/
---