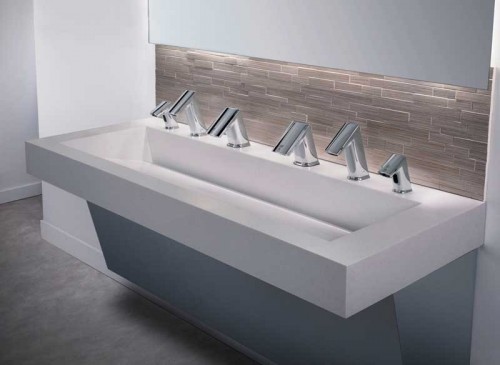 By Patrick Boyle, CSP, LEED GA
As water continues to become a scarcer natural resource around the globe and in North America, in particular, it may only be a matter of time before Canadian provinces begin adopting more stringent water-efficiency standards for commercial buildings. These standards are already in place in many drought-stricken parts of the United States, and if Canada follows suit, architects soon may be required to install or retrofit more water-efficient fixtures for restrooms.
By specifying and upgrading to new high-efficiency products now, architects and building owners can get ahead of the sustainability curve while creating esthetically pleasing and highly functional restrooms.
Water issues in the great white north
Canadians rank second only to Americans in terms of the highest per capita water use in the developed world—more than double Europeans' usage. According to Environment Canada, Canadian water use has increased by 25 per cent over the past 20 years, while other developed countries—even the United States—have seen drops in consumption.
Yet, despite being flanked by three oceans, and having access to Hudson Bay, along with the Great Lakes—which is six per cent of the world's 'renewable' fresh water—Canada still has its water woes. (Water that is replenished by precipitation, runoff, or groundwater recharge).
For example, 60 per cent of the country's fresh water drains northward, away from where it is needed most—the band running along the country's southern border where the majority of Canadians live. Additionally, antiquated water pipes in Montréal leak approximately 40 per cent of their precious cargo on the way to taps.
The Great Lakes Basin—the planet's largest body of fresh water—is under increasing demand from industry, power plants, farms, and the more than 40 million people living nearby. This has caused water levels to hit historic lows in some of the Great Lakes.
The 2015 World Economic Forum identified the looming global water crisis as the top international risk in terms of impact. This is because water is an essential natural resource. Additionally, water, energy, and food are all interrelated. Water is needed to produce energy and energy is needed to deliver water. Water and energy are needed to produce food. Humans need water to survive.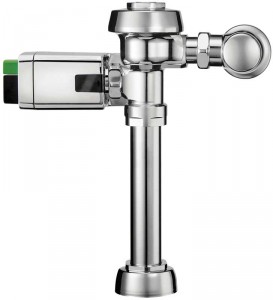 Green building water standards
Whether a building is an office, school, hospital, or hotel, about 40 per cent of the water used is consumed in the restrooms. Office buildings, in particular, use an average of nearly 60,000 L (15,850 gal) of potable water per day.
The Green Building Performance Initiative of the Canada Green Building Council (CaGBC) is developing a national building performance database owners and managers can use to measure and discover ways to improve the energy- and water-efficiency of their buildings. CaGBC administers the Leadership in Energy and Environmental Design (LEED) rating system, which has become the most recognized standard for green building throughout the world.
CaGBC estimates roughly 70 per cent of all municipal water is consumed in and around buildings. When a building uses less water, it not only reduces the impact on a limited resource, but also requires less energy to pump the water into and out of the building—saving money on utility bills. Less water going out, in turn, also reduces the strain on local wastewater treatment facilities. A reduction in water usage results in benefits for everyone, including:
the building owner (in terms of return on investment[ROI]);
the building occupants (healthy interiors); and
the community (reduced strain on local resources).
This October, the LEED 2009 standard for water-efficiency will be replaced by LEED v4—a more stringent standard calling for a minimum reduction in indoor aggregate water consumption of 20 per cent for all newly installed toilets, urinals, and lavatory faucets. High-efficiency products are the key elements in the next generation of green restroom design. From toilets and urinals to faucets and high-speed hand dryers, today's green restrooms blend design and innovation to reduce water, energy, maintenance, and waste. High-efficiency products also help facilities qualify for a range of LEED credits.

Control the content you see on ConstructionCanada.net!
Learn More.