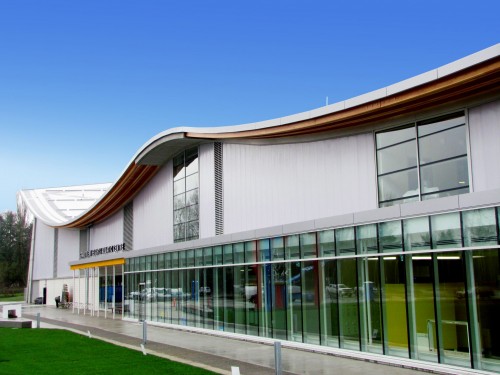 The Grandview Heights Aquatic Centre (Surrey, B.C.) won the Lieutenant Governor's Award for Engineering Excellence at the Association for Consulting Engineering Companies–British Columbia's (ACEC–BC's) 27th annual awards.
Designed by Fast + Epp, the facility's roof was built to resemble a gentle, undulating, and metaphorically appropriate wave constructed using an unusual structural system—a novel hanging timber catenary roof suspended between concrete buttresses and free-spanning 55 m (200 ft).  Glue laminated timber (glulam) 'cables' were used in place of conventional steel roof trusses, which reduces the effective structural depth by 90 per cent. This, in turn, also reduces energy costs. The use of suspended catenary steel cable systems is not uncommon, especially on bridges, but employing timber as long-spanning tension cables is rare. The building has reportedly the most slender long-span timber roof ever constructed.
Three individuals also received top honours, including:
Kerry Rudd, who won the Meritorious Achievement Award for significant lifetime contributions to the industry;
Tijana Smiljanic received the Young Professional Award, which recognized her achievements in the first 10 years of her career; and
Dan Doyle, who won the Chair's Award and was recognized as someone outside the consulting engineering industry who has exerted positive influence on the industry.
To learn more about the awards, click here.