Studio Sound: Adapting acoustical techniques for commercial, office, and institutional spaces
April 1, 2012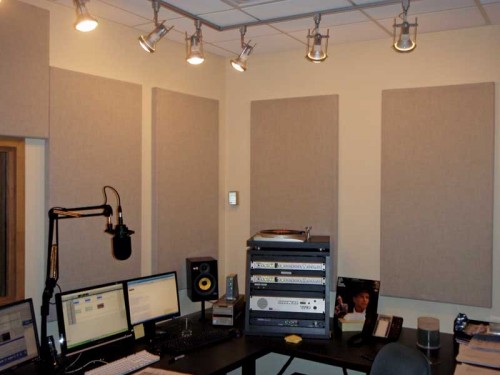 By Oliver Barkovic, B.Eng.
George Martin, the Beatles' renowned producer, once said, "A physicist will tell you that space is allied to time, but a record producer will argue that it is closely allied to sound as well."
Therefore, it is no surprise recording studios and radio/television broadcast studios are among the most demanding acoustic environments. They are precisely tuned to achieve the optimal acoustic effects, such as:
background noise elimination;
delivery of clear, crisp speech;
absence of echo; and
precise use of reverberation.
The results can give a studio a distinct personality, and sometimes even make it famous, attracting musicians from far and wide. Few are more elaborate than the famed Tower Records Studios in Hollywood, featuring 254-mm (10-in.) thick exterior concrete walls, separated from the interior walls by an air gap, as well as triple-layered flooring of rubber, cork, and concrete. Another studio, 9 m (30 ft) underground, the Capitol Records complex houses trapezoid-shaped echo chambers––designed by guitarist and songwriter Les Paul––that can support reverberation times of more than five seconds. In these spaces, recording engineers can precisely tailor their recordings to get the exact feeling they want for a song or album.
Closer to home, the Beauty Industries music recording studio in Hamilton was designed with great acoustics in mind, and the acoustic details at work in this space can offer guidance for other common spaces.
Triple-thick walls and underground bunkers do not appear on very many specification sheets, to say the least. However, some of the approaches used by the professionals in studio spaces can be adapted to improve the acoustic environments in a wide range of spaces where good communication is critical, such as boardrooms, offices, call centres, and videoconference facilities.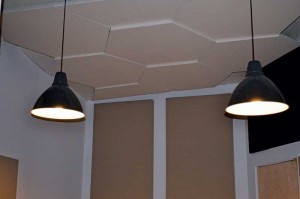 Making acoustics work
The features that make acoustics work in studio spaces are the room's shape and size, including high ceilings (if possible) and surface treatment where necessary.
Room shape
Non-parallel walls are ideal for a recording studio space because reflections are randomized and the modal distribution is less uniform, producing several zones completely free of first-order reflections. In Les Paul's underground bunkers, and in the Beauty Industries studio, the rooms are a trapezoidal shape. This may be a tall order, especially in retrofit situations, so the next best guidance is that rooms should avoid 2:1 length-to-width ratios when possible.
Room size
The bigger the room, the better. For example, the main studio at New York's famous Hit Factory on West 54th Street spans more than 15 x 15 m (50 x 50 ft) with 9-m (30-ft) ceilings. Not only does this allow the space to accommodate a 60-piece orchestra, but it also benefits single musicians by reducing first-order reflections from nearby walls.
High ceilings
High ceilings are better than lower ones––the greater distance from the ceiling to the usable space below gives sound more time to dissipate, reducing echo. In many studio spaces, the ceilings are more than 3.7 m (12 ft) high and are treated with suspended acoustic clouds.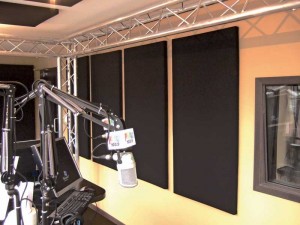 Absorptive treatments
In the Beauty Industries studio, a high proportion of the wall and ceiling surfaces have been treated. At the front of the space, the recording engineer is surrounded on three sides by floor-to-ceiling absorptive panels wrapped in a dark woven acoustic fabric, trimmed with acrylic for visual interest.
Lessons for offices and other spaces
When building a recording studio, acoustics are top of mind; however, when building an office or institutional space, the auditory environment can often be an afterthought. What can be learned from these demanding acoustic environments when trying to improve the sound environment in office, commercial, or institutional buildings?
Interior finishes chosen for esthetics or functionality can help or hinder acoustic performance. For example, in office spaces, smooth, reflective drywall is everywhere, but it is the enemy of good acoustics. Similarly, trends toward smaller, flexible spaces mean more walls, closer in, creating first-order reflections that bounce sound around workspaces, meeting spaces, and hallways.
Open-plan offices are great for space efficiency, co-operative work, and effective supervision, but they raise perennial complaints among workers about lack of privacy and the inability to concentrate. Good acoustics can go a long way to creating a more comfortable, productive work environment.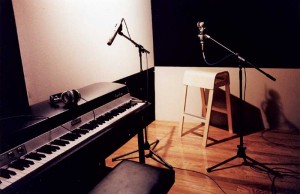 One should learn from recording studios that the effective isolation of instrumentation is key by noting who and what the noisemakers are in the space, keeping loud with loud and quiet with quiet. One should group loud spaces like photocopier areas, HVAC outlets, coffee stations, washrooms, and elevators together, while keeping quiet workspaces away from these background distractions.
Workstation dividers will not cut it
Many offices use panelled workstation dividers. Therefore, is acoustic treatment still necessary? In many cases, the answer is yes––especially where the dividers are lower, allowing sound to travel over top. Also, in some cases, the dividers are not absorptive enough because they have not used specialized acoustic fabric, or have a non-absorptive core. Additional absorptive treatment on the walls and ceilings to achieve between 25 and 40 per cent coverage in each work area will work wonders.
Many studios feature extra-high ceilings with suspended acoustic clouds, often hung by brackets or aircraft cable. Acoustic clouds are a great idea for office and institutional spaces as well, because they are much more acoustically effective than compressed cardboard ceiling tile. Where the suspension grid for compressed tile already exists, fabric-wrapped panels can be swapped in for an easy retrofit fix.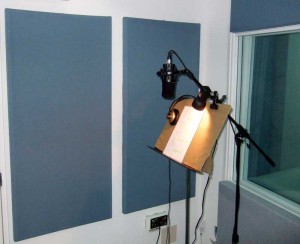 Lessons for boardrooms
While the office boardroom may be where an organization's most important business is done, these spaces ironically often have some of the most acute acoustic challenges. Office workers wonder why it can be so difficult to hear someone clearly when they are just at the other end of the table.
The typical boardroom is the antithesis of the acoustic ideal found in studio spaces. Relatively small spaces, smooth surfaces, low ceilings, HVAC, and ambient noise from computers and projectors can conspire to render some boardrooms virtual echo chambers.
Many boardrooms also include a conference call unit placed in the centre of the table. Acoustically, this arrangement could not be worse, with the sound being directed straight up toward a reflective drywall ceiling––creating echo and reverb that makes hearing difficult for those in the room, and especially for those on
the phone.
In rooms with numerous windows, whiteboards, or other features, wall space can be scarce, so the ceiling is a good place to start when looking to increase the surface area that can be treated with absorptive panelling. On the walls, custom panels can be fit into irregular spaces to make the most of the wall space that does exist.
Videoconference facilities
Companies and organizations are investing additional resources into videoconferencing to save on travel time and expenses and to allow more employees to telecommute. However, meetings must look and sound professional, even if they are not in person. Virtual meetings where some participants cannot be heard or well-understood, or where participants sound like they are speaking into a bucket, are simply not satisfactory.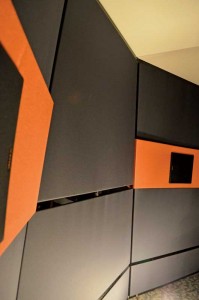 Perhaps more than any other office space, videoconference suites are much like small recording studios in that external noise must be minimized and the interior space should be treated to maximize the crispness and intelligibility of speech, while reducing echo and distortion.
Echo and reverberation can also distort the audio signal. This issue can be overcome by incorporating more expensive echo-cancellation functionality in the videoconference hardware. However, that step may not be necessary in a space designed for optimal acoustics.
Videoconference facilities are often located in small rooms where space is at a premium. One should consider the acoustical impact of everything in the space, including countering the reflective effect of smooth-topped tables and windows or other surfaces. If possible, it may help to minimize the use of glass-fronted art or whiteboards that introduce additional reflections.
Choosing acoustic treatments
One should make the most of the surface area available for acoustic treatment by opting for high-density absorption. Fabric-wrapped panels with a fibreglass insulation core are a good choice as the interior insulation is far denser than other alternatives like foam, and less square footage is required to achieve the same acoustic effect. One should look for fabric-wrapped panels with a wood frame as they are more durable than resin-hardened panels and introduce an air gap between the insulation and covering fabric that enhances acoustical performance.
For offices and institutional settings, perforated or slatted wood-veneer panels with an absorptive core are another good choice for their durability and esthetics. They have the same absorptive core as a fabric-wrapped panel, with an additional sound-diffusive veneer that can be customized to co-ordinate with the other millwork in an office or institutional interior.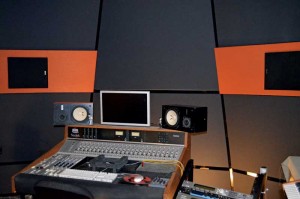 Tips for architects, designers, and specifiers
One should consider the following principles when seeking to improve the acoustics in commercial and institutional spaces.
Loud with loud, quiet with quiet
At the design stage, one should try to group noisy activities together and away from quiet workspaces. This will save headaches and expense down the road.
Plan for acoustics before occupancy
One should consider the space's sound-related needs and include acoustics as early in the workplan as possible. Acoustic panelling should be installed in advance of, or in conjunction with, interior furnishings and workstations. Once occupancy takes place, one should check back with occupants for problem areas that may require additional treatment.
Make use of every surface
Artwork and other interior fittings need not limit the surface area available for acoustic treatment. Using custom fabric-wrapped or wood-veneer acoustic panelling, it is possible to hang artwork and signage on top of acoustic treatments. It is not necessary to treat the entire surface the way one sometimes sees it in recording studios, but a distribution of acoustic absorption within the space––to a coverage of approximately 25 to 40 per cent––is ideal. One should also remember to make the most of the surface area available by choosing acoustic treatments that offer high-density absorption.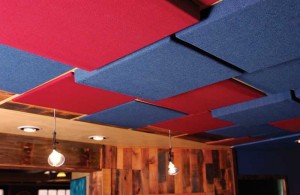 Remember the little spaces
Boardrooms, videoconference rooms, lunchrooms, and other small to medium-sized spaces can suffer the most from common acoustic issues. One should make sure to treat these spaces as well as the wide-open office areas.
Conclusion
Professional studio spaces are highly specialized acoustic environments with very individualized needs. However, there are lessons to be learned for everyday commercial and institutional spaces that can improve the acoustical functioning for those who visit them, or those who work in them.
Oliver Barkovic, B.Eng., is a graduate of McMaster University and the president of Forward Acoustics, a manufacturer of Canadian-made acoustic products. He can be reached at info@forwardacoustics.com.
Endnotes:
[Image]: http://www.constructioncanada.net/wp-content/uploads/2015/12/P7220159.jpg
[Image]: http://www.constructioncanada.net/wp-content/uploads/2015/12/honeycomb.jpg
[Image]: http://www.constructioncanada.net/wp-content/uploads/2015/12/radio_station2.jpg
[Image]: http://www.constructioncanada.net/wp-content/uploads/2015/12/Brochure_Booth.jpg
[Image]: http://www.constructioncanada.net/wp-content/uploads/2015/12/voiceover_booth.jpg
[Image]: http://www.constructioncanada.net/wp-content/uploads/2015/12/beauty2.jpg
[Image]: http://www.constructioncanada.net/wp-content/uploads/2015/12/beauty.jpg
[Image]: http://www.constructioncanada.net/wp-content/uploads/2015/12/DSC_2949.jpg
Source URL: https://www.constructioncanada.net/studio-sound-adapting-acoustical-techniques-for-commercial-office-and-institutional-spaces/
---