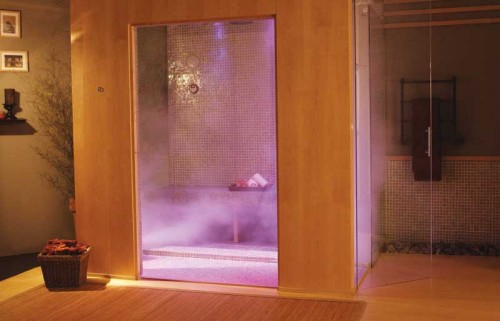 By Bart Gorelik
Steam therapy is far from a new phenomenon. For thousands of years, many different cultures have used the healing powers of steam to soothe the body and relax the mind. However, modern societies are now rediscovering for themselves the many benefits of steam and reinventing the ways in which people experience it.
A growing number of owners and managers of commercial and institutional properties have embraced steam therapy—hotels and resorts, golf and health clubs, day spas, and timeshares.
All of them recognize the health benefits steam can deliver to their members and clientele, including:
rejuvenating tired muscles after an intense workout or a long day of work;
relieving everyday stress and restoring energy;
naturally detoxifying and removing impurities through perspiration; and
opening the pores and hydrating the skin, leaving it softer and more supple—an especially notable benefit in Canada, where people must cope with long, dry winters.
Modern commercial steam systems
These health benefits are further bolstered by technological improvements in modern steam systems, making them more attractive and affordable for commercial applications.
Fewer components
First and foremost, steambathing requires a generator to produce and disperse water vapour at a preselected temperature around the body. Beyond the generator itself—properly sized for a particular application—and the steam head in the shower, the remaining essentials include:
a temperature and a time regulator for controlling the warmth and duration of the steam session;
a floor-to-ceiling gasketed door for containing the steam within the showering space; and
a floor drain.
Working with construction materials
Most commercial installations feature ceramic-tile construction on both the ceilings and the walls. However, steam showers can actually be constructed from any number of nonporous materials, so one may come across a light-commercial application that also includes marble or granite or another water-resistant material. (For more on waterproofing, see the article "Building Waterproof Showers in High-rise Structures" by Dale Kempster, CSC, CTC, TTMAC, in the October 2011 issue of Construction Canada).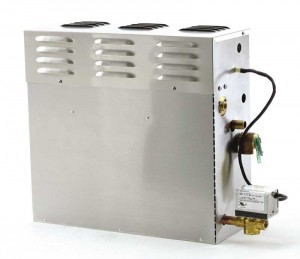 Easily customizable
Steam is about more than simply sweating; aromatherapy and music players help make it a special experience. Steam is truly customizable in terms of the room temperature, the amount of time spent in the shower, the various amenities selected, and the speed at which these add-ons are programmed to change during a steam session. The combinations are numerous.
For example, maybe one prefers to listen to Frank Sinatra while savouring a lavender-scented steam with the temperature set at 41 C (106 F). After 10 minutes, one is done and on his or her way. Or maybe one prefers being blasted by Led Zeppelin and enjoying the pungent aroma of eucalyptus with the temperature cranked to 44 C (111 F). Maybe he or she likes to remain in the shower longer—for at least 20 minutes.
Not all these options can be found in commercial applications as readily as they are in home systems, although smaller day spas and clubs tend to offer members and customers more 'bells and whistles'—and more control over their use—than, say, a large hotel application. However, today's technology makes these upgrades and the various choices they present more available and affordable than ever.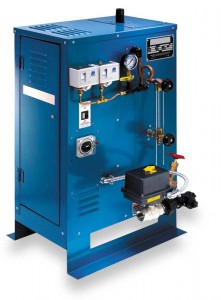 Sustainable steam
There is one other important 'green' advantage to steam that will likely become more prized in the years ahead. Steam uses less water than a multiple-head shower system or a whirlpool tub. A typical commercial system, for example, will consume roughly 9.5 to 11 L (2.5 to 3 gal) of water in a 20-minute session. Even a single standard showerhead, with a flow rate of 9.5 Lpm (2.5 gpm), will consume roughly 190 L (50 gal) during that same period.
Additionally, there are steam-generators with stainless-steel jackets that resist rust and, therefore, last longer, even in the type of wet, corrosive environments these units are typically installed. Due to its stainless steel construction, when that unit is finished, it will be 100 per cent recyclable and will not languish in a landfill.
System selection
Commercial steam applications typically call for one of two system types, depending on the size of the space and the frequency of its use. A commercial steam system is required if the steam room is:
larger than 19 m3 (675 cf);
in operation more than six hours per day; and
designed to accommodate three or more bathers at a time.
Conversely, a light-commercial or day spa steam system is recommended if the steam room is:
smaller than 19 m3;
in operation fewer than six hours per day; and
designed to accommodate only one or two bathers at a time.
A true commercial steam system will likely operate 12 to 18 hours per day. In such a heavily used system, steam should be available on demand. With 24-7 programming, this always-on status is critical for a large health club or resort with clientele walking in and out of the space in unpredictable numbers and frequencies.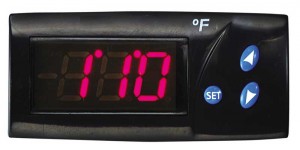 A smaller day-spa steam system in a less busy club environment works like a furnace or boiler in a home, activating only on demand. Of course, the clientele of smaller clubs and resorts probably will not want to wait for steam, either. In that instance, one wants to design a system that keeps the water at a temperature—usually around 82 C (180 F)—that is low enough to save energy when not in use, but high enough to generate steam within a minute or two of actual demand.
Sizing the system
Creating a well-functioning commercial steam room is a relatively straightforward affair, but only if one avoids two major pitfalls—improper generator-sizing before the room is constructed and improper maintenance once it is finished.
As previously noted, most large commercial steam rooms—that have on-demand steam requirements—are built with ceramic tile. In such instances, the first step to successful generator-sizing is simply to measure the steam room's length, width, and height, and then to multiply these three figures to calculate the room's volume. Using a generator manufacturer's specification charts, one can match the volume calculation with the right model number. Since most commercial steam applications use a pressure vessel, it is important to specify a generator built to the American Society of Mechanical Engineers (ASME) Boiler and Pressure Vessel Code (BPVC) requirements.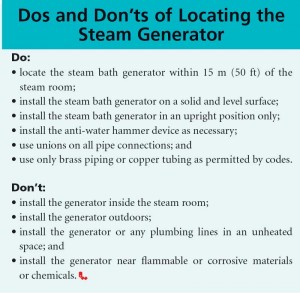 However, a smaller, light-commercial application is more likely to use wall and floor coverings other than, or in addition to, tile. If some type of porous, natural stone (i.e. marble, shale, granite, glass block, or concrete) is employed, one should double the room volume calculation before selecting the appropriately sized (i.e. larger) generator. To make the proper allowances, one should directly consult with the manufacturer. If ceramic or porcelain tile is mounted on cement board or a mortar bed, another 30 per cent should be added to the room volume result. Finally, if the steam room is constructed of nonporous acrylic or synthetic materials, one may be able to use a smaller generator than what the volume calculations indicate.
One of the most important aspects to create the ideal steam room is temperature consistency. The amount of steam delivered into the room should be regulated to maintain the preset temperature—typically between 40 and 45 C (105 and 112 F). The steam room temperature should never rise above 50 C (120 F), while cooler temperatures than 40 C may lead to user complaints.
Guidelines for locating the steam generator itself can be found in "Dos and Don'ts of Locating the Steam Generator". There are also a few other important considerations to keep in mind:
always check electrical wiring in the structure to determine the incoming electrical power (single-phase systems require a different generator model, even with the same kilowatt capacity, than three-phase systems);
if the pipe runs from the generator to the steam head in the shower, and extends longer than 15 m (50 ft), a larger generator will be required; and
a single generator can handle two rooms if their combined volume is no more than 40 m3 (1400 cf), but it is equally critical the two spaces be at least roughly the same size to avoid a serious temperature imbalance.

Control the content you see on ConstructionCanada.net!
Learn More.