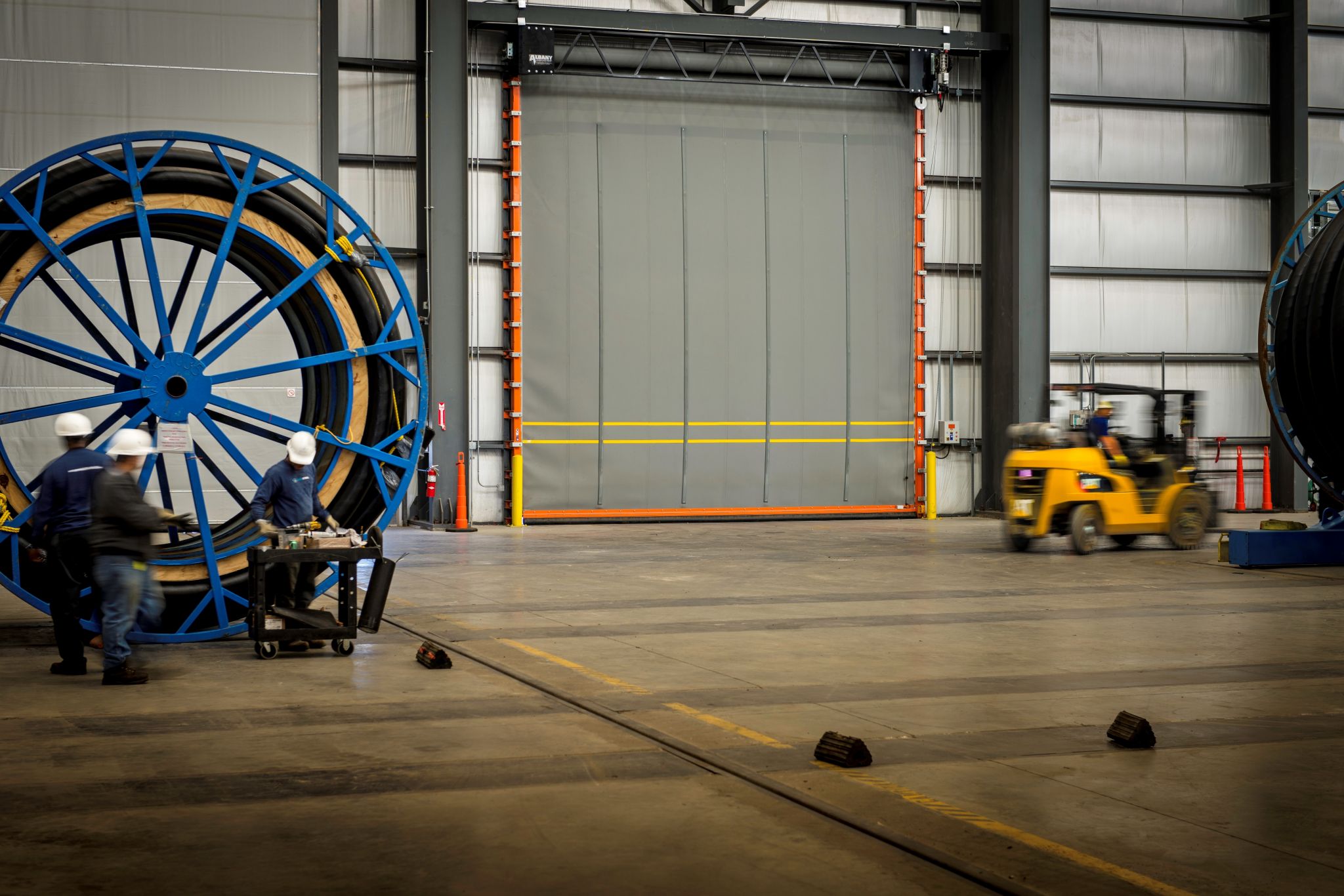 By Richard Sivertsen, CTR
Often specified for commercial and industrial applications, sectional overhead and coiling door systems have long been relatively static as far as the speed of which they open and close. These doors have been able to increase their opening speeds by changing the sprockets in the motors, using wall-mounted jackshafts. This increase amounts to a few more inches-per-second opening speed, maxing out at about 406 mm (16 in.) per second. Conversely, newer 'high-speed, high-performance' doors can achieve up to 2540 mm (100 in.) opening speed depending on model, material, and opening size.
Over three decades of industry experience, this author has witnessed an evolution in hardware components and changes in sectional overhead door system product designs—from sections of wood to steel to insulated steel that looks like wood. Most of the changes have been well-received, but the systems have remained as multiple components comprising sections or slats, tracks, shafts, torsion springs, cables, hinges, rollers, ropes, and chains. This means long installation times (in the case of sectional doors), high maintenance costs, and expensive repair costs. Additionally, when hit by vehicles and equipment, these traditional overhead or coiling doors are often costly in terms of replacement parts.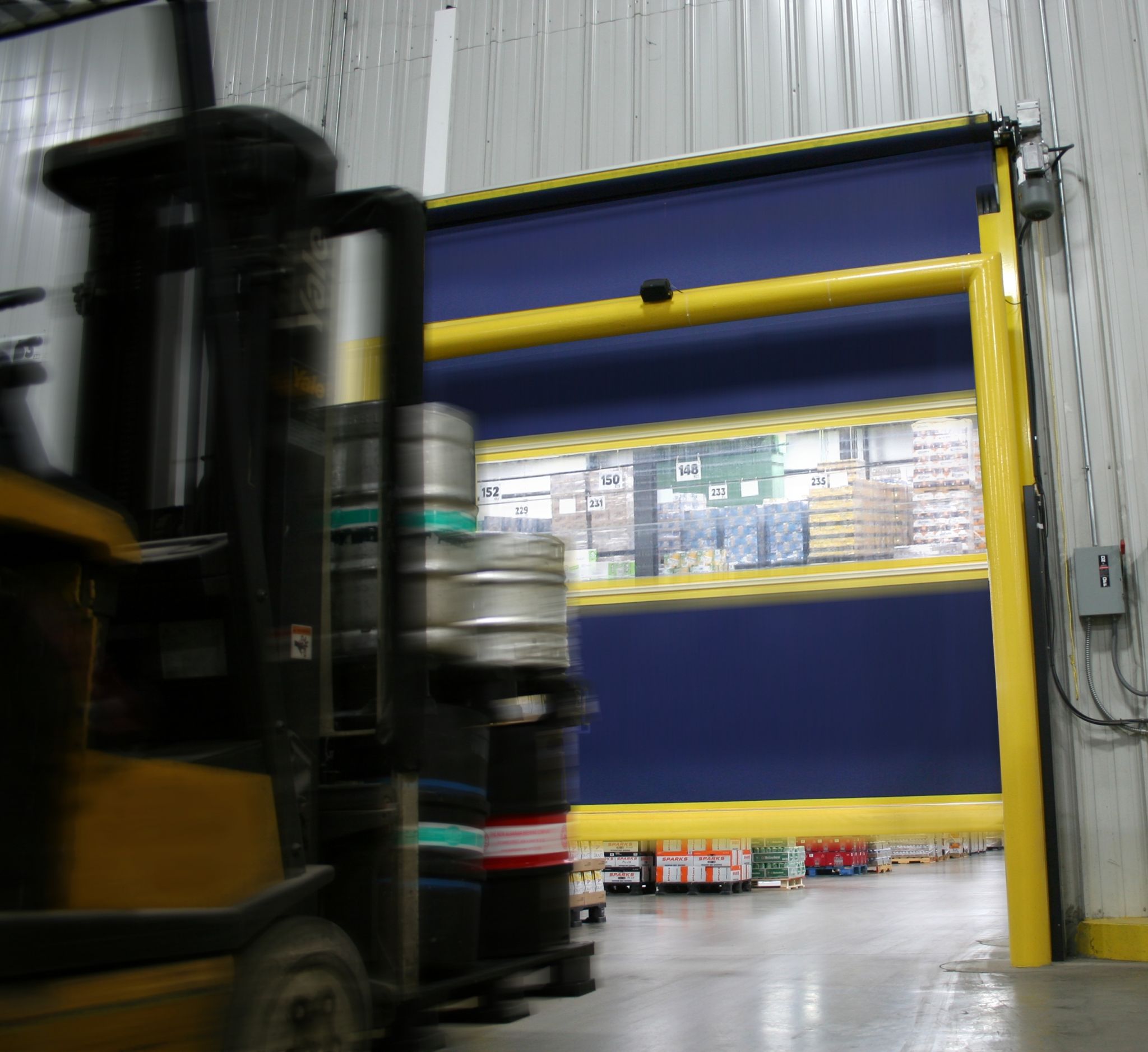 In the case of newer high-speed, high-performance doors manufactured from rubber (i.e. styrene butadiene or ethylene propylene diene monomer [SBR or EPDM]), fabric, or polyvinyl chloride (PVC), the 'curtain' rolls up or stacks above the header. These openings are quicker to install, and have less service requirements and fewer expensive components to replace. Some can be virtually indestructible—certain rubber models can be hit by a vehicle and escape largely unscathed, reset into the guides in a few minutes. PVC doors have a soft bottom, and can also be impacted without the same type of damage caused to traditional wood or steel doors.
There will always be applications for traditional sectional overhead and coiling door systems in all sectors of construction. On initial installation, their costs are lower overall than those of high-performance doors—one would expect to pay about five times the initial supply and installed price for the latter. (Still, the return on investment [ROI] is good due to reduced maintenance costs and extended life span and energy savings.) Further, there is more familiarity with traditional products on the part of most door installers, and parts are, by necessity, always available from major distribution points.
Over the years, however, there has been an increase in those experienced with working on high-performance doors. Various professional installation firms have made the effort to obtain training from manufacturers to service the specialized industries where such doors are placed. This has always been important from a specifier's point of view in ensuring the construction documentation asks for installing trades to be familiar with these specialized systems.
Reasons for specifying high-performance doors
The fast speeds associated with high-performance doors means reduced time waiting for opening/closing. In industrial projects, this increases worker productivity as the flow of work processes is smoothed. There is no 'stop and go' when entering and exiting doors, so workers do not have to wait to leave or enter an area. Additionally, this speed enables better climate control of a space.
Despite the rapid closing, safety is not compromised. Photocell-driven 'light curtains' stop and reverse the door's operation should an employee or object pass the threshold.
High-performance metal doors are designed to stay solid and secure against impact and can withstand higher winds than other doors, especially when wind tabs (i.e. components securing the door in the guides to resist extreme pressure) are part of the design. The strong, self-supporting side-frames of steel or aluminum offer benefits ranging from easy cleaning to resistance against corrosive chemicals. The result tends to be lower maintenance costs. Further, some doors easily break away and are reset—fewer parts simplify repairs.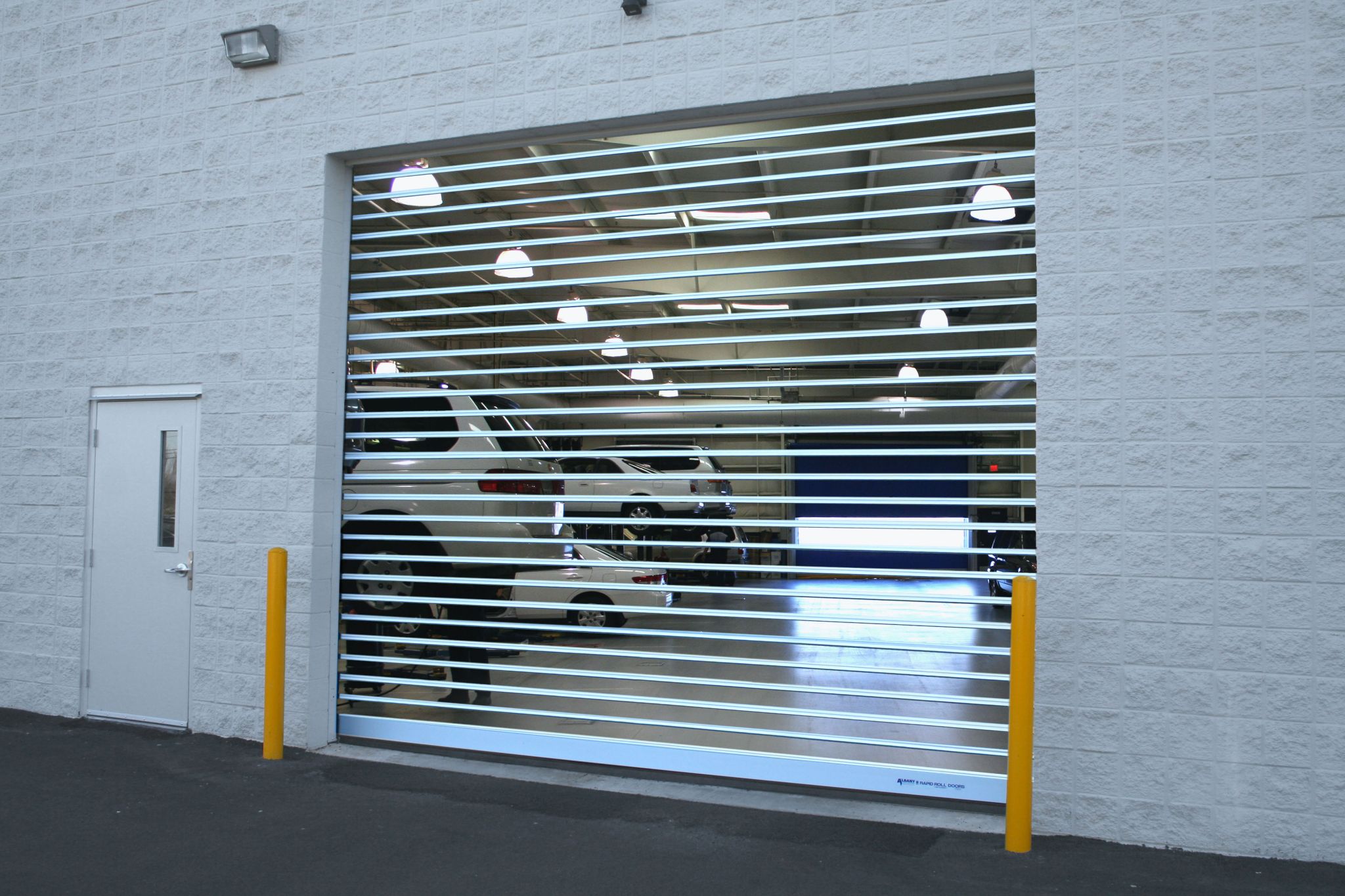 Applications for high-performance doors
For warehouses and distribution centres, high-performance doors that break away easily lead to increased productivity, as there is no need to wait for doors to open. The benefits of other advanced doors make them especially suitable for certain project types.
Mining industry
Rubber high-performance doors that break away on impact, while protecting against high winds, can be specified for spaces housing mining equipment and ore from harsh environmental conditions. They are extremely popular in truck shops.
Manufacturing
In automotive or electronic manufacturing applications, high-performance doors that separate workers from machinery processes (e.g. arc- or laser-welding, stamping, bending, milling, painting, and work-piece or tool handling) can be ideal. Often, the best door for this situation is neat, compact, and see-through—attributes not easily satisfied by many traditional wood and steel offerings.
Automotive dealerships
Metal doors that do not break-away when impacted are frequently selected for dealerships. Those visible to customers tend to be specified as more visually appealing, while higher-security models are employed for maintenance doors.
Pharmaceutical industry
High-performance doors can prevent contaminants from entering sensitive spaces in pharmaceutical projects. For example, they can be used in research areas that need air contaminants controlled.
Clean rooms
Reinforced polyvinyl chloride (PVC) doors help maintain critical pressure for clean rooms by limiting air flow. If the pressure is too low, contaminants will be admitted, but if too high, energy is wasted—finding the perfect balance is important.
Cold storage and food industry
By reducing air exchange, high-performance doors help control climate and limit dust, dirt, and other pollutants. They keep perishable items the right temperature by isolating rooms with double weather seals, and can be used to separate loading areas from food storage.
Transportation/parking
Used in a wide range of sectors such as airport terminals, train repair shops, truck maintenance facilities, and parking garages, high-performance doors serve as secure, durable gatekeepers of vehicles coming and going.
Waste management
High-performance doors can withstand corrosive sludge. Certain types seal extreme odours, and separate the processing, recycling, or disposal of waste management from each other while allowing all actions to be kept within the facility.
Government
There are high-performance doors for various government-related operations, including:
police stations;
court houses;
military facilities;
schools;
correctional facilities;
fire stations;
water treatment plants;
emergency management offices; and
municipal maintenance departments.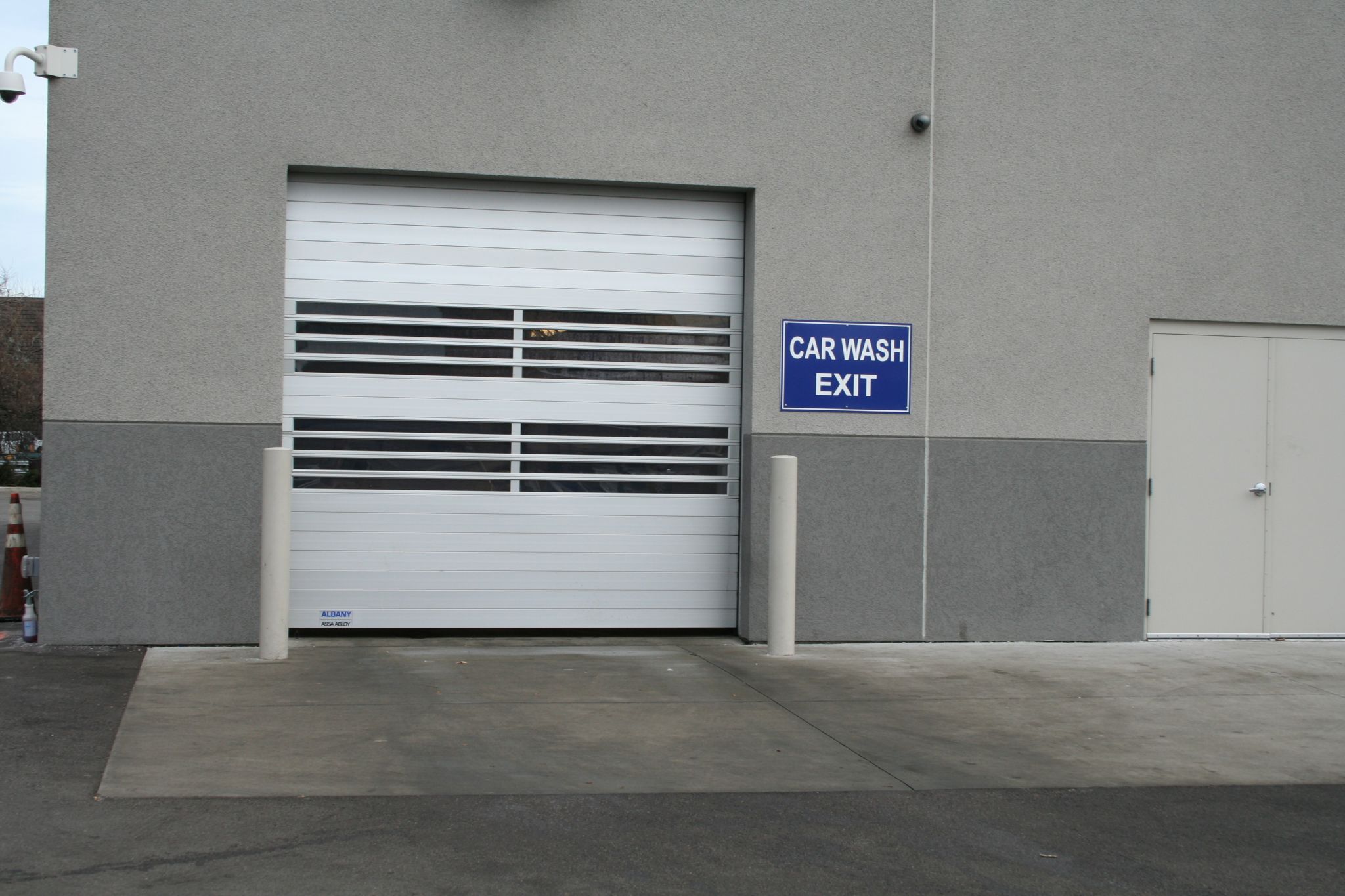 High-performance installation and maintenance
This author knows of eight North American manufacturers of high-performance doors, but the list is growing. These companies tend to be cognizant of security, installation costs, and maintenance expenses, as well as payback issues in their designs to date.
As discussed, since these systems have fewer parts than their traditional counterparts, the door systems are more resistant to damage and easier to repair. This is especially important with regard to down time—in the mining industry, as an example, a 'down' door could cost the company $250,000 daily in lost revenue. While incurred losses may be lesser in, for instance, the automotive industry, the fact remains an inoperable door has a negative impact on operations.
Well-trained installation firms experienced in the high-performance arena should know how to put these systems in place, while minimal 'preventative maintenance' contracts help enable maximum benefit to owners. After all, having paid higher costs for initial installations, both the manufacturer and the original installing firm need to ensure end users get the best ROI possible. In remote areas, onsite personnel are often able to perform the necessary preventative maintenance on these systems.
Doing business and knowing specifications
There have been instances of door systems being specified where trades obeyed the specifications in their bids only to find, two years later, the maintenance has cost the owner far more than expected because the incorrect door was chosen. This is often because there was no consultation going into the project between the design professional and the door industry's tradespeople, and erroneous assumptions were made on past history of use.
A trade often views the specifications without knowledge of any conversations between the prime consultant and the spec writer (or, indeed, the client). Therefore, they bid according to the specifications if it is a product they support—otherwise, they may apply for an approval on an alternate or equal, but hardly ever a substitute to suit an environment they have not been informed about.
It is unlikely bidding a substitute much higher in cost would ever get the chance during tender time, as most trades are hoping to be the low bidder. This means the application really needs to be ironed out during initial discussions with the architects based on their knowledge of the client's requirements.
Ideally, the high-performance door industry should be consulted at the concept or design stage of a project to determine a number of issues. Important criteria should be discussed throughout the discovery period of a project.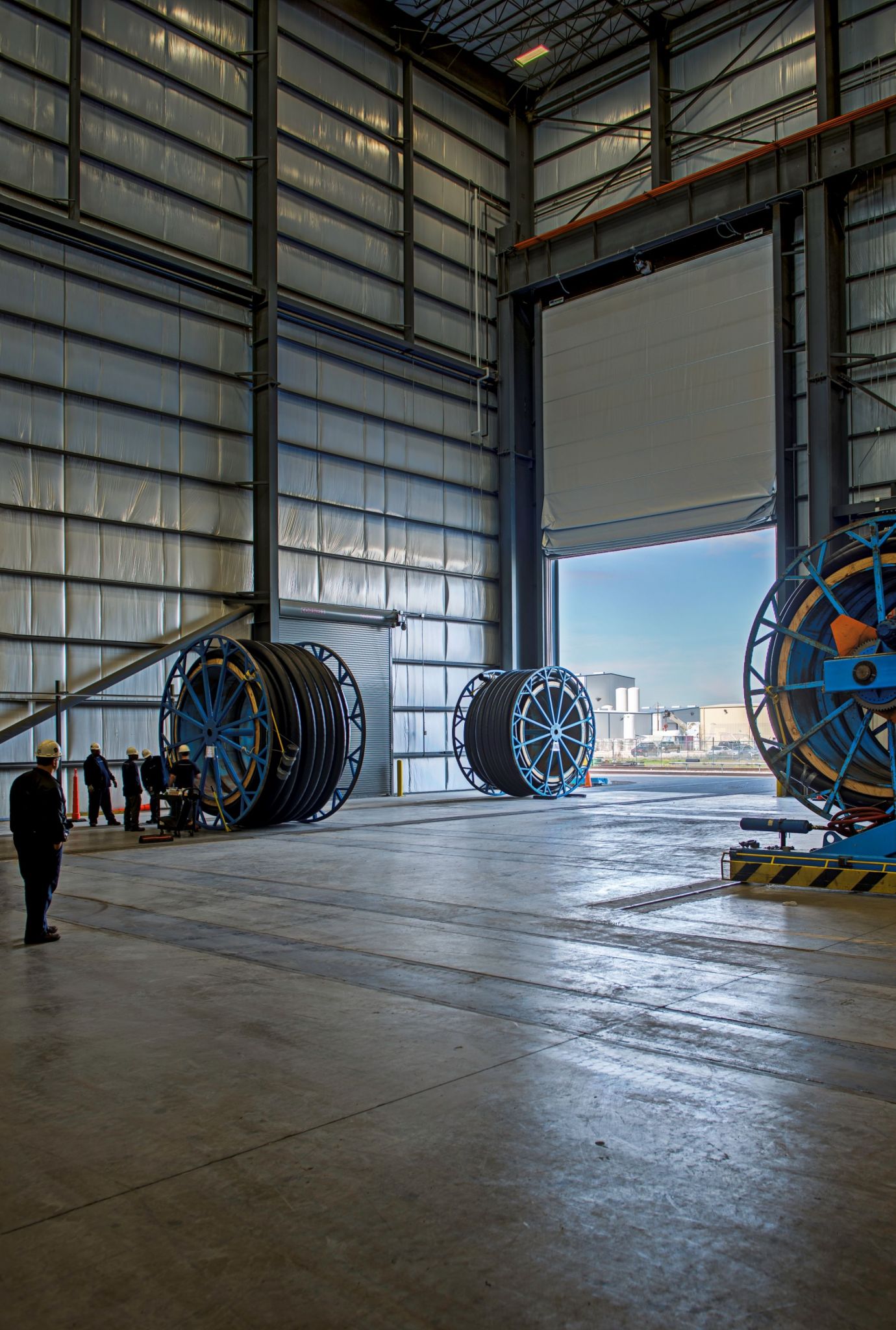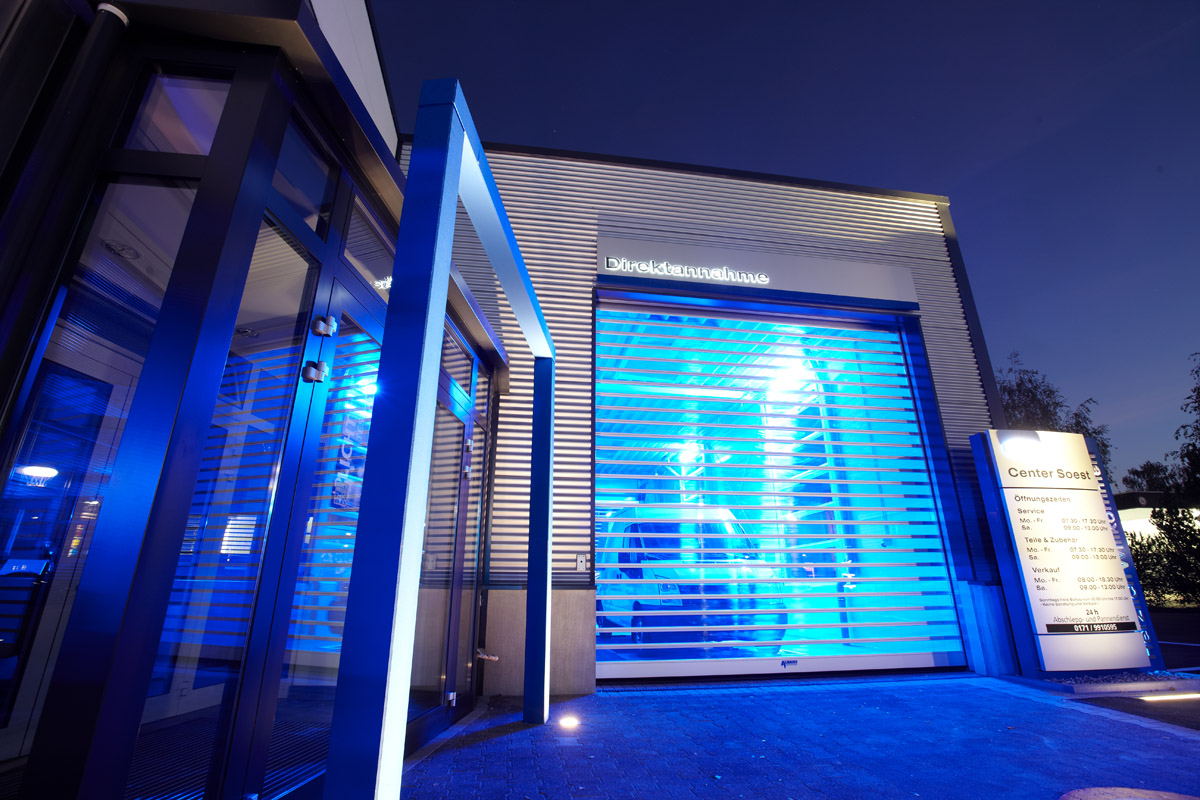 Actual use
Knowing who uses the door system is a critical aspect of specifying the right opening. Products can be defined by how often the door is to be used daily, what are the costs to heat/light the environment, and whether there are certain accessibility requirements. Is there possibility of damage to the doors (and how would this happen)? This question must also be answered.
Environment
Environmental information factoring into the right specification include whether the door is inside the building, an exterior application, underground, or required to meet caustic, wet, damp, cold, or freezing conditions. For instance, a PVC door is normally used on the inside of a building, whereas rubber and fabric doors can be employed on either the inside or outside of the exterior wall structure.
Cycles
How many times will the door be open and closed per day, and for how many days annually? The answer to questions like this helps determine the type and model chosen. The cycles of the system are based on expected usage. In some applications, these doors can be designed with either torsion springs or counterweighted, or simply be spring-less.
Energy
If one can define the costs to the user in terms of energy to heat an area, it becomes easy to calculate the potential savings of a specific high-performance, high-speed door. For example, a traditional overhead door travels—from open to close—at a speed of 229 mm (9 in.) per second, while a high-performance model can be 2032 mm (80 in.) per second opening and 610 mm (24 in.) closing. For this hypothetical project, the cost per kilowatt of power is a known variable and the door will be open 15 times per day for six days a week. Using this information, it is simple to determine how long each system is open, and the amount of lost energy. The longer the door is in an open position, the more energy it takes to reheat the environment.
Safety mechanisms
Safety considerations for high-performance doors include the type of material going into and out of a building, along with the related restrictions on use. There are varied ways to prevent damage to personnel with these doors, as some have solid or soft bottom edges. As well, there are many types of safety beams to prevent doors from closing when obstructions are apparent.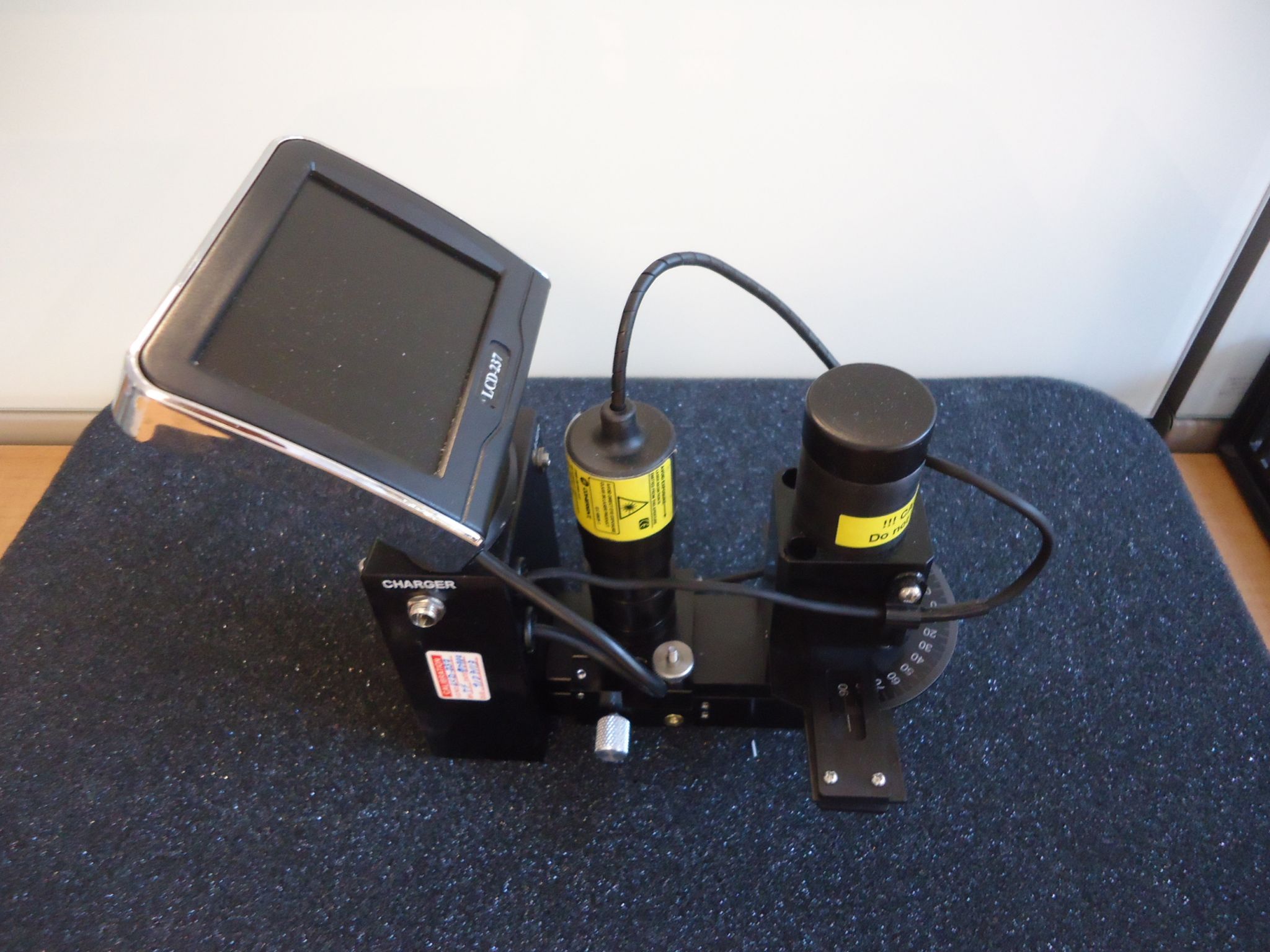 Conclusion
High-performance and high-speed doors have been employed in various buildings and industries for many years. However, their use is increasing at a fast rate when the installations have proven themselves many times over.
The one caveat concerning the specification of these systems is the industry should be contacted before designing to discover the appropriate solution, allowing the correct type of door to be selected and misunderstandings during tender time to be reduced. After all, since these doors have a much higher cost on installation, it is important building owners know the right choice was made the first time.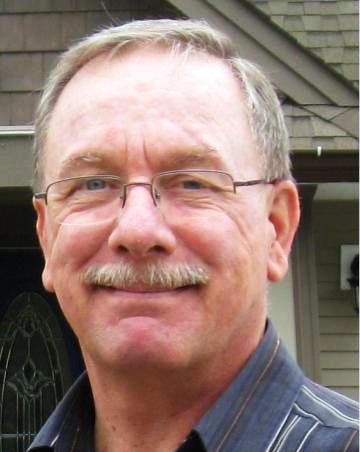 Richard Sivertsen, CTR, is the business development manager for Westgate/Entrematic. He has been involved in the overhead/coiling door and high-speed door systems industry for more than 30 years. Sivertsen has been associated with Vancouver Regional Construction Association (VRCA), British Columbia Aviation Council (BCAC), and Fire Chiefs Association of British Columbia (FCABC); he has been a member of CSC for more than a decade. He can be reached via e-mail at rsivertsen@heltongroup.ca.

Control the content you see on ConstructionCanada.net!
Learn More.