Specifying fire-rated glazing in schools
May 17, 2017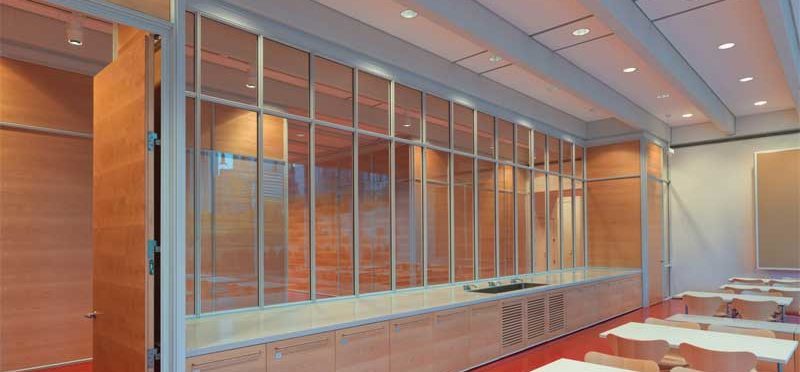 By Jeff Razwick
The National Building Code of Canada (NBC) requires glazing in certain applications in educational facilities to be fire-rated. While it is necessary for building teams to work within the parameters set forward in these codes, today's advanced fire-rated glazing products make it possible to do significantly more than protect against the spread of fire.
One might consider Brooklin High School in the Greater Toronto Area's (GTA's) Whitby community. To fulfil code requirements, the building team installed 325 m2 (3500 sf) of high-performance fire-protective-rated glass ceramic in doors, sidelites, transoms, and interior windows. In the event of a fire, this glass will neither shatter nor allow flames to ignite on the non-fire side of the glass for the duration of its fire rating. Its defense is an essential component of the school's life-safety plan. However, this is just the start of the material's responsibilities.
The school's fire-rated glass ceramic is also impact-safety-rated. This helps prevent injuries from glass breakage if students run into it—an important consideration in a busy school serving approximately 1125 teenagers in Grades 9 to 12. With the clarity of ordinary window glass, the fire-rated glass ceramic visually integrates with the extensive non-rated glazing used throughout the 16,090-m2 (173,200-sf) facility to help create an inviting interior. Additionally, the product's transparent form helps promote natural light transfer and enhance visibility in areas subject to fire- and life-safety codes.
While there are even more ways fire-rated glass can benefit educational facilities, Brooklin High School illustrates how design teams can use it to create assemblies that both meet the daily needs of students and faculty and perform well during a fire. Given the many special challenges present in schools, proper specification is necessary to achieve such an outcome. While there is no simple fire- and life-safety formula, asking the following questions can help simplify the process.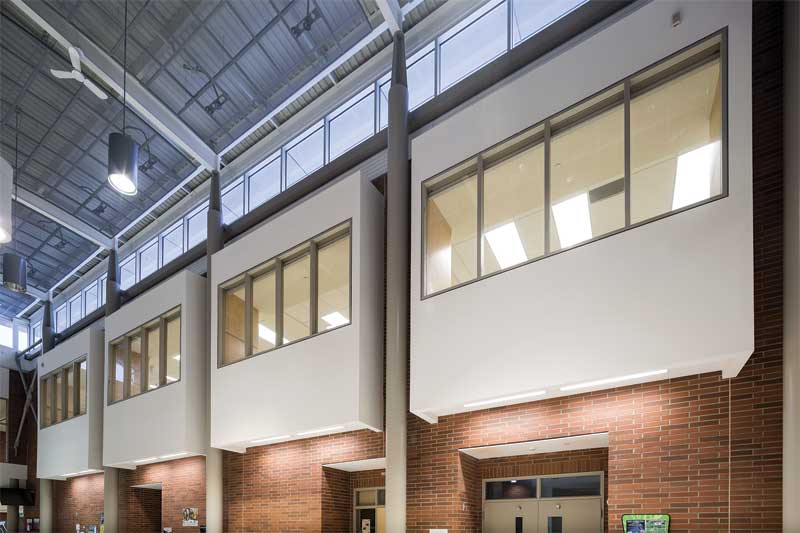 What type of fire defense does 
the particular application require?
An important first step in the specification process is determining whether codes require a given location to use a fire-protective or fire-resistive product. These two product classes provide different levels of defense against the spread of fire. As such, understanding the distinctions between them and the glass that meets their criteria is foundational to proper specification.
Fire-protective-rated assemblies
Fire-protective-rated assemblies require products that divide buildings into compartments to help slow the spread of flames and smoke. In Canada, glass with a fire-protective designation is tested to CAN4-S104/Underwriters Laboratories (UL) 10b, Fire Tests of Door Assemblies, 10c/CAN4-S104/UL 9, Fire Tests of Window Assemblies, and CAN/ULC-S106, Standard Method for Fire Tests of Window and Glass Block Assemblies. The glass's fire rating (in minutes) corresponds with its performance during mandatory fire and hose stream tests.
In the fire test, a large furnace heats window frames or doors holding glass, following a standard time-temperature curve per National Fire Protection Association (NFPA) testing regulations. It is required the assembly remains in the wall for the duration of the test, with no flaming on the exposed surface of the assembly or openings.
In Canada, glass must also pass a mandatory hose stream test. (In the United States, the hose stream is required for products with fire ratings in excess of 20 minutes.) During this process, testing labs spray the glass and framing with water from a fire hose immediately after the fire test. This evaluates the assembly's ability to withstand stress and the thermal shock imposed by the hose stream. Materials that crack or shatter during this process may allow flames and smoke to spread throughout buildings, potentially harming occupants and damaging property.
Today, fire-protective-rated glazing materials able to meet Canada's building codes include options such as traditional wired glass (discussed further in this article), glass ceramics, and specialty tempered glass. Depending on the material makeup, product offerings are available with fire ratings ranging from 20 to 180 minutes, with varying impact-safety ratings.
Since fire-protective-rated glass does not block the transfer of radiant and conductive heat, it must maintain compliance with application, area, and size limitations under the most applicable building code and/or authority having jurisdiction (AHJ). This is why fire-protective-rated glass cannot exceed 25 per cent of the total wall area.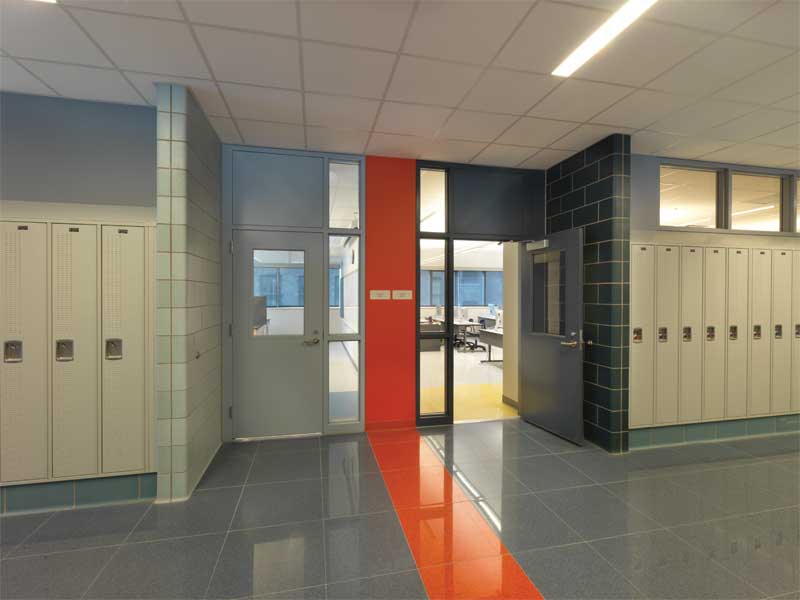 Fire-resistive-rated assemblies
The crucial difference between fire-protective and fire-resistive glass is the latter also serves as a barrier to radiant and conductive heat. Throughout North America, fire-rated glass providing this extra safeguard is tested to stringent Canadian and U.S. standards, including CAN/ULC-S101, Fire Endurance Tests of Building Construction and Materials—the fire-resistance test standard for walls.
While fire-resistive-rated glass technologies vary by manufacturer, a common method for achieving this level of performance is to sandwich an intumescent material—which foams during a fire—between multiple layers of glass. This internal reaction allows the glass to remain below 121 C (250 F) for the duration of its fire rating. By keeping the glass relatively cool on the non-fire side of the wall, it is possible to protect students and faculty (as well as valuables) from high heat as they exit a building.
Fire-resistive glass's internal reaction also allows it to defend against radiant heat transfer. This unseen form of heat is carried through electromagnetic waves, and can pass through building materials to ignite surrounding structures. By serving as a barrier to the invisible threat of radiant heat transfer, fire-resistive-rated glass can help prevent rapid fire buildup, which can give students and faculty extra time to exit the premises and firefighters time to arrive and extinguish the fire.
Fire-resistive-rated glass can carry fire ratings up to 120 minutes, pass the fire and hose stream tests, and block significant amounts of heat. It is suitable where building codes require an assembly designated fire-resistive to enclose a space. This includes wall and door applications that require a 60-minute or greater fire rating and must meet temperature-rise criteria. Given this type of glass meets such requirements, it is not restricted to 25 per cent of the wall area. This provides design teams with great flexibility when working to create light-filled and inviting spaces that also meet strict fire- and life-safety criteria.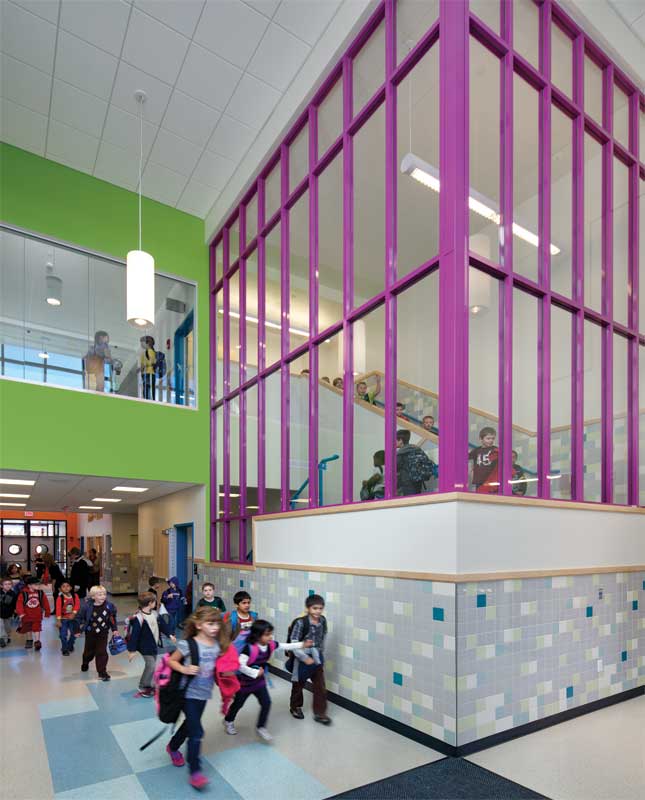 Do the specified glass and framing both meet or exceed required code minimums?
To work effectively, fire-rated glass must be installed into an appropriately rated frame for the required protection level. One might consider an application where building codes mandate use of 60-minute or greater fire-resistive-rated materials meeting CAN/ULC-S101. In this instance, specifying 45-minute fire-protective-rated glass in a 60-minute fire-resistive-rated framing system is a mismatch for the required protection level of the assembly. It can also place students and faculty at risk if the fire-rated glazing fails before the frame, allowing flames and smoke to spread throughout the school prematurely.
To avoid this mistake, it is important to verify the fire-rated glass, framing, seal, and other components have the same or greater ratings than the required code minimums for the opening. It is also essential to confirm the fire-rated glass and frame provide the same type of protection (i.e. fire protection or fire resistance). To ensure fire-rated materials have consistent ratings and provide the appropriate level of defense against fire, one should check the product label. If questions still remain, it is best to confirm with the manufacturer or supplier.
When specifying fire-resistive-rated glazing systems, such as curtain walls or fire-rated glass floor assemblies, it is necessary to go a step further. One should verify with the manufacturer or supplier that the performance requirements of the glass and frame system match, and that they have been tested and listed to work together as an assembly. To simplify this process while still meeting the high performance requirements of modern buildings, some manufacturers offer complete systems from a single source. In these systems, all components are designed and tested in the same assembly, eliminating concerns about inconsistent fire ratings.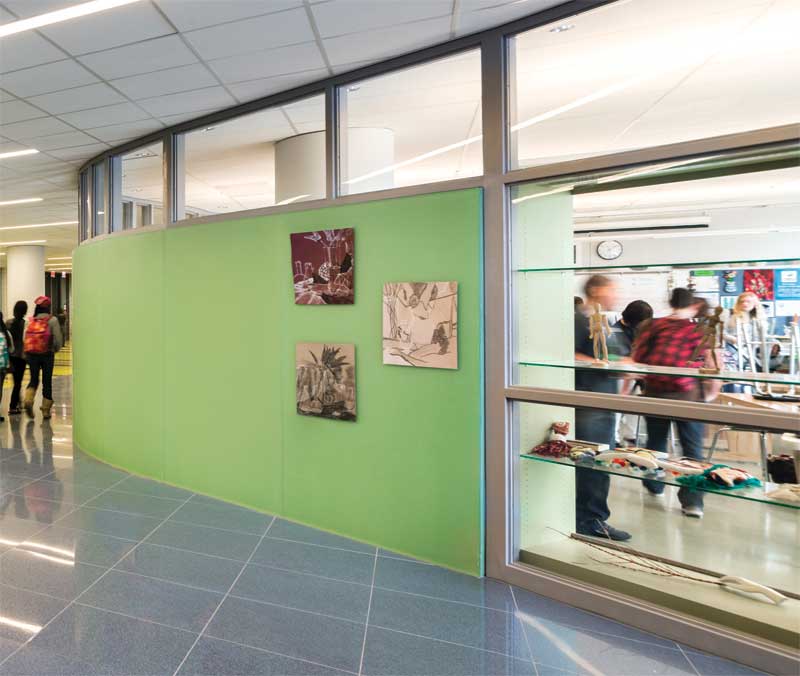 Will the glass be installed in a 'hazardous' location subject to frequent human contact?
Fire-rated glass installed in such locations, including doors and sidelites, must now defend against the spread of fire and meet high impact-safety criteria. In Canada, this is a recent and important change to note.
In 1990, when the Canadian General Standards Board (CGSB) first published its fire-safety codes, wired glass was the only glazing material that could offer adequate fire protection for a reasonable length of time. Although it could only resist 4.8 kN/m2 
(100 ft-lb) of impact, the absence of a fire-rated glazing material with the desired impact-safety performance led to the issuance of CAN/CGSB 12.11-M90, Wired Safety Glass, which allowed use of monolithic wired glass in hazardous locations.
Recognizing injuries can follow such use of wired glass, CGSB spent the last three years working on a new safety glazing standard. In February, it released CAN/CGSB 12.1-2017, Safety Glazing, and withdrew CAN/CGSB 12.11-M90. The new standard supersedes CAN/CGSB 12.11-M90, Tempered or Laminated Safety Glass, and requires all safety glazing, including wired glass, to meet the Class A rating at a minimum, resisting 7.2 kN/m2 (150 ft-lb). (Products satisfying the more-stringent Class B rating can resist 19 kN/m2 [400 ft-lb] of impact.)
The Canadian Commission on Building and Fire Codes (CCBFC) has taken steps to appoint a task group to assess whether to begin immediate proceedings to adopt the new safety standard or wait for a new model building and fire code development cycle. Although no formal confirmation exists yet, immediate adoption proceedings are expected to begin in the near future.
For building industry professionals used to specifying traditional, monolithic wired glass in hazardous locations, the good news is there are a number of readily available, wireless fire-rated glass alternatives that can meet the new criteria. Clear fire-protective-rated glass products, such as fire-rated glass ceramic, provide exceptional surface clarity and meet strict Class B criteria. Many fire-resistive-rated transparent glass wall panels also offer high levels of impact safety.
If questions arise during the specification process, it is best to contact the manufacturer or supplier to answer questions and provide supporting literature.
Does the fire-rated glazing support 
daylight transfer?
While fire-rated glass is best known for its fire- and life-safety protection capabilities, it is also proving an important ally in daylighting designs. Glazing can help draw light into spaces that would otherwise require opaque fire-blocking materials like gypsum and concrete to meet building codes. This is becoming increasingly beneficial, as building 
teams are more frequently incorporating strategies for maximizing daylight capture within their building plans to reduce energy usage and costs, as well as to support student and teacher wellbeing.
While fire-protective and fire-resistive glass have different use and installation parameters, both can support daylighting designs in educational facilities. For example, installing fire-protective-rated glass with exceptional clarity in transoms, borrowed lites, and doors can help maximize light transfer and views in schools. Kaeyer Garment & Davidson Architects used this approach in Post Road School in White Plains, N.Y., specifying fire-rated glass ceramic with superior optical quality to help illuminate hard-to-light spaces like the library, stairwells, and corridors while protecting children and staff from the threat of fire. To further bolster daylight transfer, the design team oriented the facility around an interior courtyard. This helped the school's interior glazing assemblies capture more of the sun's rays.
When specifying fire-resistive-rated glass in schools, daylighting design options expand beyond what is possible with fire-protective glazing. Since fire-resistive products are not restricted to 25 per cent of the total wall area, design teams can use them to extend the surface area through which light can transfer in areas subject to building codes. These sophisticated fire-rated glass assemblies can extend from floor to ceiling, wall to wall, and across multiple storeys while providing schools with around-the-clock defense against fire. Notable fire-resistive-rated glass systems able to supplement daylighting designs include:

full-lite door assemblies;

transparent glass walls;

curtain walls;

silicone-glazed curtain walls; and

glass floors and roofs.
Building teams can also employ these expansive fire-resistive-rated glass applications in a range of settings to draw light deep into a building's core. For example, placing fire-rated glass floor systems above open interior spaces can help stream light to lower levels while also providing a barrier to fire. Christopher Newport University (CNU) Student Success Center in Newport News, Va., demonstrates the powerful, multi-faceted benefits of this orientation. Glavé & Holmes Architecture specified a 4.6-m (15-ft) diameter fire-resistive-rated glass floor system that functions as light portal, supports loads up to 732 kg/m2 (150 psf), and extends usable walking space on the fourth floor with its textured top-surface glass.
While CNU is just one illustration of how advanced fire-rated glass systems can support light transfer, there are many other beneficial orientations, including:

placing fire-rated glass curtain walls directly in line with non-fire-rated curtain walls;

incorporating fire-rated glass panes in corridors and gathering areas;

using fire-rated glass in the interior walls of stairwells and in corridors;

placing fire-rated glass floors above multi-storey shafts and atriums; and

incorporating exterior fire-rated glazing systems (e.g. curtain walls) to provide lot line defense and support light transfer.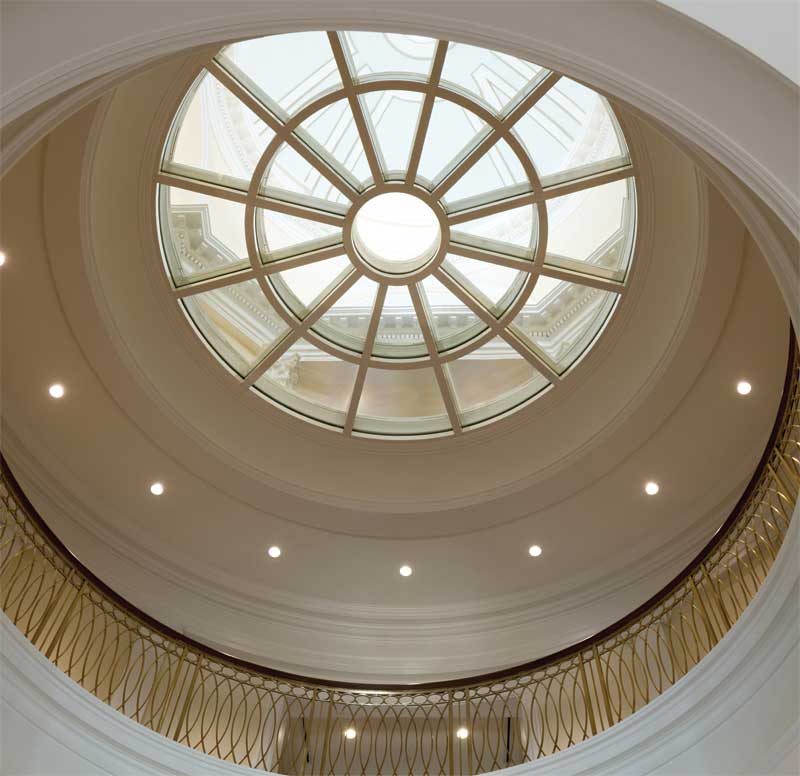 Does the fire-rated glazing enhance visual connectivity?
In addition to drawing daylight deep into interior spaces, fire-rated glazing can enhance visual connectivity and preserve views to the outside.
This was a prominent design goal during the development of the Art Institute of Chicago's Modern Wing. Inside, plaster and glass provide intimate gallery settings and clear views in and out to continually inspire artistic expression. A new education centre also includes activity rooms for children and families, orientation rooms, support offices, and a teacher resource centre.
One challenge faced by the architects, Renzo Piano Workshop in conjunction with Interactive Design, was how to maintain clear lines of sight from historic Michigan Avenue through the space to the fresh landscape of the Millennium Park Courtyard. The interior walls for the education areas and boardrooms needed to be transparent from floor to ceiling, yet also meet fire- and life-safety codes. To meet these design goals, the architects  installed a narrow-profile, fire-rated aluminum framing system to draw the line of sight through nearby expanses of glazing and create a bright, open learning environment.
Today, there are numerous ways design teams can use fire-rated glazing to promote visibility. Popular options include:

using full-lite fire-rated glass doors to improve wayfinding;

specifying expansive fire-rated glass curtain walls to draw the line of sight through nearby expanses of glazing; and

using sequences of transparent fire-rated glass wall panels to connect workspaces.
Fire-rated glazing can also help boost visibility in renovations, tying together two otherwise-separate areas while providing a high level of life safety.
Does the assembly encourage student interaction and learning?
Fire-rated glass assemblies were once easy to identify, with their thick, fire-rated frames and traditional wired, fire-rated glass. While functional, their esthetic did little to create inviting spaces suited to student learning. Thanks to manufacturing advances, building teams now have clearer fire-rated glazing and thinner fire-rated frames from which to select. These offerings make it possible for design teams to reflect the playful energy of students, match rated and non-rated glass and framing systems, and contribute to both the form and function of schools.
For example, fire-protective glazing products such as fire-rated ceramic glass can be ground and polished on both sides. The resulting glass has a smooth surface finish, high visible light transmission, and low reflection, making it ideal for applications where higher clarity is desired. Even high-performance fire-rated glazing, such as fire-resistive-rated transparent wall panels, can offer nearly the same level of visual clarity as ordinary float glass.
Some advanced fire-rated glass systems even employ fire-rated steel frames featuring well-defined corners and crisp edges for smooth integration with surrounding applications. These are available in steel, aluminum, and a range of hardwood species to match the interior design schemes of schools.
Are there any product limitations 
or tradeoffs to be aware of?
Provincial legislatures and municipalities vote building codes into law. These laws then establish the rules for fire-rated construction in buildings. However, since building codes only spell out the required fire rating and type of protection for a given location—not the material—building professionals have great design freedom in selecting a product that best meets performance, design, and cost goals. While this flexibility may initially seem helpful, it also comes with risks.
Properly prepared specifications account for numerous fire- and life-safety performance demands. While there may be a desire to select a lower-cost, 'equal or better' product—especially as total building costs escalate—it is important to ensure the equivalent product meets the full range of factors guiding the original specification. Even small adjustments to the specification may result in compromised material performance when it matters most.
Since the stakes for misapplication are high, it is important to ensure any cost-saving changes to fire-rated glazing products do not impact the overall safety of students and faculty.
Conclusion
Fire-rated glazing can be put to the test in schools on any given day. Students can start fires in trashcans, faulty electrical wiring can spark into flames, and unwatched stoves can start blazes in lunchroom kitchens. With proper specification, fire-rated glass can help defend against these threats, while helping create a productive learning environment to meet the daily needs of students.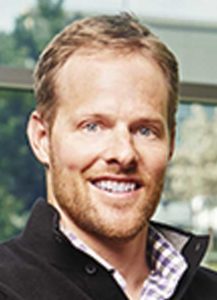 [7]Jeff Razwick is president of Technical Glass Products (TGP), a supplier of fire-rated glass and framing systems, as well as other specialty architectural glazing. He writes frequently about the design and specification of glazing for institutional and commercial buildings, and is a past chair of the Glass Association of North America's (GANA) Fire-Rated Glazing Council (FRGC). Razwick can be reached via e-mail at jeffr@fireglass.com[8].
Endnotes:
[Image]: https://www.constructioncanada.net/wp-content/uploads/2017/05/TGP-Image-3-e1495035633902.jpg
[Image]: https://www.constructioncanada.net/wp-content/uploads/2017/05/TGP-Image-1.jpg
[Image]: https://www.constructioncanada.net/wp-content/uploads/2017/05/TGP-Image-2.jpg
[Image]: https://www.constructioncanada.net/wp-content/uploads/2017/05/TGP-Image-6.jpg
[Image]: https://www.constructioncanada.net/wp-content/uploads/2017/05/TGP-Image-4.jpg
[Image]: https://www.constructioncanada.net/wp-content/uploads/2017/05/TGP-Image-5.jpg
[Image]: https://www.constructioncanada.net/wp-content/uploads/2017/05/Jeff-Razwick-Bio-2015-e1495038469297.jpg
jeffr@fireglass.com: mailto:jeffr@fireglass.com
Source URL: https://www.constructioncanada.net/specifying-fire-rated-glazing-in-schools/
---