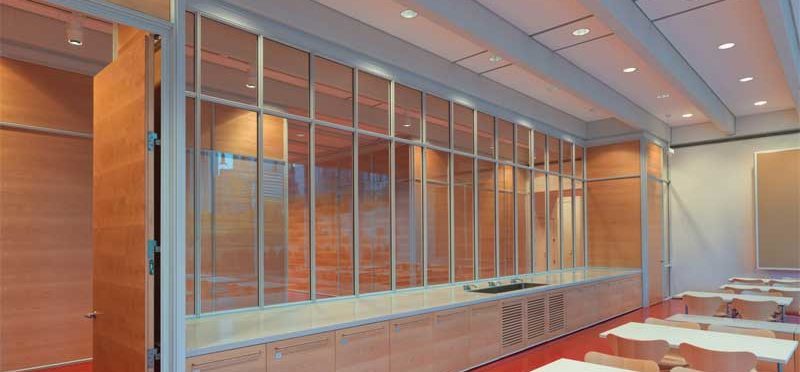 By Jeff Razwick
The National Building Code of Canada (NBC) requires glazing in certain applications in educational facilities to be fire-rated. While it is necessary for building teams to work within the parameters set forward in these codes, today's advanced fire-rated glazing products make it possible to do significantly more than protect against the spread of fire.
One might consider Brooklin High School in the Greater Toronto Area's (GTA's) Whitby community. To fulfil code requirements, the building team installed 325 m2 (3500 sf) of high-performance fire-protective-rated glass ceramic in doors, sidelites, transoms, and interior windows. In the event of a fire, this glass will neither shatter nor allow flames to ignite on the non-fire side of the glass for the duration of its fire rating. Its defense is an essential component of the school's life-safety plan. However, this is just the start of the material's responsibilities.
The school's fire-rated glass ceramic is also impact-safety-rated. This helps prevent injuries from glass breakage if students run into it—an important consideration in a busy school serving approximately 1125 teenagers in Grades 9 to 12. With the clarity of ordinary window glass, the fire-rated glass ceramic visually integrates with the extensive non-rated glazing used throughout the 16,090-m2 (173,200-sf) facility to help create an inviting interior. Additionally, the product's transparent form helps promote natural light transfer and enhance visibility in areas subject to fire- and life-safety codes.
While there are even more ways fire-rated glass can benefit educational facilities, Brooklin High School illustrates how design teams can use it to create assemblies that both meet the daily needs of students and faculty and perform well during a fire. Given the many special challenges present in schools, proper specification is necessary to achieve such an outcome. While there is no simple fire- and life-safety formula, asking the following questions can help simplify the process.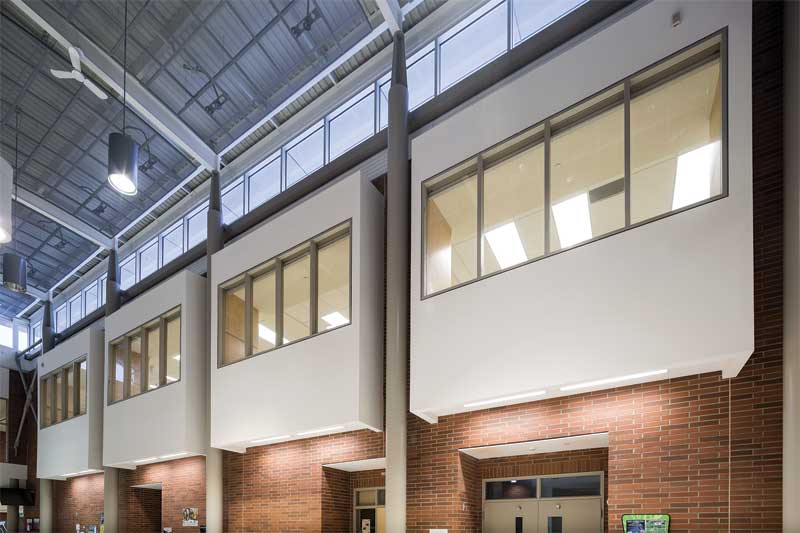 What type of fire defense does 
the particular application require?
An important first step in the specification process is determining whether codes require a given location to use a fire-protective or fire-resistive product. These two product classes provide different levels of defense against the spread of fire. As such, understanding the distinctions between them and the glass that meets their criteria is foundational to proper specification.
Fire-protective-rated assemblies
Fire-protective-rated assemblies require products that divide buildings into compartments to help slow the spread of flames and smoke. In Canada, glass with a fire-protective designation is tested to CAN4-S104/Underwriters Laboratories (UL) 10b, Fire Tests of Door Assemblies, 10c/CAN4-S104/UL 9, Fire Tests of Window Assemblies, and CAN/ULC-S106, Standard Method for Fire Tests of Window and Glass Block Assemblies. The glass's fire rating (in minutes) corresponds with its performance during mandatory fire and hose stream tests.
In the fire test, a large furnace heats window frames or doors holding glass, following a standard time-temperature curve per National Fire Protection Association (NFPA) testing regulations. It is required the assembly remains in the wall for the duration of the test, with no flaming on the exposed surface of the assembly or openings.
In Canada, glass must also pass a mandatory hose stream test. (In the United States, the hose stream is required for products with fire ratings in excess of 20 minutes.) During this process, testing labs spray the glass and framing with water from a fire hose immediately after the fire test. This evaluates the assembly's ability to withstand stress and the thermal shock imposed by the hose stream. Materials that crack or shatter during this process may allow flames and smoke to spread throughout buildings, potentially harming occupants and damaging property.
Today, fire-protective-rated glazing materials able to meet Canada's building codes include options such as traditional wired glass (discussed further in this article), glass ceramics, and specialty tempered glass. Depending on the material makeup, product offerings are available with fire ratings ranging from 20 to 180 minutes, with varying impact-safety ratings.
Since fire-protective-rated glass does not block the transfer of radiant and conductive heat, it must maintain compliance with application, area, and size limitations under the most applicable building code and/or authority having jurisdiction (AHJ). This is why fire-protective-rated glass cannot exceed 25 per cent of the total wall area.

Control the content you see on ConstructionCanada.net!
Learn More.