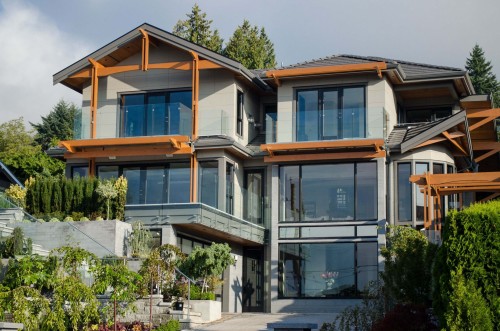 With its uninterrupted ocean vistas of pristine blue water and views of the city, West Vancouver is home to some of the most sought-after and expensive real estate in the region. When custom homebuilder and architect, Farzin Yadegari, began construction on his own house in the area, he had to find cladding that would speak to both form and function. It needed to fit the high-end esthetic of his neighbourhood, while also being able to withstand the harsh weather conditions and moisture of the local environment.
Yadegari was aware of fibre-cement architectural block panels, but had never specified them, given the materials are traditionally used in commercial applications. However, after being drawn to the units' 'clean' appearance, he decided to use it for his new residence—more than 465 m2 (5000 sf) of transitional-style single-family home and coach house. The panels' durability, ease of installation, built-in rain screen, overlapping edges, and large sizes were also positive factors.
'Fibre cement' is a broad description, but primarily it is a building material containing three basic components: fibre (typically cellulose/wood), cement, and other fillers that may include fly ash or silica sand. To manufacture these panels, there are wet-layering processes using rollers and dry processes using moulds and high pressure. Finished products are sold primed (paint-ready) or factory-finished to replicate brick, stone, or wood.
Specialty installers are not required, although some manufacturers will provide installation training. A standard siding crew can work with the material in the same amount of time (or quicker) as traditional products.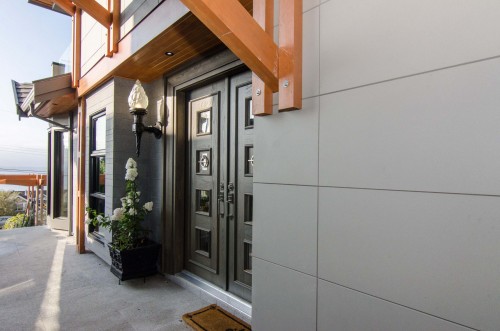 For Yadegari's project, he was able to work the panels (including dark-grey granite strips) into the residential application, along with the contemporary style and use of the deep orange stained Douglas Fir posts, beams, and brackets. The result was a unique look that also met local building code requirements.
As a siding, the material can be especially suitable for harsh weather conditions, saltwater areas, and moisture environments because of its resistance to rot and insect infestations. Panels provide a 'built-in' rainscreen function via the hardware associated with their installation.
The material's translation from commercial to residential seems to be part of a growing trend. Fibre-cement is being increasingly selected for luxury homes across the country due to its promise of long-lasting, low-maintenance service and striking appearance.
Yadegari has continued to use fibre-cement panels in several other projects in the Vancouver area.
"I discovered, during installation of the panels on my home, the installation process and expense was much more feasible, compared to stucco, which over half of the homes in the area are outfitted with," he said. "The clean look, ease of installation, and reducing the number of connections and penetrations into the exterior walls due to the large length of the panels all provide excellent design qualities."

Control the content you see on ConstructionCanada.net!
Learn More.