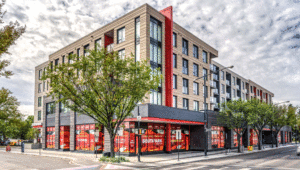 A mixed-use Edmonton development, Southpark on Whyte, has received LEED Gold certification, becoming the first LEED V4 multi-family project in the city.
Located on Whyte Avenue in Edmonton's neighbourhood of Old Strathcona, Southpark on Whyte opened Phase 1 (99 rental suites) to residents in late 2020. Upon completion, there will be a total of 660 residential suites and 2499 m2 (26,900 sf) of retail space.
Examples of green building innovations implemented at Southpark on Whyte include:
Reclamation of a previously contaminated site in one of Edmonton's most pedestrian-friendly and low-carbon neighbourhoods;
High-performance, high-efficiency WaterSense and Energy Star-rated fixtures and appliances to reduce energy and water use;
Locally sourced construction materials, including 100 per cent of concrete aggregate from the immediate area;
Strategic waste diversion strategy which reduced the amount of construction material sent to landfill by over 40 per cent compared to a typical project;
Exclusive use of no and low-VOC interior paints, coatings, flooring and insulation to prevent off-gassing and support healthy indoor air quality; and
Aligning with their continuous commitment to leading sustainability practices, ONE Properties has received LEED certification across 21 sites and 557,418 m2 (six million sf), with another 176,516 m2 (1.9 million sf) under development targeting LEED certification.