Electrical receptacles
The installation height for electrical receptacles (i.e. plugs) varies between provinces; however, the recommended accessible height for plugs is no less than 400 mm (16 in.) AFF (to the centre). Based on research criteria found in Design Resources article DR-20, "Functional Reach Capability for Wheeled Mobility Users," completed by the Centre for Inclusive Design and Environmental Access, a large percentage of individuals who have functional reach cannot safely reach below 380 mm (15 in.) AFF, but can more comfortably reach to approximately 700 mm (27 in.) AFF. (The article is available at udeworld.com/documents/designresources/pdfs/Reach.pdf.) Unless a receptacle needs to be mounted higher than 400 mm AFF, a power-strip extension cord could be used to overcome reaching restrictions.
Signage
Accessible signage must be provided to identify barrier-free facilities such as entrances, ramps, passenger-loading zones, washrooms, telephones, and drinking fountains. Where accessible signage is required, it must typically consist of:
the International Symbol of Access (ISA); and
a pictogram, text, and/or braille—in certain provinces, each of these features must be indicated on signage.
Not all codes specify character-size requirements or the braille grade to be used. For guidance on wayfinding signage where this criterion is not prescribed by the code, one can consult CAN/CSA B6512-12 and other regulated accessibility guides and standards, which refer to it in detail.
The design of wayfinding signage should include audible, visual, and tactile elements. Signage should be simple and consistent throughout the entire building, including its mounting heights and locations, and should be glare-free and colour-contrasting to the background and/or mounting surface. Consistency helps create a pattern for individuals with low to no vision, and assists them in finding the signage more easily.
Washrooms
There are three types of barrier-free washrooms typically addressed by code:
barrier-free multi-stall washrooms—rooms or spaces with multiple water closets and no fewer than one barrier-free water-closet stall;
universal washrooms—rooms or spaces usable by one individual and
a potential caregiver or by a family unit; and
ambulatory water-closet stalls—spaces located within a multi-stall barrier-free washroom or a multi-stall washroom not located within a barrier-free path of travel.
Ambulatory water-closet stalls provide mobility assistance. They are similar to regular stalls, but are equipped with grab bars on both sides of the water closet and to the rear. They also have outward-swinging doors and can accommodate various small mobility aids (e.g. canes or crutches). Currently, the Ontario Building Code (OBC) is the only provincial code requiring ambulatory stalls within non-barrier-free multi-stall washrooms. One can refer to OBC or CAN/CSA B651 for ambulatory design requirement guidance.
A functional barrier-free washroom, based on the various codes, must typically take into consideration the following elements and features (applicable to both universal and multi-stall):
an entrance door and barrier-free stall door with adequate clear widths and latch-side clearances (entrance doors to universal washrooms may require a power door operator);
an unobstructed 1500- to 1700-mm (59- to 67-in.) turning circle (a barrier-free stall may require minimum interior dimensions of 1500 by 1500 mm, while a universal washroom may require interior dimensions of no less than 1700 by 1700 mm);
a barrier-free water closet with a seat height similar to that of a wheelchair (necessary for easy transferal movement) and back support that protects individuals from leaning on any plumbing (Such water closets must also incorporate an adjacent horizontal, angled, or L-shaped grab bar, an optional fold-down grab bar on the opposing side, and a rear grab bar.);
a transfer space adjacent to the water closet that can accommodate an individual's wheelchair, with optional transfer space where care is necessary on both sides (common in care and treatment facilities);
a barrier-free lavatory with adequate knee and toe clearances (a paper-towel dispenser and soap dispenser should also be nearby, as this eliminates wheelchair users from having to touch their wheels until after they have washed and dried their hands—faucets should be located near the front of the lavatory so as to be reached from the seated position or by someone of shorter stature);
space for an adult-sized change table (applicable to select universal washrooms only);
motion-sensor lighting; and
an emergency call system.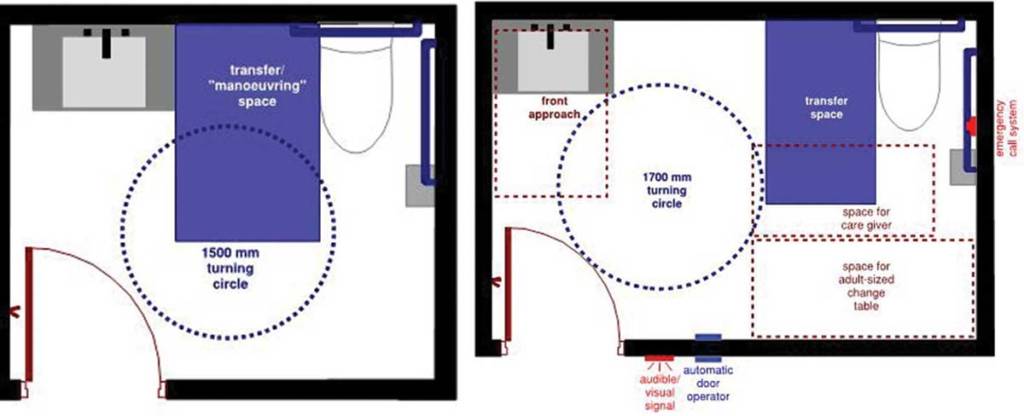 Items related to the final three features in the list are all quite common additions to universal washrooms serving large assembly and care facilities, but are currently only mandatory in Ontario (Figure 10).
For best practice, one should equip all barrier-free washrooms with a power door operator, or provide rough-in electrical for future installation. Barrier-free water closets should also be floor-mounted to accommodate all weight ranges (including bariatric individuals). Where possible in multi-stall washrooms, it is suggested both barrier-free and ambulatory water-closet stalls be provided.
Further best-practice recommendations suggest where base building washrooms are provided, male, female, and gender-neutral (universal) washrooms should be placed in identical locations on each floor so as to be easily found by individuals with low to no vision. Additionally, where room permits, universal washrooms and barrier-free stalls should include unobstructed 2100- to 2500-mm (82- to 98-in.) turning circles to accommodate scooters and larger mobility devices. Where barrier-free multi-stall washrooms are equipped with multiple lavatories, it is also important to provide a built-in step or stool for children or individuals of shorter stature. All doors into washrooms serving mental health or care facilities should swing outward to eliminate barricade concerns.
The list of barrier-free washroom-enhancement features is endless, and providing the ability for anybody and everybody to go to the washroom while they are out and about is priceless.
Conclusion
This article provides the reader with basic knowledge of barrier-free design, awareness of minimum barrier-free design requirements across Canada, and a few best-practice design principles that can help enhance the built environment. Until uniform accessibility requirements improve or are established across Canada, it is advisable to continue using best-practice guidelines in conjunction with the applicable minimum requirements addressed by the project-specific building code. The design of a building should enable anybody to enter and exit its doors, manoeuvre and navigate its interior, and use it functionally. Accessible design should not be difficult; it should be common sense.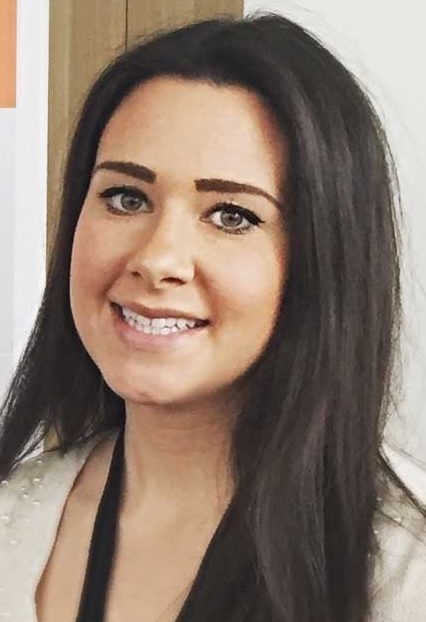 Samantha Proulx, CET, is an accessibility and building code consultant for Jensen Hughes Consulting Canada Ltd., with six years of experience. She studied architecture and construction engineering at Conestoga College (Kitchener, Ont.), and is a member of the Ontario Association of Certified Engineering Technicians and Technologists (OACETT). Proulx is proficient in the application of barrier-free accessibility principles for the assessment of universal design, has experience as a lead accessibility consultant for numerous public and private projects for all building occupancy types, and is an advocate for barrier-free design education across Canada. She specialises in accessibility codes, standards, and legislations as they relate to the built environment, and has experience with elder-friendly, mental-health, bariatric, transit, pool, and artistic accessibility design projects. Proulx can be reached via e-mail at sproulx@jensenhughes.com.

Control the content you see on ConstructionCanada.net!
Learn More.